"Never underestimate the power of stupid people in large groups." -- George Carlin
I consider myself both an investor and a trader. A core part of my portfolio consists mainly of income stocks that I plan to hold over the long term. A portion of my remaining long positions are in equities whose growth prospects I believe are not currently appreciated by the market. The rest of my portfolio is held in cash and/or short positions on stocks I consider to be vastly overvalued looking at their earnings and cash flow like Salesforce (NYSE:CRM) for example. This last part of my portfolio will vary in percentage by how I feel about the prospects for the overall market at any given time.
I also keep some funds available for trades that I think have high reward/low risk probabilities when the market overreacts (which it inevitably does, as it consists of human beings). I use option spreads to establish these bets and I structure them so I get a huge gain if I am right and take a small loss if I am wrong. Over time, if I am right just a third of the time I will make a nice return over the long term. Part of the problem with people is they project the future by looking at the immediate past. I remember my first couple of years in Florida where we had two huge hurricane seasons in 2004 and 2005. Pundits and people in general were saying this was part of the "new normal" and evidence of global warming. Floridians bought generators as well as put in new storm shutters in droves and prepared for this new weather cycle. We have had one minor hurricane since 2005.
Similar human predications happen all the time in the stock market. Take Apple (NASDAQ:AAPL). Less than two months ago, pundits were predicting that the shares would soon be climbing to $1,000 a share in the near future as the company became the world's most valuable company and soared past the $700 a share level. Six weeks later the stock is having a hard time catching a bid at $540 a share. So what happened? A poorly received earnings report, an executive departure, supply problems with the iPhone5 and the concerns about the fiscal cliff. All notable items, but do they justify a $175B market capitalization decline in a stock that is selling for approximately 7.5x forward earnings after subtracting cash and for a company still growing revenues north of 20%? Probably not. Could the shares pop if sentiment reverses? Absolutely!
What could trigger this?
iPhone5 supply issues could continue to be addressed and the company could pump out more smartphones than the market is currently expecting.
Investors could quit selling the shares to avoid the increased capital gains taxes in 2013 as we get closer to the end of the year.
We could get a resolution to the fiscal cliff, which will pop the entire market.
Apple seems to have some sort of technical support at these levels, which are at the May lows (see chart), so it seems like an appropriate time to put a play on. Here is how I am playing a possible rebound in Apple that could result in huge upside even if the stock only recovers approximately 25% of its recent selloff over the next month.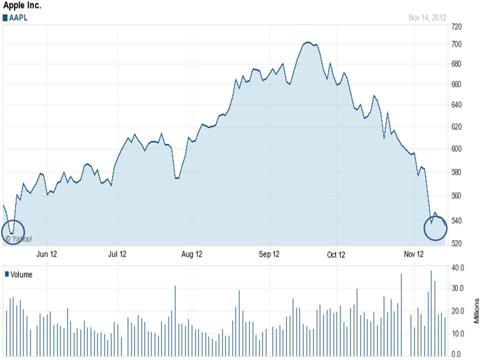 Here is my option strategy on Apple, structured to give me a four-to-one risk/reward play that will triple my money.
Option Strategy: Buy the December 560 call while simultaneously selling the December 570 call for a net spread of $2.45 (lets call it $2.50 with commissions).
Outcome 1: Apple continues sinking, stays flat or only goes up less than 6% from current levels by December 22nd, in which case I lose my $2.50 bet.
Outcome 2: The sentiment improves on Apple and/or the market and the company stages a rally getting it over $570 by December 22nd. In this case I make $10.
Disclosure: I am long AAPL. I wrote this article myself, and it expresses my own opinions. I am not receiving compensation for it (other than from Seeking Alpha). I have no business relationship with any company whose stock is mentioned in this article.