Even though our studies were telling us that the correlation between USDJPY and U.S. stocks was finally shifting -- see Why the Yen Is The New Alpha Market -- I'm still a bit surprised at how strong USDJPY has been the last two sessions, particularly in the face of U.S. stock weakness. The impetus for a strong USDJPY - weak Yen or weak FXY -- has been Liberal Democrat Party President Abe's insistence that if elected he will urge the Bank of Japan to consider unlimited printing of Yen to improve domestic conditions. USDJPY ended Wednesday's session up 1% while the S&P 500 ended down nearly 1-1/2%. Market followers will tell you that those two markets going in different directions is the opposite of the correlation their used to.
For the last 5 years U.S. stock weakness and Yen strength went together like smoke following fire. The Japanese would intervene to strengthen USDJPY from time to time, but it never held as prices would quickly slump once the government buying was over and slide to still lower lows. The pattern following the stock crash of 2008 thru the summer of 2012 was the S&P 500 and USDJPY would fall together -- then the S&P's would recover while USDJPY would continue to weaken / FXY would strengthen. Whether volatility was rising or falling, i.e.: risk on or off, the Yen strengthened and USDJPY weakened. Long USDJPY was jokingly called the "widow-maker trade", because as the joke went: "it had killed more traders than cigarettes and booze combined". But no more; today it is crystal clear that USDJPY is going its own way, and for now that is higher. That doesn't mean we jump right in a go long at these levels -- the equivalent of going short FXY, just yet. But it does mean that we have to give serious consideration to moving the Yen pairs, and FXY if your a stock trader, from the top screens to the bottom screens, which means we move from monitoring and trading the major currencies to putting more focus on the Yen and the other Yen pairs such as AUDJPY, CADJPY and GBPJPY.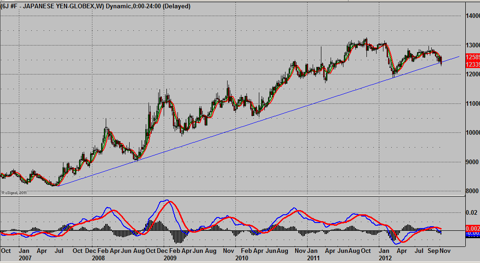 (Click to enlarge) Figure 1. Weekly FXY Equivalent
The big question is will USDJPY produce another run away, albeit short-term rally, as we saw in February and March of this year. Or will it be a more normalized slope with predictable, measured retracements as we saw in October of this year? However it pans out we'll be on top of it.
Disclosure: I have no positions in any stocks mentioned, and no plans to initiate any positions within the next 72 hours. I wrote this article myself, and it expresses my own opinions. I am not receiving compensation for it. I have no business relationship with any company whose stock is mentioned in this article.