Gold prices are headed for their 12th straight annual gain. Investors are concerned that central banks and governments across the world will continue with their loose monetary policies and will add more stimulus measures to promote recovery and deal with the European debt crisis, resulting in a devaluation of currencies and higher inflation.
Gold is up 10 per cent YTD and from December 2008 to June 2011, as the Fed bought $2.3 trillion worth of debt in the last two rounds of QE, precious metals rose by a whopping 70 per cent.
As of 14 November, 2012, gold for immediate delivery is trading at $1725.8 per ounce.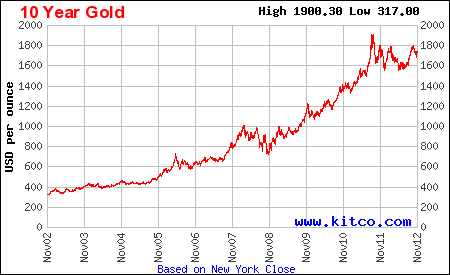 Gold price chart for the last five years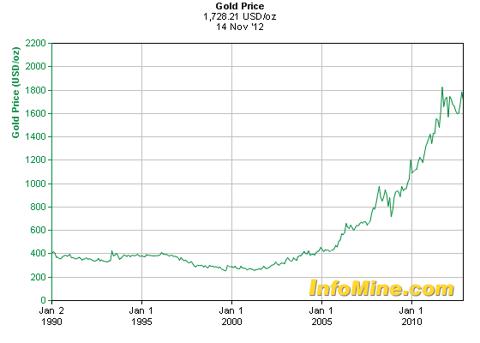 Click to enlarge
(Click to enlarge)
Gold price chart for the last 22 years
According to Raymond Key, Deutsche Bank's global head of metals trading in London, as central banks continue with their efforts to sustain recovery, gold prices next year will likely surge to record levels of above $2000 an ounce.
"We'll take out $2,000, we'll go higher," Key said in an interview, "That's on the view that they'll continue to print money."
In its official statement on October 24, the Fed declared that it would stick to its bond buying plan, under which it buys $40 billion of mortgage debt every month, until there is substantial improvement seen in the bonds market. Furthermore, the bank pledged to keep key interest rates at record low levels until 2015, in order to boost the economy.
In Europe, Mario Draghi, European Central Bank's president, said that if governments fulfill the necessary conditions, ECB is ready to activate its bond purchase program and start buying bonds from debt ridden nations.
On the other side of the globe, the Bank of Japan on October 30 expanded (second time in two months) its assets purchase program by 20 per cent to 66 trillion Yen, in addition to a 25 trillion Yen separate credit loan program. In order to boost credit demand, the Japanese central bank has pledged further unlimited loans to banks.
Gold equities on the other hand have failed to match the recent rally in gold spot prices. As you can see from the graph below, Barrick Gold Corporation (NYSE:ABX) was down 13 per cent in the last month, Yamana Gold, Inc. (NYSE:AUY) down 1 per cent and Newmont Mining (NYSE:NEM) down 16 per cent.

Click to enlarge
(Click to enlarge)
NEM, ABX, and AUY's stock performance in the last month (Source: Yahoo Finance)
We remain bullish on AUY due to its increasing production, sustainable dividend yield and long term growth prospects. While NEM and ABX's share prices have declined YTD, AUY increased 23 per cent YTD. The company has a dividend yield of 1.3 per cent.
We are bullish on ABX for long term investors because of its resource and reserves base, which is the largest in the industry. It has a strong production base for gold and copper. Gold's production base is expected to be more than 8 million ounces per annum by 2015, once Pascua-Lama (NYSE:PL) and Pueblo Viejo are in full production mode. The company has an attractive dividend yield of 2.3 per cent and is trading at cheap valuations compared to its peers.
We have a neutral rating for NEM, the third stock in our coverage. We believe the company has a strong base of operations but rising costs, particularly at its APAC operations, and declining production remain concerns for NEM.
| | | | |
| --- | --- | --- | --- |
| Comp Sheet | NEM | ABX | AUY |
| Forward P/E (1 year) | 9.1 | 6.7 | 12.9 |
| PEG ratio (5 year expected) | N/A | N/A | 2 |
| EV/EBITDA (TTM) | 5.9 | 6.6 | 11.7 |
| Dividend yield | 3.0% | 2.3% | 1.3% |
| Long-term earnings growth rate | N/A | 0.2% | 10.5% |
| Share price Performance (YTD) | -26.0% | -19.0% | 23.0% |
Source: Yahoo Finance
For a detailed analysis of NEM please refer to our previous article on the stock. For ABX and AUY please read this article.
Disclosure: I have no positions in any stocks mentioned, and no plans to initiate any positions within the next 72 hours.
Business relationship disclosure: The article has been written by Qineqt's Basic Material Analyst. Qineqt is not receiving compensation for it (other than from Seeking Alpha). Qineqt has no business relationship with any company whose stock is mentioned in this article.