The World Bank's Doing Business "provides objective measures of business regulations for local firms in 185 economies and selected cities at the sub-national level." The report was first published in 2003. It first utilized five sets of indicators to measure business regulation in 133 economies but has grown to cover 11 sets of indicators in 185 economies.
According to the report Poland has improved the most over the past year moving from 74th to 55th place. The World Bank credits four reforms for helping Poland improve in the rankings: easier property registration, pay taxes, enforce contracts and resolve insolvency.
The report also noted that countries in Eastern Europe and Central Asia again represented the largest share of economies implementing regulatory reforms. More than 88% of the economies in these regions implemented reforms in at least one of the categories measured by the Doing Business report.
Other countries that performed well include Ukraine, which gained 15 spots, Mongolia moved up 12, Kazakhstan improved by seven places and Russia, which moved up six. Countries that did not fare as well include Hungary, which dropped five places and Bulgaria, which was down two.
Among Asian countries China held steady in 91st place. India maintained its position at 132. Pakistan dropped three spots and Bangladesh lost five. Malaysia ascended to 12th place, gaining two. Indonesia gained two places, the Philippines lost two places and Thailand lost one.
Latin American countries did fairly poorly in the rankings with the big BRIC Brazil dropping two places. Argentina fell eight places, Chile lost four spots and Colombia and Venezuela each fell one.
Being of Polish descent I naturally have a fondness for the country. I am pleased to see it doing well and am optimistic for its future. For investors interested in Poland there are a couple of ETFs to consider: the Market Vectors Poland ETF (NYSEARCA:PLND) and the iShares MSCI Poland Investable ETF (NYSEARCA:EPOL). Both ETFs have been doing well recently.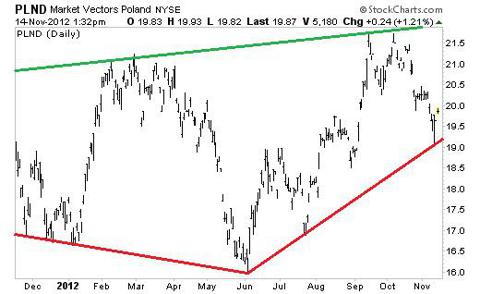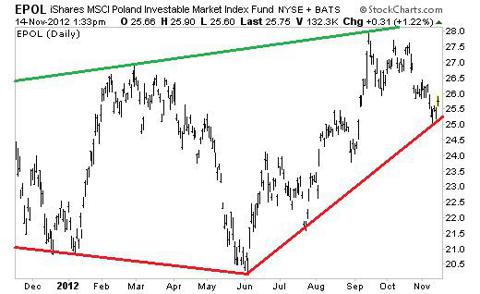 Since June of 2012 both ETFs have surged between 20 and 25%. This is a welcome improvement and hopefully the realization of the business climate reflected in the World Banks's report. But neither ETF has done that well over the past few years.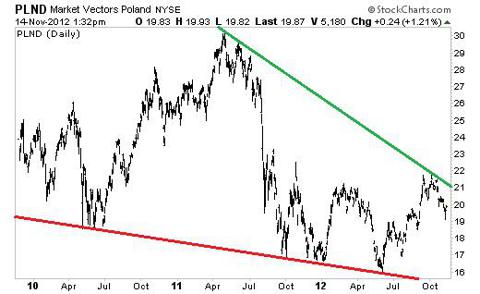 Both charts illustrate a volatile and negatively trending experience for investors. Of course there is a lot of influence from western Europe and the general economic malaise of the past few years.
Poland is an emerging market that is often overlooked. But it is also a country making strides to differentiate itself. Continued reforms and notable strides like it is showing in the World Bank's Doing Business report will bring more investment dollars to the country. This of course will be good for ETFs and savvy emerging market investors as well.