Earlier this week, Tesla (NASDAQ:TSLA) had a big announcement to make in a private party with a little help from its friends at Motor Trend. Not only did they choose an electric car for the Car Of The Year award, it was a unanimous decision. It is a sizeable achievement for any car company, especially for what amounts to TSLA's first car. Winning the award is also part of TSLA's shrewd marketing plan. Great products speak for themselves, and once discovered by others, people start speaking for them. Motor Trend adds to the list of those happy to blow the horn. People that were on the fence about either buying one of the cars or the stock should see the award as a bolster to their confidence. Coupled by other recent developments, TSLA has diminished its risk while adding to its future promise.
Still yet to make a profit, TSLA overcame one of its biggest near-term risks when it raised a sizeable amount of capital in a follow-on offering. The offering suppressed the possibility of a problem due to dangerously low cash reserves, which would have hit precisely when the company was set to grow production. Previous to the offering, TSLA was projected to toe the line and may have actually reached a point of negative book value during the 3rd quarter, just as it began to rise from crawling to running. Now, bolstered by the recent infusion of cash, TSLA can focus and more tangible goals. Notably, investors seemed to embrace the offering in spite of the dilution, as share prices were largely unhindered. TSLA only has two major threats to overcome in the
foreseeable future.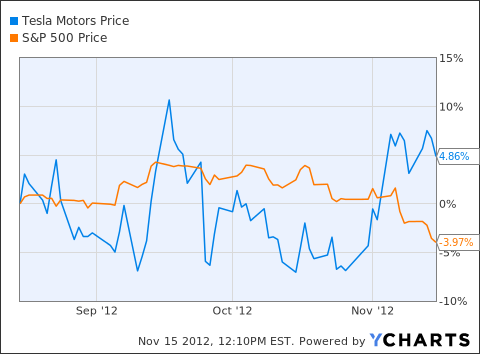 Firstly, TSLA must continue to ramp up. There has been remarkable controversy over the ramp thus far, as TSLA chose to focus on quality rather than volume and missed previous production goals. In spite of the short-term concerns, the decision to focus on quality should only breed more confidence, knowing that the company has taken the time to get things right, before scaling up. It is far better to get it right from the start than to have to fix things once the company is really in motion. But again, TSLA is in the midst of that ramp right now, and until the speed of production is dramatically increased, it is an unmet goal.
Secondly, as with the ramp up issues, the odds of a major failure with demand are minimal; however, it is still a bridge yet to be crossed. TSLA has a 99% chance of getting the 20,000 orders it hopes to fill in 2013 for the Model S based on simple market size calculations. It currently has a relatively enormous backlog of orders with respect to current production rates, and if the orders remain unchanged, the 13,000+ reservations will provide about 2 quarters of 2013 production at full speed, which is expected to be reached soon. In an unofficial reservations count kept on the Tesla Motors Club website, TSLA has 13,844 reservations for the Model S as of November 14, 2012, not including orders for premium U.S. models and all international reservations. According to the unofficial count, the reservation rate has increased to about 54 orders per day over the last week. In the previous three months, the lowest and highest respective per day rates were about 15 and 39. The cancellation rate up until now has been fairly nominal and is expected to go down.
While it is important to remember that TSLA is still a high-risk stock, even being batted around recently in political sparring, simply having the cash concerns off the table is a colossal step in going from questionable start-up to having its niche firmly carved out. The company still has a lot to prove. Aside from actually making the Model S, TSLA still hopes to cross perhaps the most significant bridge to investors in the middle of 2013, when it plans to breakeven and begin turning profits for the first time. If the above two considerations are met without major problem, TSLA also hopes to hit margins of 25% or more. With regard toward the ramp-up and demand, it is now largely a waiting game. If the recent reservation rates give any indication as to future demand, a sustained rate of 54 reservations per day, comes in just a couple hundred orders shy of meeting that 20,000 per year goal, which says a lot about a company that has still yet to do any marketing short of press releases and opening a baker's dozen of small stores. Many reservation holders have yet to even test drive the vehicle. Most recently, as if the Motor Trend award was not enough, Consumer Reports posted a rave review of the Model S.
Disclosure: I am long TSLA. I wrote this article myself, and it expresses my own opinions. I am not receiving compensation for it (other than from Seeking Alpha). I have no business relationship with any company whose stock is mentioned in this article.