Assessing the potential value of mining stocks has never been easy, but it has gotten more difficult in recent months. Demand and prices for minerals are uncertain even as costs are going up. Take Rio Tinto (NYSE:RIO) for example - the company's own chief economist, Vivek Tulpule, has admitted that demand for iron ore is on a roller coaster. He called it a saw tooth, but the chart below makes iron spot prices look more like a roller coaster.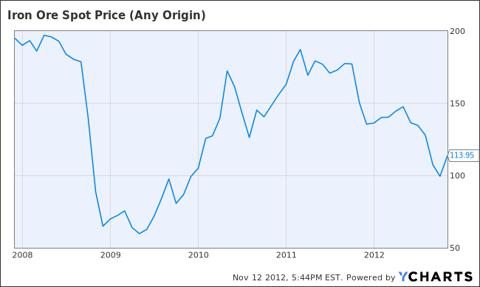 Judging from the chart, it looks like iron ore's roller coaster ride is going to continue. Iron ore's up and down ride is being driven by weak growth in China and the U.S. and what looks like economic collapse in much of Europe. The best case scenario and one that Mr. Tulpule tried to sell to the press is 8% to 9% growth in China that will drive demand for steel. The slow growth in China probably won't make up for lost demand from Europe.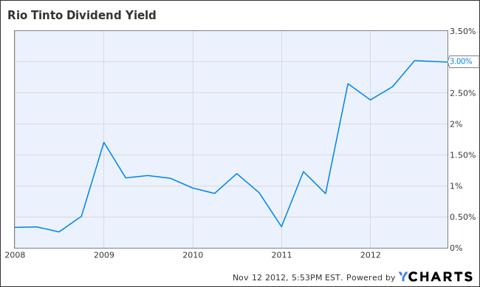 The first question we have to ask here is: Can Rio keep raising its dividend yield if iron ore prices remain so unstable? The most obvious answer is no because iron ore is Rio's biggest business. Rio was able to increase its iron revenues from $24 billion in 2010 to $29.9 billion in 2011.
The problem is that it is hard to get reliable information about revenue and cash flow for Rio Tinto. Because it is an Australian and British company, it doesn't have to report those figures and that can make it difficult for American-style value investors. We do have a few numbers that we can go on when we're taking a look at Rio though.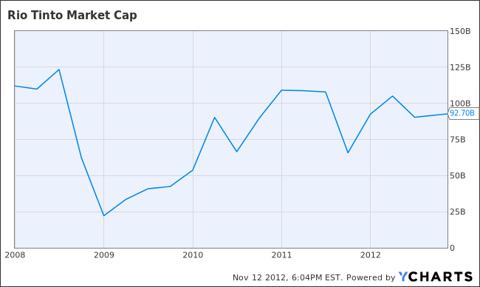 The company's market cap has recovered from its fall in 2011, but it is still below the $100 billion mark it hit earlier this year. Rio Tinto's market cap growth is higher than that of its rival, BHP Billiton (NYSE:BHP), which has had a flat market cap for the last year or so.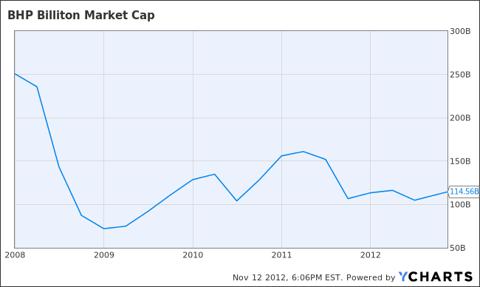 The market cap charts suggest that the market likes Rio Tinto more than BHP Billiton even though Billiton's market capitalization is higher. Rio Tinto hasn't suffered big losses from energy investments and hasn't forced out its CEO like BHP Billiton has, so it may not be a good comparison. The other big multinational player in the iron business, Vale (NYSE:VALE), has seen market cap fluctuations that are not as extreme as Rio Tinto's but a little more active than Billiton's. Both Vale and Billiton seem to be weathering the rocky commodities market better than Rio is.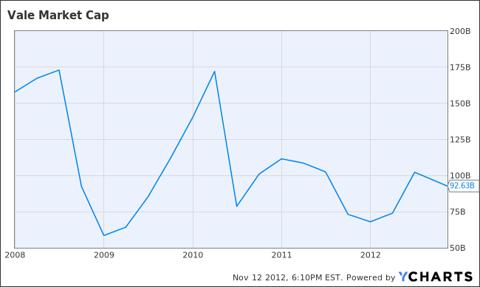 The market capitalization figures also reveal a problem for big miners, including Rio Tinto. The amount of money that they can raise from the equities market seems to be declining. This decline is coming just as the cost of mining is going up. Miners are having a harder time attracting investment just as they need it most.
Despite its falling market cap, Rio Tinto still has a lot of cash in the bank. As of June 30th, Rio had $7.286 billion in cash and ST investments. Rio has more cash in the bank than either Vale or Billiton. As of June 30th Billiton had $4.781 billion in cash on hand, and Vale had $4.160 billion in cash on hand. Rio seems to have done a better job accumulating cash, which might help it survive the growing period of instability. Big miners are less stable now than they have been in a long time.
Part of the reason why these companies have become so unstable is that they are dependent upon China, which is now the world's largest consumer of commodities. China has become more unstable in recent months largely because of the economic upheavals taking place in Europe and the U.S. No company has bet more on China than Rio Tinto, and no company has more to lose if the Chinese economy doesn't deliver.
Rio's strategy to diversify away from iron by building one of the world's largest copper mines at Oyu Tolgoi in Mongolia is an attempt to get away from the iron dependency. Oyu Tolgoi contains an estimated 41 billion pounds of copper and 21 million ounces of gold. Yet it is still highly dependent on China, which is right next door to the Mongolian mine. Rio's partner at Oyu Tolgoi is Turquoise Hill Resources (NYSE:TRQ), the company formerly known as Ivanhoe Mines. Commercial production at Oyu Tologi is supposed to begin next year.
Rio Tinto is a value investment because of its relationship with China, the one market that seems to be growing. Rio has a lot of cash, and it is heavily tied into the one market for its commodities that is still growing - China. The growth at Rio won't be spectacular, but the stock will still make steady gains.
Disclosure: I have no positions in any stocks mentioned, and no plans to initiate any positions within the next 72 hours. I wrote this article myself, and it expresses my own opinions. I am not receiving compensation for it (other than from Seeking Alpha). I have no business relationship with any company whose stock is mentioned in this article.