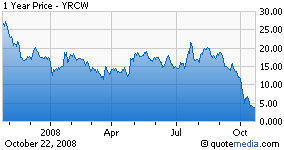 YRC Worldwide (NASDAQ:YRCW) is expected to report Q3 earnings after market close Thursday, October 23, with a conference call scheduled for Friday, October 24 at 9:00 am ET.
Guidance
Analysts are looking for EPS of (8c) on revenue of $2.34B. The consensus range is (15c) to 0c for EPS, and revenue range of $2.18B to $2.4B, according to First Call. The company gave Q3 guidance when it reported its Q2 earnings. YRC Worldwide was expecting Q3 EPS with items $1.05 to $1.15, the guidance includes a curtailment gain of approximately 70c per share and increased union health and pension costs of approximately 15c per share attributable to contractual increases that take effect on August 1, vs. consensus of (8c).
The company, stated on September 8, it expects to report a solid profit in Q308 due to the curtailment gain of approximately 70c per share related to the harmonization of its retirement plans for nonunion employees. However, as a result of the further weakness in the economy and some early investments in the integration of the national networks, the company now expects a slight loss from core operations in Q3. The company also expects to incur reorganization costs of about 6c to 8c per share primarily related to employee severance.
Analyst Views
YRC Worldwide has been downgraded by BB&T, JP Morgan and Stephens over the past quarter. BB&T downgraded the company to Underweight from Hold on September 9, following the company's lowered guidance. YRC Worldwide was downgraded by JP Morgan to Underweight from Neutral on September 22, citing increased concerns regarding the outlook on LTL. Stephens also downgraded the company's shares to Equal Weight from Overweight, to reflect the drop in freight recently. The firm also lowered its target for the company on September 26, to $12 from $28.