Altria (NYSE:MO) is the proud owner of the all famous Malboro cigarette brand, and it's in the leading position in both the cigarette and the smokeless tobacco market. It owns a 27.1% interest in SABMiller, the world's second-largest brewer, and it has also the number-two spot in the machine-made cigar market.
What makes Altria popular with investors though is its stellar performance and its consistently increasing dividend over the years. No matter though what history tells us, before investing for income we should always check, no matter what, if the dividend in question is secure enough.
The best place to start checking is the company's Cash Flow Statement. Unfortunately, there are comparable data going back only to 2008. This is because of the company's two major spin-offs. Altria spun off Kraft Foods Inc. in 2007, and Philip Morris International (NYSE:PM) in 2008.
In the following graphs, you can see the operating cash flow relative to capital expenditures (MUTF:CAPEX) and a comparison between free cash flows (FCF) and dividends.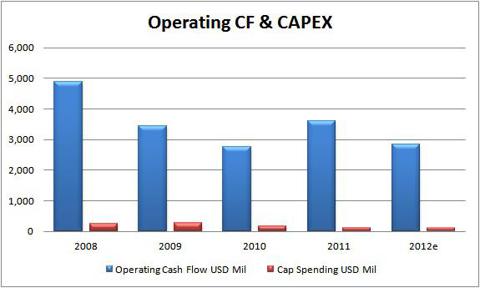 Click to enlarge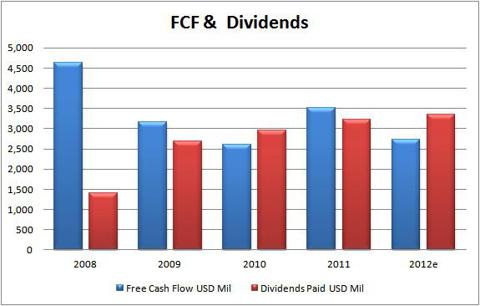 Click to enlarge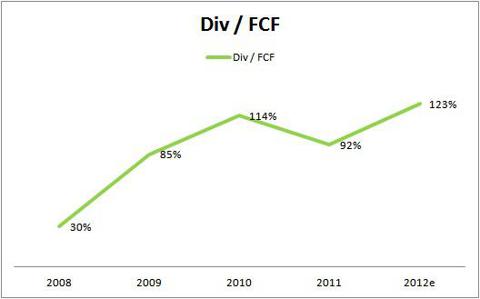 Click to enlarge
As you can see, although Altria doesn't have a lot of CAPEX, its Free Cash Flows aren't always enough to cover its dividend. Particularly in 2010, dividend payments were greater than FCF and they are probably going to exceed it again for 2012. This means that in order to keep paying its 5.6% ($1.7 for 2012) dividend, Altria has to constantly borrow more and more money. This dynamic is quite obvious though, if you just take a look at its long-term debt for the last 5 years.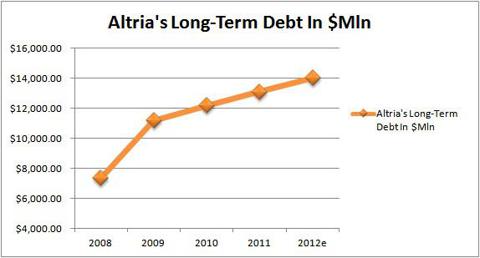 Click to enlarge
Given that the cigarette industry is in a secular decline, raising its prices may not be a sufficient strategy anymore. That is if Altria is to maintain its current level of cash flows. One piece of good news is that its debt maturity dates are well distributed, and won't pose any significant cash strains, until 2018 at least. However, with total debt at 3.5 times equity, Altria's debt-increasing course just isn't sustainable.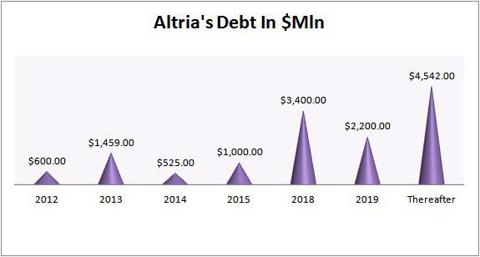 Click to enlarge
The only hope for Altria to grow is supposed to be its smokeless tobacco business. But it inevitably cannibalizes its main one and net growth hasn't been significant enough so far. Moreover, the United States regulatory environment is clearly hostile to any kind of tobacco products and is poised to eventually make them either unprofitable or to just reduce their use over time, to zero.
Sooner or later, Altria will have to slash its dividend in order to service and pay down its debt. There's a twist here though, and it's the fact that shareholders will benefit most, if the cut is done sooner than later. The more Altria delays, the more severe the cut will be.
Investors in search of long-term stability and income should stay away from Altria no matter how tempting its current yield is.
Disclosure: I have no positions in any stocks mentioned, and no plans to initiate any positions within the next 72 hours. I wrote this article myself, and it expresses my own opinions. I am not receiving compensation for it (other than from Seeking Alpha). I have no business relationship with any company whose stock is mentioned in this article.