We considered selling our position in Kraft Foods Group (KRFT) that we received upon its separation and spin-off from Mondelēz International (NASDAQ:MDLZ). However, based on the tone of its September 2012 conference call, we decided to give it six quarters to prove itself rather than merely selling it off. Kraft recently reported its first quarterly performance as an independent company and we believe that the company will prosper as an independent firm focused on the North American grocery sector based on its revenue and profit growth in 2012 versus 2011. We are aware that the salad days of cornucopian revenue and profit growth that the consumer goods companies enjoyed in the 1980s and 1990s are over. We are aware that consumer goods companies are facing competitive headwinds from traditional food retailers in the form of private label products, mega-retailers like Wal-Mart with regards to special pricing and product demands and all natural food products competing against mass-produced processed foods. Still, we believe that well-run food companies can generate 15%-20% ROEs, pay 3%-5% dividend yields, increase productivity by 2% annually and generate 7-9% growth. Another reason why we believe Kraft Foods will prosper as an independent firm is because it has sufficient competitive scale for its market and it isn't trapped under the bureaucracy of old Kraft.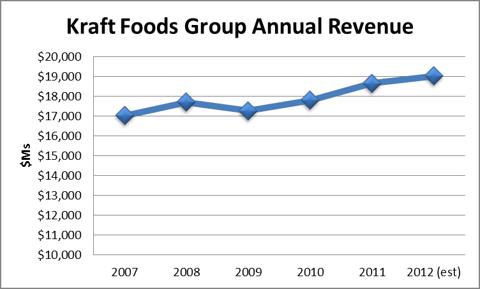 Source: Kraft Foods's Registration Statement and Our Estimates
Because Kraft Foods Group is focused exclusively on North America, it does not have to deal with the currency fluctuations that have been flummoxing its peers. Although it had to deal with the effective of the strong US Dollar in relationship to the performance of the Canadian Dollar in the most recent quarter, the only Kraft division that saw any impact was Kraft's International & Foodservice Division and the impact to that division in Q3 2012 was only $9M. This $9M currency headwind resulted in a negative impact of 1% to the International & Foodservice Division's revenue and 20bp to Kraft Foods Group's consolidated corporate revenue.
We were disappointed that the majority of Kraft Foods's $54M in operating income growth in Q3 2012 versus Q3 2011 was due to increased gains on hedging activities offset by U.S. Pension Costs. We weren't worried about the company's Net Income and EPS increasing by 13% due to a $103M tax benefit because the company had seen a $103M increase in its interest expenses as part of the new debt that it had to assume upon its spin-off from Mondelēz.
We also noted that the operating income of the business units in Q3 was negatively impacted by restructuring charges. Kraft's business units collectively incurred $54M in restructuring charges in Q3 2012 that it did not take in Q3 2011. Kraft's Beverages division took $24M in charges and it saw its revenue increase by 10bp and its adjusted operating income declined by 1% on a year-over-year basis. Kraft's Cheese Division enjoyed 9.7% in year-over-year operating income growth even though it took $11M in charges in Q3 2012. The Cheese division enjoyed 1.4% year-over-year revenue growth based on 5.7% volume growth offset by 4.3% in negative pricing headwinds. Kraft International & Foodservice took $3M in restructuring charges during the quarter but that did not stop the division from generating 14.5% in operating income growth. The division saw 4.1% revenue growth based on volume gains of 5.4%, which were partially offset 30bp by negative pricing moves and 100bp for the strong US Dollar. Kraft Refrigerated Meals took $6M in charges and generated 10.5% growth in operating income. This operating income growth was aided by 3.5% revenue growth and Refrigerated Meals was the only division to generate both volume growth (1.1%) and pricing growth (2.4%) during Q3 2012. Kraft Grocery took $10M in charges and its operating income declined by 4.13% on a reported basis and 95bp on an adjusted basis. The division had 4.6% revenue growth driven primarily by pricing and partially offset by volume declines.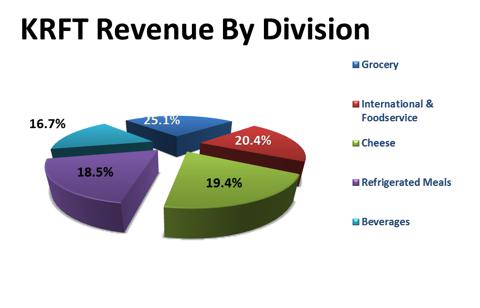 Source: Kraft's Q3 2012 10-Q
We are disappointed that Kraft's CEO Tony Vernon used the burning platform metaphor in his Q3 conference call with analysts. Considering that Stephen Elop of Nokia used that metaphor in one of his memos to his staff and that memo helped lead the company into a downward spiral that it may not recover from. While we believe that Kraft Foods has a wider economic moat than Nokia and while we believe that such a metaphor won't be as damaging to Kraft as it was to Nokia, we think that Tony Vernon could have used a better metaphor. And being from New England and knowing all about the rich cultural history and heritage of the region, we could have suggested an alternative metaphor. And the metaphor reference we would have used in that case would have been The Road Not Taken by the famous New Hampshire poet Robert Frost. And the reason why we would have suggested that reference instead of the burning platform is because we believe that Kraft is facing the same situation in which two roads are diverging and Kraft can't take them both.
Now that Kraft Foods Group is independent of Mondelēz, it is targeting converting at least 85% of its net income into free cash flows. In 2013, it is expecting its cash flows to be 70% because it has to make five corporate tax payments. For the first nine months of 2012, KRFT generated $2.07B in operating cash flows and spent $279M on net CapEx for free cash flows of $1.79B. The reason why its 2013 cash flow conversion ratio is expected to be below its long term target is because the company has incurred $583M in accrued income tax expenses that are to be paid in 2013 and later dates. Kraft Foods ended the quarter with $244M in cash against $9.6B. Before the spin-off, Kraft was essentially debt free however Kraft had to assume $10.6B in debt that was transferred to the company when Mondelēz declared itself a spin-off related special dividend before spinning Kraft off to the public. Kraft Foods Group is targeting a $2/share dividend and is targeting mid-single-digit growth. This dividend would represent 77% of Kraft's 2012 Expected EPS of $2.60.
In conclusion we are expecting steady forward progress from Kraft Foods Group. We like that Kraft offers a 4.6% dividend yield, a payout ratio less than 80% and the potential to improve its operations from the sclerotic stagnation that it was suffering from during 2007-2011 when its previous owners were focused on international growth. We like that the company is aware of the negative pathologies that were rendering and consigning it to mediocre performance and that the company is working to transform its corporate culture away from that unhealthy model. We like that the company is shifting its focus to drive free cash flows and profitable investments that cover the cost of shareholders' capital rather than empire building and we were especially pleased that the company was able to beat its EPS expectations by $.10 recently. In closing, we believe that it offers yield-hungry investors a superior alternative to bond ETFs like the iShares Barclays U.S. Aggregate ETF (NYSEARCA:AGG) because Kraft's 4.58% yield is higher than the 2.39% TTM yield of the AGG as well as the AGG's 1.63% SEC Yield.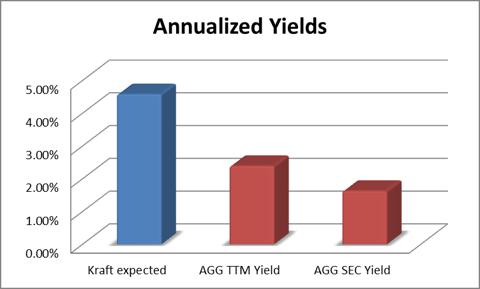 Source: Morningstar Direct and Kraft's September Roadshow
Disclosure: I am long KRFT. I wrote this article myself, and it expresses my own opinions. I am not receiving compensation for it (other than from Seeking Alpha). I have no business relationship with any company whose stock is mentioned in this article.
Additional disclosure: This article was written by an analyst at Saibus Research. Saibus Research has not received compensation directly or indirectly for expressing the recommendation in this article. We have no business relationship with any company whose stock is mentioned in this article. Under no circumstances must this report be considered an offer to buy, sell, subscribe for or trade securities or other instruments.