Our recent articles have focused upon high dividend stocks with good earnings growth, which are oversold and/or undervalued. This week's panic selling hit the Business Development Corp. sub-industry hard, sending some of these already high-yielding stocks down by double-digits, pumping up their dividend yields even further.
In addition to offering high yields, BDCs offer retail investors exposure to venture capital vehicles, which we normally wouldn't be able to profit from.
One such BDC, TICC Capital Corp., (NASDAQ:TICC), which invests mainly in technology-related companies, is listed in the Tech section of our High Dividend Stocks By Sector Tables, due to its 12%-plus yield. Ever since topping out at $11.02 in early September, TICC has fallen to $9.15 as of 11/15/12, and is oversold on its long-term stochastics chart: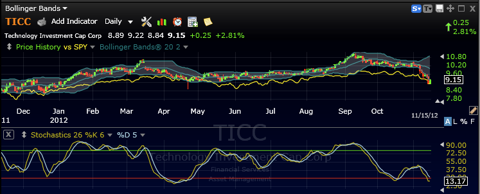 Dividends: After cutting its distributions over 40% during the 2009 crisis, TICC has steadily increased its total annual payouts each of the past 3 years, going from $.60 in 2009, to $.81 in 2010, to $.99 in 2011, and to $1.12 in 2012. Its distribution is covered by its "Core Net Investment Income/Share" by a factor of 1.06:

Valuations: Like many of its peers, TICC is now selling below its Net Asset Value/Share, which stands at $9.85 as of 9/30/12. TICC has had strong asset growth, of over 255%, during the past 12 months.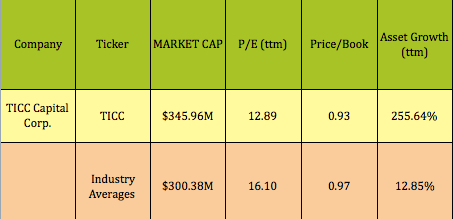 Earnings: All is not perfect with this stock, however. TICC's Core Net Investment Income/Share will probably grow nearly 19% in 2012, but analysts are currently estimating flat earnings in 2013. But, these estimates may be too conservative, in that TICC has recently raised quite a bit of capital, (around $160 million), via debt and equity sales, which it only just deployed in the third quarter.

Financials: TICC's efficiency ratios outshine its industry's averages, and although it now carries more debt, it does have a very high Interest Coverage ratio: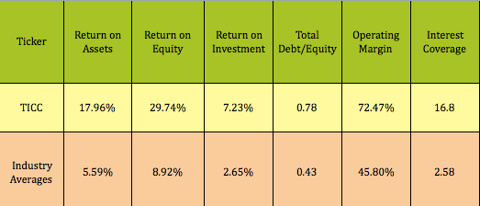 Options: TICC does have options, but they're thinly traded, and the yields aren't nearly as attractive as its dividend yield
Company Profile:
TICC Capital Corp. is a business development company primarily engaged in the business of providing capital to technology-related companies. TICC concentrates its investments in companies having annual revenues of less than $200 million and/or a market capitalization or enterprise value of less than $300 million, with a focus on businesses in the following sectors: computer software and hardware, networking systems, semiconductors, semiconductor capital equipment, diversified technology, medical device technology, information technology infrastructure or services, Internet, telecommunications and telecommunications equipment and media. (Source: TICC website)
Disclaimer: This article is written for informational purposes only and isn't intended as investment advice.
Disclosure: I am long TICC. I wrote this article myself, and it expresses my own opinions. I am not receiving compensation for it (other than from Seeking Alpha). I have no business relationship with any company whose stock is mentioned in this article.