By now, news about the budding housing recovery should feel like very old news. However, I think it still makes sense to continue checking in with companies with front row seats to the housing market to confirm that positive momentum remains in the market. Home Depot (NYSE:HD) reported earnings earlier this week (November 13th), raising earnings and revenue for FY12, partly as a result of a "healing housing market." During the company's conference call with analysts, executives provided select commentary on the health of the housing market (all quotes from the transcript provided by Seeking Alpha).
The most encouraging sign is that the housing market is now a positive contributor to the growth of Home Depot's business:
…we can start to see the housing market as an assist to our growth rather than an anchor. That is consistent with the national numbers which now show housing as a positive contributor to GDP…housing is a little bit of an assist rather than a negative…

…We've got a high-level and I'll call it imperfect models, but we have looked at drivers of housing that could impact our business, focusing principally on turnover. And if you would look at how housing turnover is performing this year, on an annualized basis, about 4.5 million units. We know from a study back in 2008 that the average spend is about $3,500. If you then calculate our market share against that and look at our anticipated comps to be versus GDP growth, we would estimate that housing turnover is impacting our comps by about 50 basis points this year. So…we're on the path of recovery.
HD makes it clear that they are "…not lighting rockets over this and [they] don't want to get out over [their] skis, but we're starting to see the recovery of the housing market." Although credit availability remains a "major issue," and HD is concerned about "policy issues," the supporting data points are accumulating:
…the comments are very much in line with what we said in June, that we see housing having to go through a workout period, and we'd say we're in that workout period now. That's a positive though…

…we've had a number of quarters of consecutive performance that starts to give you some confidence that the market is healing…if you look at our performance this year and take a 2-year quarter-over-quarter, our business continues to progress…

…Geographically, the harder hit areas that were really the epicenter of the housing crisis appear to be on demand and it's been consecutive, it's been consistent. So that's why we think it's healing.
HD noted Florida and California as recovering areas of notable strength that delivered performance above the company average.
I also took note of a comment from a Morgan Stanley analyst who claimed that household formation is increasing. Sure enough, growth in household formation is now at levels last seen in 2006. So while growth is still well below the average from 1996 to 2006, the trend since the recession ended is pointing upward. Household formation is important to the housing market because it creates a baseline of demand. I am expecting homebuilders to examine these data carefully in coming up with guidance for 2013.
The stock market initially reacted to HD's results very positively. The stock gapped up to a new 13-year high. General market weakness reversed all those gains the very next day. This negative follow-up was missing from the generally positive reaction to August's earnings. This price action suggests HD is not likely to make much progress between now and the next earnings announcement.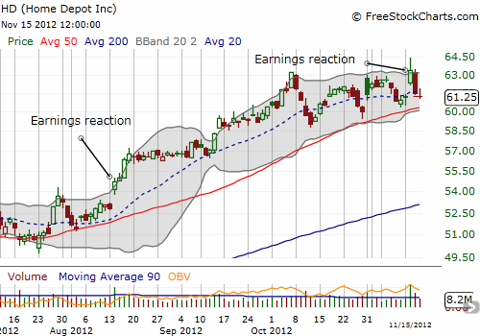 Home Depot immediately gives back all its post-earnings gains
Overall, HD has had an incredible run in 2012 (along with many housing-related stocks), so a little consolidation at this point would be very healthy. HD has gained 46% year-to-date, well ahead of the S&P 500′s 7.6% year-to-date gain. As with so many other housing-related stocks, buying the dips continues to make sense to me.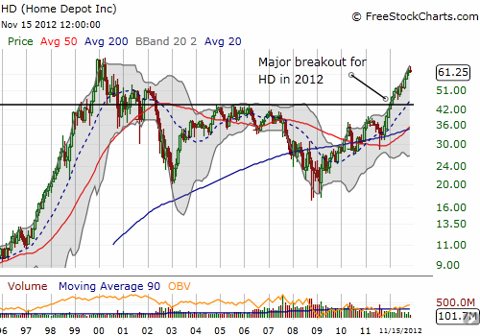 2012 has been a major breakout year for Home Depot
Source for charts: FreeStockCharts.com
Be careful out there!
Disclosure: I have no positions in any stocks mentioned, and no plans to initiate any positions within the next 72 hours. I wrote this article myself, and it expresses my own opinions. I am not receiving compensation for it (other than from Seeking Alpha). I have no business relationship with any company whose stock is mentioned in this article.