Altria Group, Inc (NYSE:MO) is best known for its Marlboro man and cigarettes. However, in the investing world Altria is best known for its handsome dividends and shareholder friendly policies. The current Altria is what remains of a much larger company. The old Altria spun off Philip Morris International (NYSE:PM), which controls the Marlboro brand outside of the US, on March 28, 2008. On March 30, 2007 Altria spun off Kraft (KRFT) and (NASDAQ:MDLZ). As shareholders of these spin-offs can attest, they have continued Altria's shareholder friendly policies.
Altria is currently trading for $30.49 as of November 16, 2012. The current dividend is $0.44 a share, which translates into a yield of 5.77%.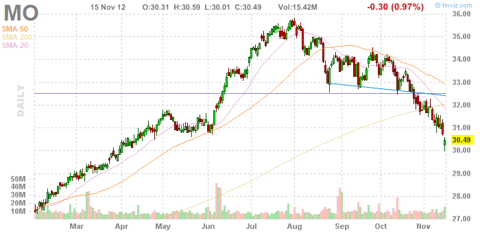 Altria has been steadily increasing its dividend. The company has targeted dividend payout ratio of approximately 80 percent of adjusted earnings per share.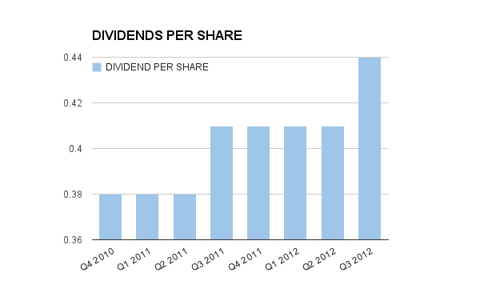 Altria has also been steadily buying back stock and reducing its number of shares outstanding. The number of shares as of the end of third quarter of 2012 was 2.024 billion. This is a reduction of 60 million from the 2.084 billion shares outstanding at the end of the third quarter of 2011.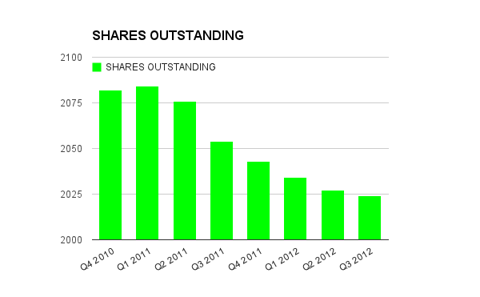 Apart from its cigarette business, Altria owns a 27.1% interest in SABMiller. This stake provides Altria with about $472 million per year of dividend income or about $118 million per quarter. This income is separate and apart from Altria's net earnings.
For the third quarter of 2012 Altria reported EPS of $0.32. This is a decline from the $0.60 of EPS Altria reported for the second quarter of 2012. EPS has been affected by charges due to the retirement of older high interest debt.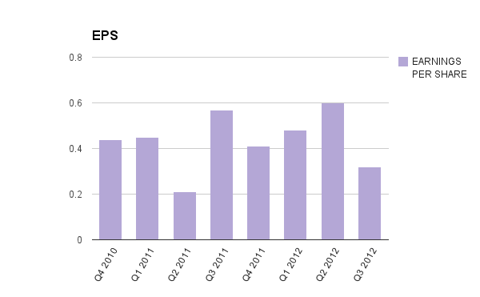 The dividend payout ratio using EPS has average 99% for the 8 quarters since Q4 of 2010.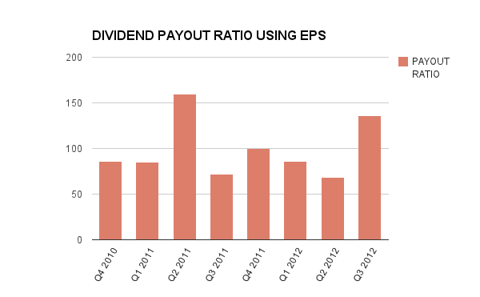 However, if you add the income provided by the SABMiller holdings to EPS you will get a much healthier average payout ratio of 87%.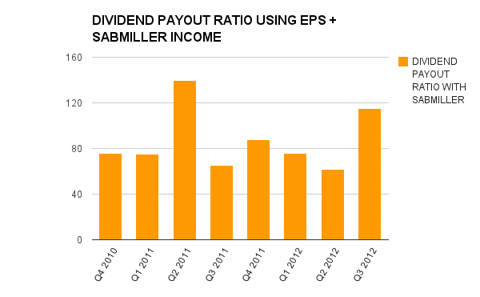 Altria's total debt at the end of Q3 of 2012 stood at $13.88 billion. This is a slight increase from the $12.20 billion of total debt at the end of Q3 of 2012. Interest expense for the Q3 of 2012 stood at $278 million, a decrease from the $282 million for the Q3 of 2011. Interest expense is expected to decline even more, since Altria has been replacing older high interest debt with newer low interest debt.
CONCLUSION
Altria is a best in breed dividend paying stock with its current 5.7% yield and commitment to increasing shareholder returns via dividend increases and stock buybacks. It is a worthy of a spot in any income seeking portfolio.
Disclosure: I am long PM. I wrote this article myself, and it expresses my own opinions. I am not receiving compensation for it (other than from Seeking Alpha). I have no business relationship with any company whose stock is mentioned in this article.