My Favorite Dividend Stock: A Comprehensive Review of Strategy and Risk Mitigation
Berkshire Income Realty (BIR.A) is by far the most reliable stock in my portfolio. Berkshire Income Realty's Series A, cumulative redeemable preferred stock pays a 9% dividend on a $25.00 liquidation preference. For the dividend investor, I would like to present a brief overview of Berkshire Income Realty, followed by a strategy I have used in the past to mitigate redemption risk.
Organization and Structure
Berkshire Income Realty is structured as a typical Umbrella Partnership REIT (UPREIT). This structure allows private individuals or partnerships owning real estate to exchange those assets for operating units (OP Units) in a limited liability partnership (LLP). In the case of Berkshire Income Realty, the partnership is BIRF LLP. In this particular UPREIT structure, (Berkshire Income Realty) holds 100% of the general partner interest in BIRF LLP, and assumes responsibility for the real estate portfolios day to day management and operation.
In 2003, Berkshire Income Realty authorized 5,000,000 shares of 9% Class-A, $25.00 redeemable preferred stock, of which 2,978,110 shares have been issued. This represents the only public offering Berkshire Income Realty has engaged in since its organization in 2003. No common stock has been issued, besides private OP units to KPF Partners, a related party and partner in BIRF LLP.
Solid Fundamentals and Yield Make Berkshire Income Realty an Ideal Bond Surrogate
With Baa Bonds yielding 4.43% on average, and competition from treasuries bleak in the foreseeable future, Berkshire Income Realty's yield of 8-9% (depending on entry price) is a great surrogate.
Fundamentals
Berkshire Income Realty owns, acquires, develops and manages a portfolio of 6,786 apartments in Georgia, Maryland, Oregon, California, Massachusetts, Colorado and Illinois. Though interest in joint ventures, it is developing several projects scheduled for occupancy in 2014. Occupancy of core properties has remained at a healthy level, above 95%, which most REITs consider stabilized. The past 4 years of FFO growth are testaments to Berkshire Income Realty's relative success.
Occupancy Growth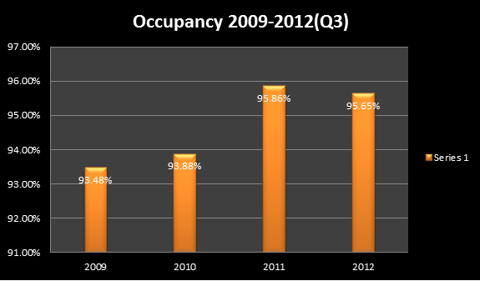 FFO Growth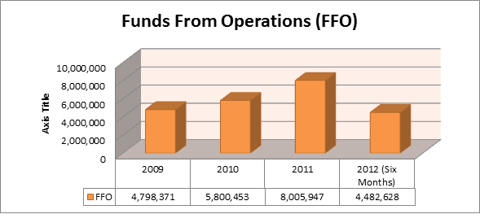 FFO/Share Growth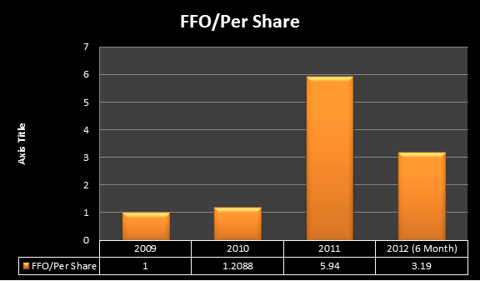 Debt Maturity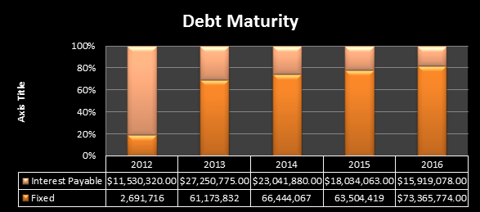 Data Set for Strategy
Dividend dates: (February 15, May 15, August 15, and November 15)
Since its inception in 2003 through present(11/14/2012), Berkshire Income Realty's average mean share price has been $24.65, including a drastic drop during the great recession.
The following table represents divergence from the mean, based on end of day stock prices, 2003-present (11/14/2012).
| | |
| --- | --- |
| Mean | 24.64543 |
| Variance | 10.26021 |
| Standard Deviation | 3.203156 |
Between April 10th, 2010 and November 14, 2012, the standard deviation of Berkshire Income Realty's stock price has been $.935.
| | |
| --- | --- |
| Mean | 26.24075 |
| Variance | 0.874533 |
| Standard Deviation | 0.935165 |
Strategy and Risk Aversion
Risks inherent to redeemable stock, and as a result; Berkshire Income Realty, include the company deciding to call, or redeem it's preferred shares at the redemption price of $25.00. The possibility of this occurring is rare in the case of Berkshire Income Realty, as their preferred stock is their main source capital. However, this is always a possibility and is worth consideration when setting your entry point.
Redemption Risk Example
$26.56 Buy Price Example:
Buying shares at Berkshire Income Realty's 365 day average of $26.56, and holding for one year carries an immediate redemption price risk of $1.56 per share, or a loss of 5.9%. However, at this price, each quarter the stock is held without redemption, there is a decay of redemption price risk of 2.1%. Upon the third dividend payment, an investor who bought shares at $26.56 has a monetary risk of zero in relation to price redemption.
My Optimal Buy Level and Strategy As a Long Term Dividend Investor
Setting an entry point for Berkshire Income at a level below $26.00 without a stop loss. Hold the stock for nine months, and then set a stop loss at $25.00 following the third ex-dividend date. After nine months, the strategy outlined above will minimize the investors redemption risk exposure to zero before taxes, yielding 2.6% (assuming 25.99 buy price) over the redemption price of $25.00. This is far from a comprehensive risk mitigation strategy, but it is one that has worked well for me in the past.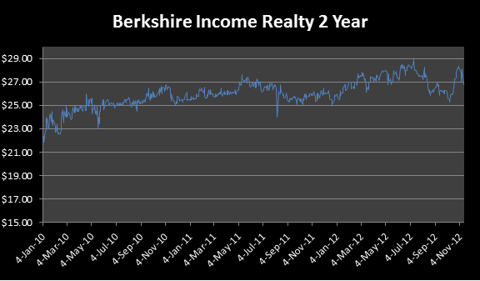 Conclusion
So there you have it, a preferred stock, with a high yield backed by strong fundamentals. Those who are interested in dividend yield as a proxy for bonds in 2013 should look at this stock. It is a great addition to a retirement account as well, as dividends are "non-qualified" and are taxed as ordinary income.
My next article will detail my Master Limited Partnership an Cumulative Preferred REITs I believe will generate the best income in 2013.
Disclosure: I am long BIR.A. I wrote this article myself, and it expresses my own opinions. I am not receiving compensation for it (other than from Seeking Alpha). I have no business relationship with any company whose stock is mentioned in this article.