Initial jobless claims surged to their highest level since April 2011 Thursday rising from 361K up to 439K. While some of the increase is attributable to Hurricane Sandy, there really is no way to sugar coat this weakness. If you were having second thoughts regarding the economy, Thursday's report doesn't help, and it will likely take weeks before we can get a true read on jobless claims.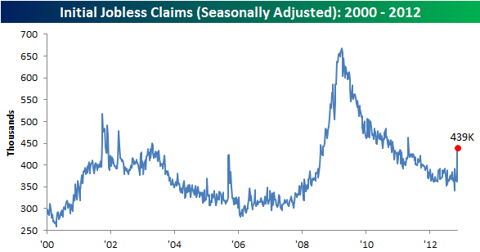 With this week's increase the four-week moving average also soared to 383.8K, which puts this reading more than 20K above the post-recession low of 363K from March of this year. It has now been 33 weeks since the four-week moving average made a post-recession low, which is the longest stretch of the expansion. It will also be several more weeks before making a new low in claims is even part of the conversation.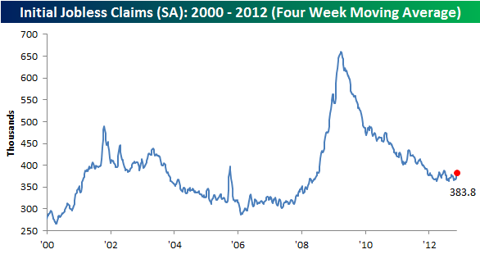 On a non-seasonally adjusted basis, jobless claims also saw a sharp increase, rising to 466.3K. Not surprisingly, this is well above the average for the current week dating back to 2000 (394K).