On Thursday, Target (NYSE:TGT) reported stronger-than-expected third-quarter earnings. These results come in the wake of Target making a substantial entrance into Canada, along with driving sales domestically through its recent investments in customer loyalty. In August, I wrote an article titled "Why Target's Flat Profit Is A Mere Bump In The Road" where I outlined the company's fundamental strength in the wake of flattening profit. This is the quarter that Target proved its strategic vision is working and is driving profitable growth. In the third quarter, the company reported the following:
Click to enlarge images.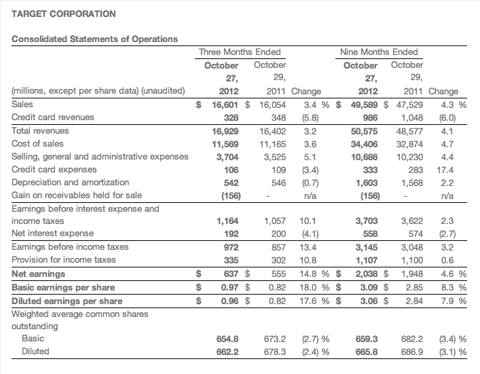 Source: Target's Q3 earnings report.
These results show strong sales both for the previous quarter and fiscal YTD. What is most promising is the increase of 14.8% in net earnings, which is a direct result of the balanced approach Target has taken in order to cut costs, along with driving sales in both existing and new stores. Gregg Steinhafel, chairman, president, and CEO of Target, said during the release on Thursday:
We are well-positioned to deliver strong fourth-quarter performance by offering compelling merchandise and unbeatable value through initiatives like the Target/Neiman Marcus Holiday Collection, 5% REDcard Rewards, and our new Holiday Price Match, which allow our guests to shop at Target with confidence throughout the holiday season.
This strength on behalf of Target comes after Wal-Mart (NYSE:WMT) -- the world's largest retailer -- reported weaker-than-expected same-store sales. This disappointment by Wal-Mart was evidenced by the stock's 4% drop in value. Target outperforming Wal-Mart illustrates the strength that Target has going into the holiday season and beyond.
From an investment perspective, Target is positioned well in terms of valuation and is pointing toward continued growth in all of its operating segments. Target's financials are displayed below, compared with Wal-Mart's:
Forward Price/Earnings
Target: 12.69
Wal-Mart: 12.73
PEG Ratio
Target: 1.19
Wal-Mart: 1.58
EV/EBITDA
Target: 7.68
Wal-Mart: 8.04
Profit Margin
Target: 4.12%
Wal-Mart: 3.53%
Return on Equity
Target: 18.95%
Wal-Mart: 22.90%
Dividend Yield
Target: 2.30%
Wal-Mart: 2.20%
These financial metrics show that Target's valuation is in line with its closest competitor, Wal-Mart. The difference between the two is that Target has put forth a clear vision for its future, which includes its rapid expansion into Canada, its commitment to rewarding customers through its loyalty offering, and its investment in price.
Wal-Mart cannot boast the same fundamental and strategic assets that Target has ahead of it. For this reason, Target is both priced and positioned for long-term success.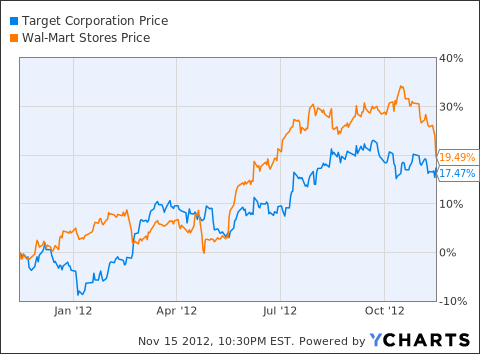 Conclusion
The flattening profit of the second quarter proved to only be a bump in the road. Target's strategic vision for the future has taken hold and its strategy is working to drive both incremental sales and profit. Brian Yarbrough, a retail analyst at Edward Jones, said about the company: "Consumers continue to struggle and continue to look for value and Target is providing that without seeing massive hits to margins."
There are no signs that this tide will turn, but rather that it will continue to strengthen and Target will continue to take market share away from its largest competitors, including Wal-Mart. Target is a fundamentally strong investment today and into the future.
All financial metrics referenced above were obtained from Yahoo Finance, CNBC Analytics, S&P Capital IQ, and Thomas Reuters.
Disclosure: I have no positions in any stocks mentioned, and no plans to initiate any positions within the next 72 hours. I wrote this article myself, and it expresses my own opinions. I am not receiving compensation for it (other than from Seeking Alpha). I have no business relationship with any company whose stock is mentioned in this article.