Vivus, Inc. (NASDAQ:VVUS) is a bio-pharmaceutical company developing therapies to address obesity, sleep apnea, diabetes and male sexual health. The company's lead drug is used for the treatment of obesity, called Qsymia.
Launched in September 2012, Qsymia targets obesity by prescription. Currently, VVUS is in the early stages of launching this product. In due time, it is expected to gain more traction as new prescriptions usually do by providing patients with the new drug mail-order delivery plan approved by the FDA using the very best certified pharmacy network of providers: CVS (NYSE:CVS), Walgreens (WAG) and recently signed Express Scripts (NASDAQ:ESRX). To start, Qsymia will only be available only through mail-order pharmacies. Eventually this drug will be expanded to retail pharmacies. Insurance companies are also starting to gain in the health care member's approval process. When this happens, medical doctors are expected to start prescribing Qsymia more often than unregulated off-label brands on the shelves.
According to the latest company conference call, Vivus is now ramping up its prescriptions and should improve into the holidays through the first of the year. Over the past several months I have been watching the stock and it has faded back considerably to pre-PDUFA prices giving investors, not traders, a good long term entry point. Please see the chart below.
The latest VIVUS Q3 2012 earnings call on November 6, 2012 detailed some interesting facts reported by Michael Miller - Chief Commercial Officer and Senior Vice President at Vivus and I would like to re-state some of them here:
- Qsymia was only made available on September 17, 2012. For 10 business days in the third quarter, net revenues were only $41,000, which represents the 656 Qsymia prescriptions shipped from certified network pharmacies to patients. This number scared several traders, but keep in mind that this was only 10 days folks and not the whole quarter.
- Vivus initially launched Qsymia with 2 mail-order certified pharmacies, namely CVS Caremark and Walgreens in September 2012.
- In October, VVUS expanded the Qsymia certified pharmacy network to include Express Scripts (ESRX) and a large closed model HMO that wasn't named.
- In the month of October and including the week of 10/26/2012, an additional 4,904 Qsymia prescriptions were shipped to patients, bringing the actual total of Qsymia prescriptions shipped to patients since its launch to 5,560. This represents a vast difference than the reported 10 day shipments. This new evidence in an increase in prescriptions strictly for Qysmia seems to be ramping up according to this new data.
A Case For Buying Vivus Now:
1) A New Study which enhances the long, 2012 shows that its drug Qsymia also works for sleep apnea patients. Vivus announced Monday that a study published in the journal SLEEP (2012; 35(11):1529-1539) found that patients with moderate to severe obstructive sleep apnea (OSA) taking phentermine and topiramate extended-release capsules achieved significant improvements in key measurements of OSA and cardiovascular risk factors. This, along with weight loss during the 28-week trial was significant. Investors should also know that OSA afflicts approximately 3% to 7% of the U.S. population. Further, data from the Wisconsin Cohort Study indicates that the prevalence of OSA in people aged 30-60 years is 9-24% for men and 4-9% for women.
2) QVT Financial who owns an 8.3% stake in Vivus presses its CEO Leland Wilson to sell the company rather than market Qsymia solo. QVT executives met with Vivus Chief Executive Leland Wilson Wednesday and told him they believed that shareholders would receive more value if Vivus were sold, rather than the company continuing to handle sales of Qsymia. QVT also asked, during what it called a "constructive discussion," about having one of its representatives obtaining a seat on Vivus's board. There has been some skepticism that the obesity market might not be as big as investors initially thought. Shares are down more than 50% over the last month closing at $10.27 on Thursday, a surprise to many industry experts.
3) Late Thursday, Forbes reported that Vivus had its estimates and price target reduced by Lazard (NYSE:LAZ) due to a sluggish launch expectation for Qysmia. A "buy" rating was issued with a $27 price target.
4) Long term, Qsymia has great potential both in the U.S. and in other countries. As alluded to earlier, the drug should continue to gain acceptance by doctors along with an expected increase in reimbursement with most insurance medical plans. Reimbursement is projected at about 30 percent of payers one year from the September launch. Short term the stock may have faltered because the drug was not approved in Europe following the FDA acceptance and the launch was made for mail-order pharmacies only. On appeal, Vivus said it will file a new marketing application or appeal the agency's decision. Also, Vivus wants to market the drug in Europe under the name Qsiva.
If you recall Affymax's (OTCPK:AFFY) new OMONTYS drug (for use in treating anemia due to chronic kidney disease (CKD) in adult patients on dialysis) was approved by the FDA on March 27, 2012 and it took that stock several months to move from around $11 to approximately $28 in October 2012.
5) The current stock chart indicates a possible reversal may now be in motion. We like to buy stocks that have dropped considerably with the possibility of a reversal. This stock is definitely on sale. So what would cause a reversal? Recent news announced this Monday regarding the sleep apnea results coupled with a drug launch. Vivus may very well reverse back up just as I detailed in a prior article weeks ago on Questcor (QCOR) stock when we saw that stock fall from year-to-date highs. Technically, according to the chart below, the Stochastic technical indicator has crossed up, which is a bullish sign. This indicator will continue to give a bullish buy signal, but we need to get a cross-up on the MACD technical indicator as well.
I like the story and always look for bargains in stocks like this. It is also possible that traders capitulated which may have triggered what is called a double bottom reversal from $10.00?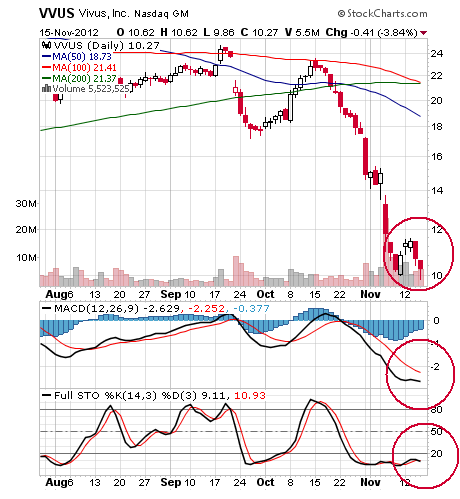 Disclosure: I am long VVUS. I wrote this article myself, and it expresses my own opinions. I am not receiving compensation for it (other than from Seeking Alpha). I have no business relationship with any company whose stock is mentioned in this article.