Late last month I noted that the Philly Fed printed above expectations in October and logged its first positive reading (+5.7) in six months. Unfortunately, the same report showed the capex index falling into negative territory for the first time in 36 months.
One month later, it appears that October's positive Philly Fed headline number was a blip on the radar screen, while the negative capex print was indeed indicative of future readings. On Thursday, the Philly Fed released its November Business Outlook and the headline figure (the diffusion index of current activity) missed economists' expectations by a mile, coming in at -10.7 versus a consensus of +2. Current indices for new orders, shipments, and inventories all fell month-over-month but perhaps more importantly, two critical forward looking indicators showed notable weakness:
"The future employment index... fell from 8.0 to 4.2, its second consecutive month of decline. Firms' expectations for future capital spending have also shown weakness in the last two months; the index registered its second consecutive negative reading."
The ghastly Philly Fed miss comes just one day after retail sales ex autos and gas posted a surprise .3% drop in October on expectations of a .4% rise -- that was the biggest miss in two and a half years. The following chart from ZeroHedge shows core retail sales (top pane) and the amount by which the report came in above or below expectations: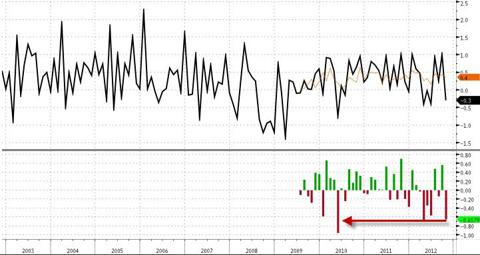 Source: ZeroHedge
Of course the media has been quick to pin the disappointing retail sales number on 'superstorm' Sandy. While this might seem logical on the surface, when one thinks about all the people buying supplies in anticipation of the storm and in the aftermath as part of the cleanup effort, it would seem that Sandy might actually have boosted sales for some businesses. Indeed this is the Census Bureau's conclusion:
"Can the Census Bureau estimate the effect of Hurricane Sandy on the sales estimates published in the October 2012 Advance Monthly Sales for Retail and Food Services Report? No. We cannot isolate the effect of Hurricane Sandy on the Advance Monthly Retail Trade and Food Services Survey...we did receive indications from the companies that the hurricane had both positive and negative effects on the retail sales data."
Consistent with the weak employment index prints in both the Philly Fed report and the Empire State Manufacturing Index (employment index fell to its lowest level since 2009 and the future employment index sits at -1.1 ), weekly jobless claims rose unexpectedly last week to 439,000, the highest level in 18 months. This too was blamed on superstorm Sandy, but investors shouldn't forget that jobless claims are jobless claims regardless of what caused them and it isn't really any consolation that we know why people are losing their jobs. Meanwhile, prices crept up in October as the core CPI rose .2%. Rising prices and falling employment are not a good combination.
All of this begs the following question: "What recovery?" The U.S. economy is barely treading water. If, like me, you believe that investment decisions should be based upon fundamentals and not upon speculation about how far markets can be distorted by fiscal and monetary policy, then the data cited above provides further evidence that from a fundamental perspective, the bear thesis is strong. Remain short the broad market (NYSEARCA:SPY) (NASDAQ:QQQ) in the face of deteriorating economic fundamentals.
Disclosure: I have no positions in any stocks mentioned, and no plans to initiate any positions within the next 72 hours. I wrote this article myself, and it expresses my own opinions. I am not receiving compensation for it (other than from Seeking Alpha). I have no business relationship with any company whose stock is mentioned in this article.