Baidu (NASDAQ:BIDU) is trading near 52-week lows as competition from Qihoo 360 and a relatively slow pace of investment in new businesses and innovation has impacted stock prices in the near-term. This article discusses the comparative valuation between Google (NASDAQ:GOOG) and Baidu and the reasons for believing that Baidu is a good long-term buy at these levels.
Before discussing the business factors, I would like to discuss the valuation factors, which makes the stock relatively attractive compared to Google. The table below gives some of the key growth and valuation metrics for the two companies.

Baidu has exhibited robust growth in the last five years and is expected to grow at a healthy pace over the next five years. Expected growth for Baidu is much superior as compared to Google. Although Baidu is trading at a relatively higher PE, the PEG ratio for Baidu is only 0.5 as compared to 1.2 for Google. Therefore, from a PE and PEG valuation perspective, Baidu does look more attractive.
Also, in terms of earnings surprises, Google had two negative earnings surprises in the last four quarters as compared to none for Baidu.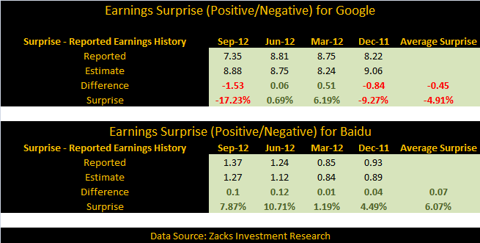 I want to stress on this point because the stock returns for Google over the last one year have been a positive of 6.3% compared to negative returns of 31.7% for Baidu. The point I am trying to make here is that Baidu has been dragged down due to negative market sentiment in China, a slowdown in China and some earnings slowdown concerns for Baidu.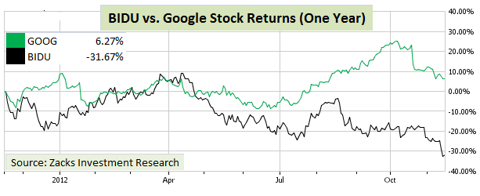 However, the slowdown in China and equity market sentiment is a temporary phase and investors need to capitalize on this to consider exposure to beaten down stocks, which have a good long-term outlook. As shown in the chart below, Baidu's EPS trend remains robust and it has been associated with a sharp decline in stock prices. The negative reaction presents a good opportunity for investors to consider long-term exposure to the stock.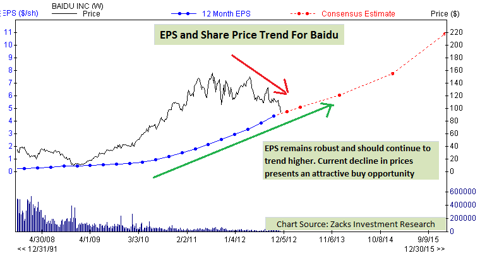 Coming to the business fundamentals, the search market in China still has significant upside potential and individual companies can exhibit robust growth in the presence of competition. As such, my belief is that the decline in stock prices related to competition and a decline in growth is overdone.
More importantly, Baidu has been taking measures to tap the potential related to the PC-to-mobile transition. Going forward, Baidu's key area of focus is mobile and cloud. With meaningful cash holdings and size greater than that of peers such as Qihoo 360 Technology Co. Ltd (NYSE:QIHU), Baidu is well positioned to invest more in research and development.
The focus of the company in the key areas of growth is reflected in the following statements from the third quarter results -
"During the quarter, we worked to improve user experience by more closely integrating Baidu's suite of market-leading vertical products with Web search," continued Mr. Li. "Mobile and cloud represent our vision for the future of China's Internet, and Baidu will continue to proactively drive the development of this crucial ecosystem. We stand ready to meet the challenges and capture the opportunities the PC-to-mobile transition presents."...Jennifer Li, Baidu's chief financial officer, commented, "In the third quarter, we saw solid profitability as we continued our strategy of investing in key areas of future growth, particularly mobile and cloud. In the quarters ahead, we will look to accelerate the pace of investment to achieve long-term, sustainable growth."
Baidu's strong network of 390,000 active online marketing customers as of third quarter of 2012 is another key revenue driver for the future. The online marketing customers increased by a robust 28.3% compared to the prior quarter. Growth in online customers and increase in revenue per online market customers amounted to a 49.6% increase in online marketing revenues for the third quarter of 2012. As the e-commerce industry gains further traction in China, growth for Baidu will continue to be robust in this segment.
I had mentioned earlier in the article on cloud computing and Baidu's focus on cloud computing and mobile devices. As a part of this business strategy, Baidu is investing USD1.6 billion for setting up a cloud computing center. Baidu already operates the largest cloud in China and the new initiative should help Baidu attract smartphone makers. If this strategy pays off for the company, Baidu can capture a significant share in the mobile services market. The launch of Baidu's new browser is also a step towards capitalizing on the mobile market.
Clearly, Baidu is moving in the right direction from a strategic perspective and these investments should translate into higher revenue growth in the long-term. Even if revenue declines (on a relative basis) in the near-term, the long-term upside growth potential remains intact and an associated decline in stock prices gives a good buy opportunity for long-term investors.
Through this article I am not suggesting that Google is a bad investment. On a relative basis, Baidu looks attractive and with huge growth impending in China's mobile and internet market, the growth upside for a large player like Baidu is significant. Therefore, investors need to consider Baidu for the long-term and buy on declines for robust returns over a period of 3-5 years.
Disclosure: I have no positions in any stocks mentioned, and no plans to initiate any positions within the next 72 hours. I wrote this article myself, and it expresses my own opinions. I am not receiving compensation for it (other than from Seeking Alpha). I have no business relationship with any company whose stock is mentioned in this article.