The U.S. is not alone with its increased aging population. According to the study (pdf) conducted by Population Division of United Nations, the number of older persons has tripled over the last 50 years and it will more than triple again over the next 50 years. The world is projected to have close to 2 billion of aged population group in 2050 and the majority of aged population will be residing in the less developed regions by that time, as seen from the chart below.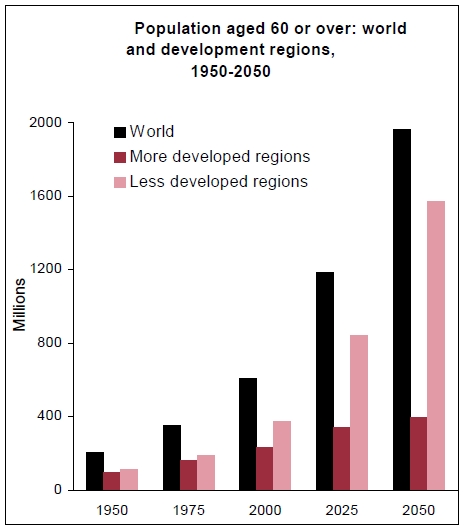 Source: Population Division of United Nations (pdf)
As stated from the study, "the older population is growing faster than the total population in practically all regions of the world―and the difference in growth rates is increasing." By researching further into the aging population, it is noted that the 80 or over age group is growing faster than any young segment of the older population, regardless of their geographic location or developmental stage, as seen from the chart below.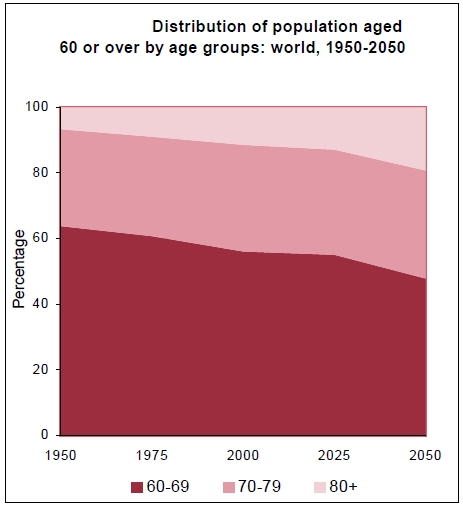 Source: Population Division of United Nations (pdf)
Older Populations Are Aging
The world is not only aging and the aging populations are also living longer. As the share of the aging population increases, the demand for social security and healthcare will increase. By using the U.S. as an example, "the aging of the baby-boom generation portends a significant and sustained increase in coming years in the share of the population that will receive benefits from Social Security and Medicare and long-term care services financed through Medicaid, as stated by the U.S. Congressional Budget Office.
While the number of persons aged 80 or over is increasing substantially, the demand for long-term senior care will grow significantly. In fact, long-term senior care is one of the only few major essential, routine, and fixed expenses for 80-plus population.
Investment Implications
While the global demand for long-term senior care will grow considerably in the next few decades, our investment will focus on the U.S.-listed companies for now. Below are the lists of publicly traded companies in the U.S., providing senior care services and meeting our basic investment criteria of a positive EPS and a satisfactory trading liquidity.
Stock with dividends:
Stock without dividends:
Investors are encouraged to follow this aging population trend and monitor the development of the long-term senior care industry. However, the list above is provided only as a starting point for interested investors to research further and we do not recommend individual stocks at this moment.
Disclosure: I have no positions in any stocks mentioned, and no plans to initiate any positions within the next 72 hours. I wrote this article myself, and it expresses my own opinions. I am not receiving compensation for it (other than from Seeking Alpha). I have no business relationship with any company whose stock is mentioned in this article.
Additional disclosure: Long healthcare stocks