I'm set to give another presentation (see the slides) at the Boston College Investment Club, focused on recapping what's been happening in the world the last two weeks, and I plan on editorializing a bit in presenting a new market outlook. Because however you slice it – two weeks with the S&P down 11%, or one month with the S&P down 25% – those are substantial moves driven by distressed sellers unable to make patient, rational decisions, and that means there are opportunities out there.
As you'd expect, my presentation is rather negative. If that's a reflection of anything, it's simply that there is plenty that has gone wrong so far this month. Credit markets have been inexplicably terrible, governments and central banks are being forced to scramble and play hands they might not want to play, and the data points supporting a global economic deceleration are coming in constantly.
One observation in particular – I had someone ask me how this could be a problem when many key rates are down over a longer-term period (look at LIBOR and short Treasuries vs. last year). The short end has a spread problem, and this is more easily dealt with than the problem on the long end, which is simply that absolute rates are too high to present borrowers with reasonable costs… if they can raise money to start with. All the liquidity injections and credit facility expansions are beginning to work, with the two-year swap spread down 35% from its peak (see chart below) and commercial paper rates declining.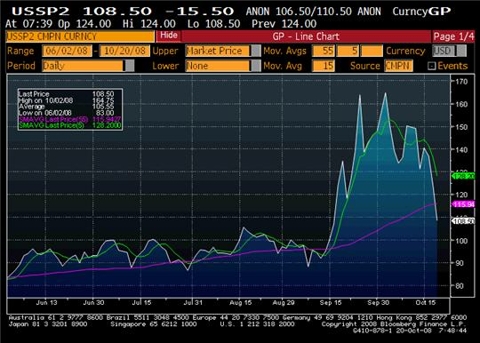 Now, getting long corporate bond rates down is another question. Speculative grade spreads have really blown out, to the point where I can probably charge things on my credit card for less than a BB/Ba company can borrow. One of my remaining sell pitches is a company (nameless for the time being, but to be featured here soon) that has just over $2 billion in assets, and around $700 million in long-term debt. The main problem is that – besides the low fundamental returns and consumer discretionary label – there is no tangible equity (all tied up in goodwill from acquisitions) and the maturities on the debt are very front-heavy, with more than $200 million maturing in the next twelve months and another $150 million due between 1 and 3 years out. While I don't believe this stock is an eventual zero, it is the kind of thing that I'd rather not have in a portfolio – especially not now.
A few days back, I mentioned that I assumed the role of resident bear at the start of the academic year. That's a mantle I'm all too eager to shed under the right conditions, however – and, specifically, has there been a better time in distant memory to practice some moat arbitrage?
If you're an overleveraged hedge fund and need to raise cash, or a mutual fund manager being hit with redemptions, the easiest way to solve your problem is start selling the high-quality stuff that has a large, liquid market. But there is something to celebrate: if you like big discount sales on excellent businesses, is it ever a buyer's market. Cue a stodgy value investor's dream…
These are some of the world's best companies, and they're generally trading at or below trough multiples to sales and for a low double-digit earnings multiple. I'll argue that represents a prolonged Great Depression scenario, so with a garden-variety (or somewhat worse) recession, these stocks stand to offer superior returns with less risk. It won't be quick or painless, and these stocks might decline further. If so, buy more - disaster proofing a portfolio only has so much value in the case of true chao, after all – and the risk of being bearish is always overstaying the welcome when it feels right and easy, when in reality the risk/reward is poor. I suggest taking a step back and weighing the value of these large caps at 10-12x trailing earnings.
One further suggestion: if you have a very long investment horizon like BCIC, I'd look to quickly snap up the collateral damage from rushes to the exits of the hedge fund party (i.e. forced liquidation situations) and begin scaling into the wide moat companies like the ones featured above.
If a strong rally takes place as credit markets finally knuckle and ease to the hundreds of billions (trillions?) in government injections, lots of marginal companies will see their stocks oar - I'd use that to sell any holdings I wasn't in love with, continue rolling into quality industry leaders, and let the broken hedge fund trades (many of which are very solid) ride.
Stock position: None.