By Brendan Gilmartin
Lowe's Companies (LOW) is scheduled to report 3Q 2012 earnings before the opening bell on Monday, November 19. The report is due out at approximately 6:00 a.m. EST and will follow with a conference call at 9:00 a.m. The report follows an impressive release on November 13 from rival Home Depot (HD). Recall, Home Depot reported 3Q earnings that exceeded the upper end of analyst estimates and raised its outlook for the balance of the year.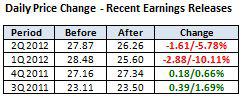 Lowe's is seen posting EPS of $0.35 per share, the mid-point of the consensus range ($0.32 - $0.39). (Source: Yahoo! Finance)
Revenues are seen nearly flat with last year at $11.91 bln. By way of comparison, Home Depot posted a 4.6% increase and an equally impressive 4.2% increase in comparable store sales.
Lowe's previously stated it expects diluted EPS of $1.64 for the fiscal year ending February 1, 2013. The Street estimate is $1.66, implying the home improvement giant may boost guidance.
Lowe's shares are up 26.3% YTD, trading at just 20.8x trailing earnings and a mere 0.7x sales. The shares are significantly lagging its larger rival Home Depot which is up 48.2% YTD, fetching 21.9x earnings and 1.3x sales.
Recent News
11/14: Oppenheimer reiterated an Outperform rating on Lowe's and raised the price target from $32 to $42, according to a post on Benzinga.com. The report cited a recovering housing market and demand in the home improvement space. The firm also believes Lowe's will benefit from a re-merchandising effort and fundamentals will improve.
11/13: Rival Home Depot reported stronger than expected earnings for the third quarter adjusted EPS of $0.74 handily topped the consensus of $0.70 and boosted its outlook for the balance of 2012, implying demand trends remain strong.
10/29: A report on Barron's Online suggested the impact of Superstorm Sandy may benefit Lowe's and Home Depot. The article cited consumer activity ahead of the storm and anticipated clean-up and repair work, along with improving housing trends.

Technical Review
Lowe's shares have been on an impressive run, adding more than 27% since early August, en route to a 52-week high of $33.63 on November 2. Since then, however, the shares have pulled back and are now hovering just above a key support level at $31.50. Should earnings surprise to the upside, look for Lowe's to re-test the aforementioned high of $33.63. If the earnings disappoint, there is downside risk to the 50-Day SMA near $31.00, followed by the 200-Day SMA in the vicinity of $29.00. (Chart courtesy of StockCharts.com)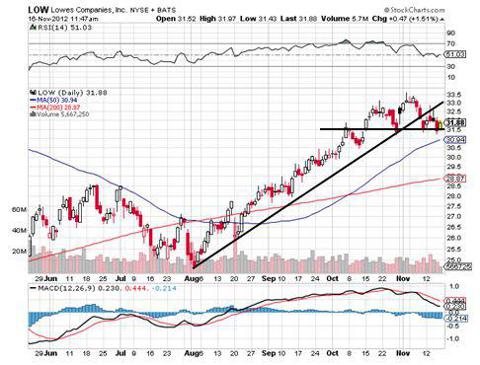 Click to enlarge
Summary
Lowe's shares have been on an impressive run, surging about 25% since the previous August earnings release, as the company benefits from improving trends in the housing industry, coupled with a pickup in consumer spending activity. The impact of Superstorm Sandy in the Northeast, both prior to the event and the post-building effort, along with a re-merchandising effort are other factors contributing to the bullish case on Lowe's. Furthermore, Lowe's is trading at 15.4x forward earnings, versus a multiple of 18.1x future results at Home Depot, while the technical picture remains upbeat, with the stock drifting just below the 52-week high of $33.63. The only knock against Lowe's is that the shares have had such a strong run-up and appear poised for a pullback. Therefore earnings and guidance are seen near the high end of Street forecasts in order to support Lowe's shares above $31.50.
Disclosure: I have no positions in any stocks mentioned, and no plans to initiate any positions within the next 72 hours. I wrote this article myself, and it expresses my own opinions. I am not receiving compensation for it (other than from Seeking Alpha). I have no business relationship with any company whose stock is mentioned in this article.
Disclaimer: By using this report, you acknowledge that Selerity, Inc. is in no way liable for losses or gains arising out of commentary, analysis, and or data in this report. Your investment decisions and recommendations are made entirely at your discretion. Selerity does not own securities in companies that they write about, is not an investment adviser, and the content contained herein is not an endorsement to buy or sell any securities. No content published as part of this report constitutes a recommendation that any particular investment, security, portfolio of securities, transaction or investment strategy is suitable for any specific person.