The post-election sell-off hit the closed-end fund market rather dramatically in recent days. Seeking Alpha contributor Bard Luippold in an article published November 15, suggested the selling may be due in part to deleveraging by hedge funds and levered investors.
This would be quite plausible when you consider that carry-trade activity into high yield and income CEFs helped push many closed-end baskets into rich premiums to their net-asset-values. Mr. Luippold also points out that this volatility may be observable in term structures of VIX futures.
The nature of carry-trade (borrowing at a low yield to capture higher yield) arbitrage has come a long way from the days of borrowing the yen to buy (then) higher-yielding U.S. Treasuries. It works until "convexity" mucks up the yield-curve. Or, as Mr. Luippold also suggests, carry trades would likely perform poorly in liquidity constrained environments.
Several CEFs we hold (see chart below) experienced unusual volatility and noticeable spikes in trading volume during the past five days. Assuming that deleveraging does not accelerate into a full blown liquidation panic, current discounts to net-asset-values with some income CEFs are catching our attention.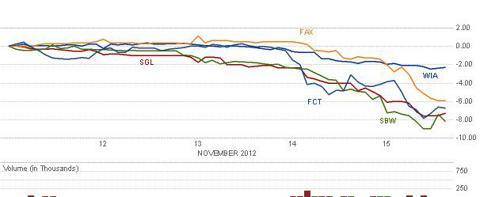 Aberdeen Asia-Pacific Income (NYSEMKT:FAX), The Fund seeks current income with incidental capital appreciation through investment in Australian and Asian debt securities. Shares trade at par to NAV (as of 11-14) and current yield is 5.39%. Distributions are monthly
Western Asset Worldwide Income (NYSE:SBW) The Fund seeks high current income through investment in high-yield foreign government debt securities. Current discount to NAV is -9.31%. Distributions are managed, the fund pays monthly and current yield is 6.92%.
Strategic Global Income (NYSE:SGL). The Fund seeks high current income with capital appreciation through investment in investment-grade sovereign debt securities. Current discount to NAV is -11.07%. SGL also has a managed distribution policy and pays monthly. Yield is 6.73%. Several caveats: recent distributions have included a component of return-of-capital (ROC) and mortgage debt (agency and commercial backed) are approximately 18% of total holdings.
First Trust Senior FR Inc II (NYSE:FCT). The Fund seeks high current income with capital preservation through investment in non investment grade senior floating rate loans.
We were more than surprised to see the senior loan complex get pummeled as much as it did. Granted, many senior loan CEFs were previously trading at premiums to NAV, but an 8% haircut in five days suggests an urgency by some investors to raise cash and quickly.
That said, we like the variable rate features and term-loan characteristics of the portfolio holdings. Credit quality tends to be non-investment grade but the "senior" creditor preference and diversified sector representation is appealing. You can now buy FCT at a slight discount to NAV. Distributions are monthly and current yield is just north of 7%.
Structural Leverage: FAX and FCT employ structural leverage as a tool to enhance returns. Although leverage creates the possibility of increased volatility to share price and NAV, the cost of leverage in a protracted low-interest rate environment is not a deal-breaker to owning the shares in our view.
Volatility: Given the political risks here in the U.S. and global issues elsewhere, volatility will not likely fade away anytime soon. Yet, in this low-interest rate environment, cash yields will not fatten your wallet either. Cash will always be "king" but it does not grow on trees when you need more of it.
Unfortunately, the quest for yield is chock full of risks to any income investor. The old adage of "stay in your own backyard" has now become "think outside the box." It's a jungle out there.
Each of the CEFs mentioned above are and remain long-term holdings in our income portfolios. We think the recent evisceration to these funds may be as Mr. Luippold saliently observes a result of deleveraging.
Who knows what next week, month or year will bring to a CEF investor? But, abrupt downside moves in CEF baskets such as these provide an opportunity to acquire assets at a discount to their "net" value. This does not preclude the possibility said assets will not be at a greater discount two weeks from now but it won't hurt to put them on your watch list.
Closed-end funds are wonderful tools for income investing and strategic to our cash-flow potential and diversification. However, as with any investment there are risks with CEFs. For an investor wanting to lean more, Nuveen sponsors the CEF Connect website. It offers a wealth of information and resources regarding the CEF universe.
Disclosure: I am long FAX, FCT, SGL, SBW. I wrote this article myself, and it expresses my own opinions. I am not receiving compensation for it (other than from Seeking Alpha). I have no business relationship with any company whose stock is mentioned in this article.
Additional disclosure: Fund data as of 11-14-12 and provided by cefconnect.com