After announcing slightly disappointing quarterly results Western Union (NYSE:WU) lost 33% two weeks ago, dropping to its lowest in 3 years: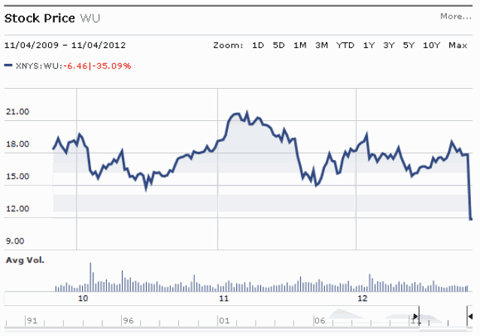 Source : Morningstar
On top of that Western Union raised its dividend by 25% (50 cents per share on an annualized basis) so that its dividend yield is now 4.2% vs. 2.2% barely a month ago.
According to Mr. Market, Western Union went from a growth stock to a mature income stock within a week!
Basic Facts
Western Union is the world leader in funds transfers between individuals across the world. It is public since 2006, when it was spun off by First Data.
Western Union only has 8,000 employees, but they benefit from a strong network of 510,000 agents (paid by commissions), and are considered "wide moat" by Morningstar.
The number of agents keeps on growing (120,000 ten years ago, 510,000 today) and is expected to reach 1 million in the future.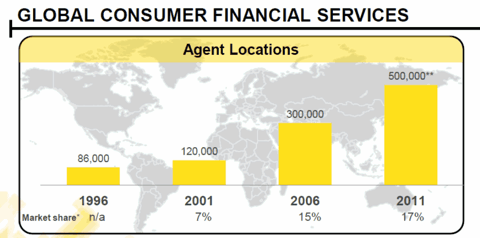 Source : Western Union Investor Day 2012
It would have seemed intuitive that the internet, Paypal and other online money transfer tools would negatively impact Western Union's business franchise.
However this has not been the case. Western Union has grown over the past ten years, and remained fairly unaffected by business cycles (its operations weathered the 2008-2009 crisis rather well).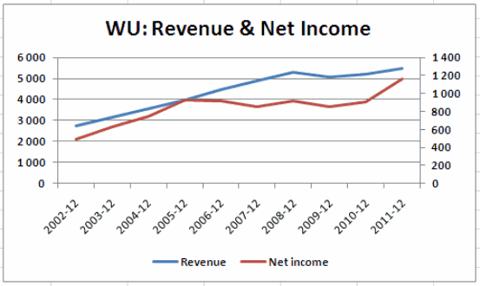 Source : Morningstar
Western Union has strived to diversify into B2B and B2C, in particular through the acquisition of Travelex Payment Units for $1bn at the beginning of 2011. Its sales volume is dominated by commissions on money transfers between individuals: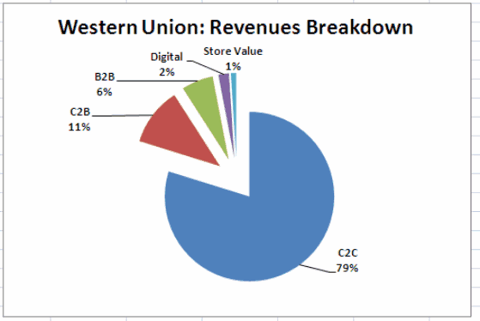 Source : Western Union Annual Report 2011
The chart below shows revenue and net income over the past few quarters, including the recently published numbers that drove the stock price down by 33%.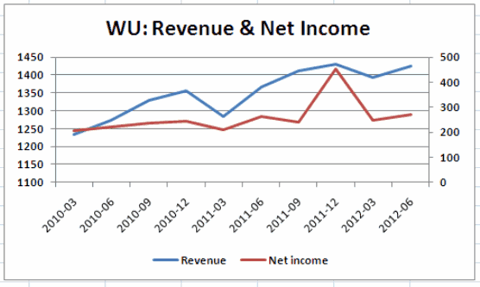 Source : Morningstar
The last quarter appears to be in line with prior quarters.
It's rather the reduction in EPS and the operating income (lower than July and April estimates) that triggered the market's sanction:
| 2012 Outlook | April 2012 | July 2012 | October 2012 |
| --- | --- | --- | --- |
| Non GAAP Revenue | 6-8% | 6-8% | 4-5% |
| Operating Income Margin | 26% | 25.5% | 24.5% |
| EPS guidance | 1.70-1.75 | 1.73-1.77 | 1.65-1.68 |
Source : Western Union
Does that justify a drop by 33% in the stock price, a P/E ratio of 7.1 and an EV/Ebitda at 6.4?
Is a slight reduction in projections sufficient to justify Western Union's business model is broken, as suggested by Notable Calls?
Let us take a step back from the market and try and estimate Western Union's value with the tool XlsValuation:
Historical multiples
As a first step we pull from Morningstar the highest and lowest PE, price to book and price to sales multiples since 2009:


Sources : Morningstar & XlsValuation
The price-to-sales multiple will be weighted a bit more (41%) since it is less variable than the other two, which suggests that it is more "reliable."
Peers
The closest comparable to Western Union is Moneygram International (NYSE:MGI), which is four times as small in terms of revenue.
In the means of payment business sector, there are a few competitors:
• Euronet Worldwide (NASDAQ:EEFT)
• Global Payments (NYSE:GPN)
• Total System Services (NYSE:TSS)
But they do not have exactly the same business model as Western Union.
Normalized data
EPS: I use the consensus estimate from Bloomberg, which is close to the estimate that management provided in the latest quarterly presentation, and lower than last year's EPS.
Sales: Management expects 4-5% growth, so I take last year's revenue multiplied by 104.5%.
Operational margin: I keep the 24.5% expected by management.
EBITDA: Management expects an EBITDA margin of 29%, so I use our revenue estimate times 29%.
Effective Tax Rate: I use management's expectation of 14-15%.
Cash and debt: I use the most recent figures (last quarter).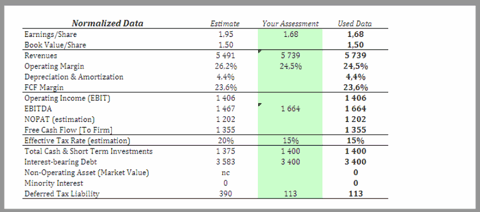 Sources : Western Union, Morningstar & XlsValuation
Present value rate
If we use a bottom-up beta as suggested by Pr. A. Damodaran and considering that Western Union belongs to the "Financial Svcs. (Div.)" industry sector, we obtain an unlevered beta of 0.50, and a levered beta of 0.50.

Sources : Damodaran & XlsValuation
This bottom-up beta is smaller than the historical (5-year) CAPM beta, which I calculated at 1.04.

Sources : Yahoo Finance & XlsValuation
Let's be conservative and use the highest beta, that is the CAPM beta.
For the risk-free rate, we use the 10-year Treasury Bond (1.58%) and for the equity risk premium we follow A. Damodaran (6.44%).
This leads to a cost of equity of 8.3%. Including the cost of debt (post-tax) of 4.3%, the weighted average cost of capital is 7%:

Sources : Damodaran & XlsValuation
This cost of capital does seem low however, in particular relative to Western Union's current market value.
If we use a "normalized" risk-free rate of 4%, and a "normalized" risk premium of 5.5% then the cost of capital rises to 8%.
Source : author's estimate & XlsValuation
Here again let's be conservative and use the least optimistic values.
Growth
This is where the uncertainty lies.
If we assumed that Western Union's business model is broken, we could use a negative growth rate of 4% over the next 5 years, for example.
If on the other hand we considered that Western Union's business model is here to stay, and that the company will return to its usual growth rate by 2014, we could for example assume a positive growth rate of 4% over the next 5 years.
So we take a middle-of-the-road approach, and assume neither positive nor negative growth:


Source : author's estimates & XlsValuation
Valuation
I apply the following weights to the three valuation methods:
• Historical multiples: 40%
• Comparable multiples: 20% (Western Union does not really have any comparables barring Moneygram International)
• Discounted Cash Flows: 40%
The results are shown below:

Source : XlsValuation
The three methods converge to an estimate around $21-22/share.
This valuation implies a PE of 12.9, and an EV/EBITDA of 9 - these ratios would not seem unreasonable given the non-cyclical nature of Western Union's business.
Western Union currently trades at $12.4, hence implying an upside by about 70%, with rather conservative valuation assumptions (beta, flat growth).
Morningstar is even more optimistic and values Western Union at $25.
We can also note some [small] recent insider purchases :

Source : Dataroma
Conclusion
Somehow Western Union makes me think of Dell (see Dell: Big Upside Even With A Conservative Valuation).
Helped by slightly disappointing recent numbers, Mr. Market seems to believe that Dell's or Western Union's business models (selling PCs / transferring money between individuals) are over.
Though in Dell's case there are indeed tangible elements pointing to a decline in PC sales volumes, I think it is premature to consider a decline in physical moneys transfers between individuals, or in the Western Union's business model - the global leader in this sector.
A factual overview of Western Union's situation, as I've done, shows that at the current stock price it is an excellent trade.
Disclosure: I am long WU. I wrote this article myself, and it expresses my own opinions. I am not receiving compensation for it (other than from Seeking Alpha). I have no business relationship with any company whose stock is mentioned in this article.