Hyperion Therapeutics (NASDAQ: HPTX) is a company that went public very recently (July, 2012) and has been an extremely volatile in recent months after it was announced that the PDUFA action date for Ravicti's NDA was extended by three months to January 23, 2012. This was due to the submission of extra materials by Hyperion Therapeutics just prior to the original PDUFA date of October 23, 2012.
Ravicti (or HPN-100), Hyperion's lone flagship product and drug development program, is very similar to BUPHENYL - the only FDA-approved therapy for patients with urea cycle disorders, cirrhosis, and any grade of hepatic encephalopathy. Ravicti is targeting these diseases too. Due to the rarity of urea cycle disorder and hepatic encephalopathy, Ravicti is under development as an orphan drug for two indications. This is especially exciting recently due to the increasing popularity of orphan drugs.
On top of its prospects with Ravicti (which belong completely to Hyperion Therapeutics after the purchase agreement made with Ucyclyd Pharma of Medicis Pharmaceutical Corporation made in March), it's important to also consider that Hyperion has the option to acquire Ucyclid's worldwide rights to BUPHENYL and AMMONUL at a pre-negotiated price.
This gives Hyperion the option to dominate the treatment market for ~35,000 or so patients that were born with the genetic mutations that cause urea cycle disorders, and a relatively conservative estimate of ~30,000-45,000 patients who have some grade of hepatic encephalopathy induced by other liver-damaging diseases like hepatitis or cirrhosis of the liver. Hyperion also holds the option to acquire AMMONUL, which is an injectable (as opposed to the tablet and powder-form BUPHENYL) that also lowers a patient's ammonia levels and is designed for urea cycle disorders and hepatic encephalopathy.
Although Hyperion does have the option to buy BUPHENYL if it becomes an attractive idea as a "safety net" product, the company is still spending heavily to develop Ravicti and will trade mostly based on news related to that drug and its indications in the long run. The primary catalyst that HPTX investors and traders are waiting for is the newly established PDUFA action date of January 23rd, although other events like investment conference data presentations could move the stock in the short run due to a lack of any other news to drive the market's sentiment.
We saw this happen on November 12th (yesterday) at the 63rd Annual Meeting of the American Association for the Study of Liver Diseases (AASLD) in Boston, which provided details on a phase II study called HALT-HE. HALT-HE is aimed to prove that glycerol phenylbutyrate (HPN-100, or Ravicti) could reduce events associated with hepatic encephalopathy in patients who have previously been diagnosed with this disorder through its mechanism of action (the lowering of ammonia).
The study proved successful, meeting its primary endpoint with statistical significance and proving that ammonia in patient blood levels is directly correlated to hepatic encephalopathy. Shares of Hyperion actually fell .28% on the news, although this doesn't accurately reflect the headlines. It's actually more of an example of how low-liquidity stocks with fewer holders can have very chaotic behavior in the short term.
Hyperion also has an interesting trend in short interest, which is going up in a straight line, fast enough relative to average trading volume to bring "days to cover" statistic to a whopping 15.24 as of October 31, 2012. Notice the trend in cumulative short interest, provided by NASDAQ: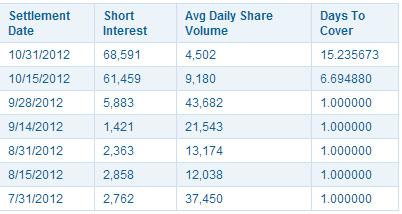 It's clear that there is a growing population of bears who consider the company's current market capitalization of $177 million as overvalued. Bears may also be chasing the notion that many biotech companies see significant long-term selloffs after their IPOs, although this notion is more of a hunch than a hypothesis.
Anyone who is looking to take a position in Hyperion should weigh the fundamental aspects of the stock (particular the valuation of the company itself, which is mostly made up of the value of Ravicti) against the technical/trading aspects, which imply a rise in bearish sentiment and extremely high and unexplained volatility in the short run.
Disclosure: I have no positions in any stocks mentioned, and no plans to initiate any positions within the next 72 hours. I wrote this article myself, and it expresses my own opinions. I am not receiving compensation for it. I have no business relationship with any company whose stock is mentioned in this article.