Am I jumping the gun here in saying that Sirius XM (NASDAQ:SIRI) is about ready to return to bull territory, and press again on 52 week highs? I don't think so.
It should be painfully obvious to most investors in Sirius XM that the recent declines in share price have been due in great part to the fact that the overall market has performed poorly since the election. Take a look at the two charts here: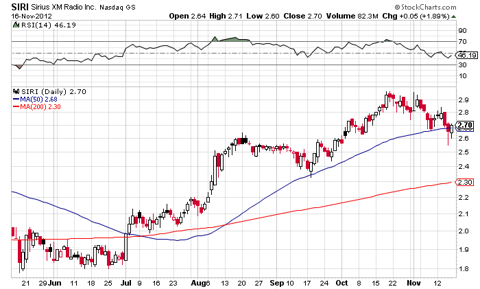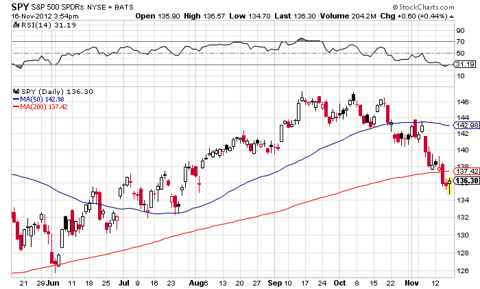 You'll notice similarities, but take a moment and consider the differences. Sirius XM has only given up a small portion of its recent gains by giving back about 5 weeks worth of gains. Now consider the S&P (NYSEARCA:SPY). Gains have been lost going all the way back to July. Sirius XM has weathered this storm quite well and I believe even if the storm continues, Sirius XM will hold strong.
That being said, as I illustrated last week, investors should be taking advantage of these prices. When there's a lot of fear and buzz in the markets yelling about the fiscal cliff, a savvy investor will watch quality stocks like Sirius XM for a great entry point. Unless you believe we are due to be driven right off that cliff, a notion which I find highly unlikely, now is the time to buy. And remember, it's not about calling the bottom, it's about finding a solid entry point near the bottom. Chasing pennies is a fool's errand.
For those unfamiliar with Sirius XM, why will this stock continue to weather the storm and ultimately outperform?
Consider that in this recent downturn, money has actually been flowing into the stock. Money flow can be checked at avafin.com. Thursday, when the stock dropped 1.5%, money flow was positive by $89 million. That's significant.
Liberty Media (NASDAQ:LMCA) is in pursuit of control of Sirius XM, and is still quietly buying up shares on the open market. They have millions more to go, and that increases buying pressure.
After going to control it is almost taken for granted that Liberty will be initiating an enormous share buyback plan that will re-purchase over a billion shares of Sirius XM's common stock and retire it. That's great news for investors in the coming 18 to 24 months.
By itself the company is performing well, on track to add over 1.8 million net subscribers this year, and in my estimation likely closer to 2 million.
What it all boils down to is that the recent market downturn should not be looked at with fear, but rather as an opportunity. Consider it an early black Friday sale in the stock market, and look for quality stocks to purchase to capitalize on a return to bull territory. The quality stocks, such as Sirius XM, are poised to return the best gains. Do yourself a favor and treat yourself to an early gift before the holidays.
Disclosure: I am long SIRI. I wrote this article myself, and it expresses my own opinions. I am not receiving compensation for it (other than from Seeking Alpha). I have no business relationship with any company whose stock is mentioned in this article.