Shares of Comcast Corporation (NASDAQ:CMCSA), a communications and cable services company, have had a staggering run in the year so far, gaining almost 50% in value. The company ended the third quarter on a high as it reported growth across all major business metrics.
Comcast Corp. is a leading media and communications company involved in operating cable networks as well as broadcast networks such as NBC. Moreover, the company also provides video, internet and phone services to its residential and corporate customers. It has a market capitalization of approximately $95 billion with its shares trading near $35 on NASDAQ.
The cable company recently reported its results for the third quarter in which it generated total revenue of $16.5 billion. Not only did revenue generated improve by 15% in the quarter, the company also beat revenue estimates by 3%. Earnings grew by a whopping 155% in the quarter, largely due to gains from wireless spectrum sales and sale of NBC's Universal stake in A&E networks. Excluding the effects of these one-off gains, EPS of $0.46 were in line with analysts' expectations.
Segmental review:
The company's largest segment in terms of revenue, Cable Communications, came on top again, ending the third quarter with almost $10 billion in revenue, a growth of 7% over the same quarter of the previous year. The company generated slightly over 60% of its revenue in the quarter from this segment, which is doing exceptionally well across all areas that include high speed internet, and business and video services. Even though the company lost some video customers in the quarter, an increasing number of residential customers availing its multiple products led to an increase in the average monthly revenue per customer that jumped by almost 9% to $150.7.
(in thousands)

Customers

Net additions

Q3 2011

Q3 2012

Q3 2011

Q3 2012

Video Customers

22,348

22,002

-165

-117

Internet customers

17,808

19,025

261

287

Voice Customers

9,196

9,787

133

123

Total

49,352

50,814

229

294
London Olympics proved to be the engine of growth for the company's NBC segment in the quarter. Revenue from NBC Universal increased by a staggering 31% to end up at $6.8 billion. Total London Olympics revenue was $1.2 billion in the broadcast segment. Operating cash flows from the segment, as a result, grew by 20% from the same quarter of the previous year to reach $1.1 billion.
Cable network revenue was $2.2 billion which represents a modest growth of 3.2%. This growth also resulted in expansion in the segment's EBITDA margins that grew to 37% from 35.8% in the third quarter of last year. Filmed Entertainment revenue showed growth of almost 24% from the same quarter of the prior year. Better results in the quarter were driven largely by higher revenue from strong box office performances by "Ted" and "The Bourne Legacy."
Dividends:
In the third quarter, the company made total dividend payments of $1.185 billion, which includes share repurchases of $750 million. CMCSA currently offers a dividend yield of 1.8% which is supported well by its operating cash flows that grew by 10% to reach $5 billion by the end of the third quarter. Dividends have grown at an impressive 4-year CAGR of 27% and currently, the company pays a quarterly dividend of $0.1625 per share.
As previously mentioned, the stock has performed exceptionally well since the start of the year. The chart below shows the outperformance of CMCSA relative to its peers over a period of one year.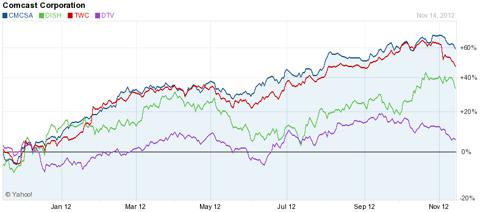 CMCSA is trading at 16 times its forward earnings, which is higher than DISH Network Corp's (NASDAQ:DISH) 14x. Currently, 72% of sell side analysts rate the stock as a buy, none of the analysts rate it as a sell, and 25% have a hold rating for the stock. Median price target for the stock is $42 and based on the recent strong results posted by the company, coupled with its growing cash flows from all business segments, we believe it has further upside potential. This makes the stock an attractive option, especially after accounting for its dividend yield.
Disclosure: I have no positions in any stocks mentioned, and no plans to initiate any positions within the next 72 hours.
Business relationship disclosure: The article has been written by Qineqt's Telecom Analyst. Qineqt is not receiving compensation for it (other than from Seeking Alpha). Qineqt has no business relationship with any company whose stock is mentioned in this article.