The flow of liquidity from QE3 may finally be getting underway. The U.S. Federal Reserve released on Friday their latest weekly balance sheet trend data for November 14, 2012. The latest reading shows the total assets on the Fed's balance sheet at $2.878 trillion. This marks an over +$46 billion increase in the Fed's balance sheet over the previous reading from November 7, 2012. Moreover, the +$46 billion jump represents the second largest one-week increase in the Fed's balance sheet since early 2010.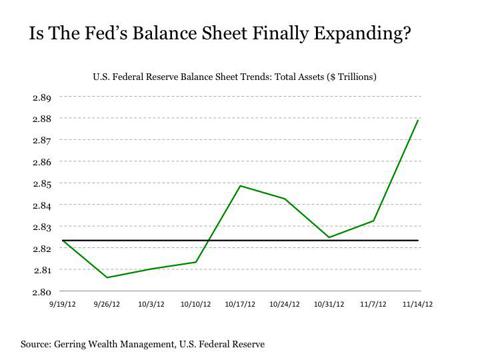 The Fed's balance sheet had otherwise been stagnant over the last two months despite the launch of QE3 back in mid-September. This is due to the fact that QE3 is only focused on the purchase of MBS securities, which can take the Fed up to several months for which to settle purchase transactions. In other words, although the Fed has made the commitment to buy over $100 billion in MBS securities so far, only a fraction of the cash has actually changed hands on these purchases to date. Overall, the Fed's balance sheet had actually contracted by -$464 million from the beginning of QE3 through October 31, and had only expanded by a mere +$7 billion through November 7. Along the way, the Fed's balance sheet had shrunk in as many weeks (four) as it had expanded, with the only notable move higher coming during the week ended October 17, when the Fed's balance sheet expanded by +$35 billion. Thus, the +$46 billion tacked on to the Fed's balance sheet this past week may suggest that the liquidity associated with QE3 may finally be making its way into the financial system in a sustainable way.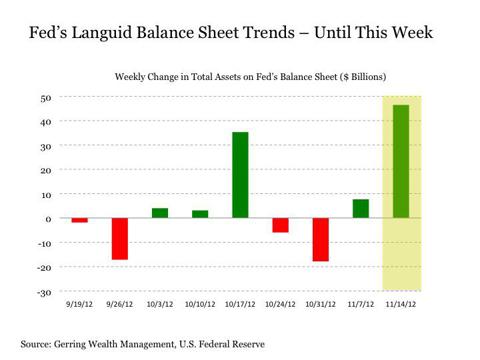 Monitoring for any signs of a steady rise in the Fed's balance sheet is particularly important when investing in today's financial markets. This is due to the fact that securities such as stocks (NYSEARCA:SPY), commodities, precious metals and high yield bonds (NYSEARCA:HYG) have all shown the propensity to float higher when the Fed is expanding its balance sheet. And this seemingly upward drift in asset prices has occurred regardless of how absolutely dire the global economic and market environment may seem at any given point in time. While this can be mind numbingly frustrating for those seeking to apply rational and fundamental decision making to the management of their investment portfolios, it has been the reality of investment markets since the aftermath of the financial crisis outbreak several years ago. For example, we have seen too many times over the last several years a stock market lurching lower for sound fundamental reasons only to suddenly reverse and explode relentlessly higher for months on end. So even if the Fed is actively engaged in a QE program, if the balance sheet is not expanding, the stock market is not likely to show any verve.
The nuances of how QE is being implemented are particularly important in today's market environment. The stock market has plunged lower by over -7% in the last two months. And this decline has occurred for a variety of good reasons, including a global economy that has fallen into recession in many parts of the world, deteriorating corporate earnings at a time when profit margins are at historical peaks, an increasing trend toward fiscal austerity worldwide -- including the United States -- and a sovereign debt crisis in Europe that continues to slowly spiral out of control. All of these factors are indicative of a stock market that should be moving steadily lower. And were it not for the threat of balance sheet expanding monetary stimulus from the U.S. Federal Reserve and other global central banks, it would be more than reasonable to think that the stock market would be trading more toward fair value at around 950 on the S&P 500, if not lower. But the risk of seemingly endless money printing from global central banks warrants close consideration in the portfolio management process, as its ability to inflate asset prices such as stocks beyond all rationale is almost boundless. The key exception, of course, is when markets begin to riot and the true cleansing of the excesses in the global financial system finally gets underway, but we do not appear to be near such a major inflection point today.
Thus, maintaining a close watch on the Fed's balance sheet will be particularly important in the days and weeks ahead. A most rational investment strategy would be one that is positioned for a stock market that is set to correct sharply lower. The most intrepid among us might be loading up on their stock shorts. The reasoning for such an approach would also make perfect sense -- not only is the global economy slowing, but we've also finally arrived at the point where QE no longer works. After all, the Fed launched QE3 two months ago, and the market has responded by doing nothing other than heading lower. The only problem with this conclusion is that QE has actually not yet started in the sense that the balance sheet has not begun expanding in a sustainable way to this point. And if the money from MBS purchases finally begins to steadily flow into the financial system around the same time that the Fed potentially announces at its next meeting in mid-December that it plans on expanding its QE3 program to include U.S. Treasuries, this quickly mounting torrent of liquidity could cause all risk assets to explode higher and render completely moot any and all sound reasoning of why the stock market should otherwise be heading steadily lower.
For these reasons, I continue to maintain a hedged portfolio strategy with a focus on capitalizing if Fed liquidity explodes the market higher, while also protecting against downside risk if the market indeed no longer responds to these forces and instead finally begins behaving more rationally. This includes gold (NYSEARCA:GLD) and silver (NYSEARCA:SLV) through securities such as the Central GoldTrust (NYSEMKT:GTU) and the Central Fund of Canada (NYSEMKT:CEF) that are set to perform well either if ongoing global currency debasement continues or if a full blown crisis scenario erupts. And given the belief that global central banks will continue to lean toward the side of printing more money, it is reasonable to emphasize broadly diversified stock allocations such as S&P 500 Low Volatility stocks (NYSEARCA:SPLV) and S&P Mid-Cap 400 stocks (NYSEARCA:MDY), complemented by specific stock exposures to themes that stand to benefit most from balance sheet expanding monetary stimulus, including energy names such as Occidental Petroleum (NYSE:OXY), metals stocks like BHP Billiton (NYSE:BHP), agricultural stocks like Potash Corporation (NYSE:POT) and emerging markets such as China (NYSEARCA:FXI) and Brazil (NYSEARCA:EWZ). Lastly, high yield bonds are also worth consideration for those seeking stock-like exposure with relatively less volatility.
Perhaps the markets will continue to bleed to the downside in the weeks ahead. But if the recent burst higher in the Fed's balance sheet over the past week continues in a sustainable way, we may see a sudden, sharp and seeming irrational reversal higher across the board in risk assets. For this reason alone, it remains important to keep a close eye on the Fed's balance sheet in the days and weeks ahead.
Disclosure: I am long FXI, EWZ, BHP, OXY, POT, GTU, CEF, HYG, SPLV, MDY. I wrote this article myself, and it expresses my own opinions. I am not receiving compensation for it (other than from Seeking Alpha). I have no business relationship with any company whose stock is mentioned in this article.
This post is for information purposes only. There are risks involved with investing including loss of principal. Gerring Wealth Management (GWM) makes no explicit or implicit guarantee with respect to performance or the outcome of any investment or projections made by GWM. There is no guarantee that the goals of the strategies discussed by GWM will be met.