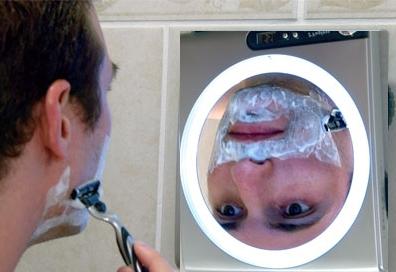 I've never really understood currencies or bonds. Sure, I understand the concepts involved, but still get confused by thinking in the inverse, despite the fact that I've bought puts, sold puts, sold puts in ETNs that thrived when prices went down, and so on.
To some degree, that also explains why I grow a beard. Shaving is complex.
But I've always stayed away from currency transactions and personal hygiene, until now.
As the past few weeks have become more difficult to achieve that "1% Objective" that I maintain for option premium income generation from new positions, it was easy to do so in currencies.
Here are the details. Anyone can do the same.
First, you must have a heart attack (or an equivalent non-discretionary acute illness, preferably one that is survived) while vacationing in London. Certainly, you may select another country if it has acceptable healthcare and you have language fluency in case asked such questions as, "Would you prefer to die in agonizing pain or receive a cardiac stent?
Then, submit your claims to your U.S. healthcare insurer, who will then use the exchange and let them select the prevailing exchange rate on the date of your hospital bill. For purposes of this illustration, let's say that carrier is the newest member of the Dow Jones Industrial Average, United Healthcare (NYSE:UNH). Then use a Capital One (NYSE:COF) credit card, the one that has no foreign transaction fees to pay the hospital bill when exchange rates are favorable.
The result: A 1% profit on the "trade" and 1.5% credit card rebate.
That's better than stocks have been lately, and all it took was a heart attack and currency movements that I still don't understand.
Stocks recently have moved in ways that I also don't quite understand. Sure, I understand why Microsoft (NASDAQ:MSFT) may fall when Steve Ballmer seems to unintentionally indicate less than robust sales for the Surface tablet or when its head of Windows suddenly departs. I can also understand why MolyCorp (MCP) might plummet on news of an SEC investigation. But I can't necessarily understand the thesis behind precipitous drops in Wells Fargo (NYSE:WFC) or Baidu (NASDAQ:BIDU). By the same token, it's also difficult to understand the earnings-related surges in Abercrombie and Fitch (NYSE:ANF) and Cisco (NASDAQ:CSCO).
Normally, after large price drops I'd be very eager to pick up what seemed like "bargains." However, for the past two weeks, despite the price drops, I've been uncharacteristically reluctant to do so. In fact, over the past two weeks, only five out of about 20 selections in weekly articles have been recommended to subscribers. Those selections didn't necessarily fare much better than the overall market, either, so there's not much to gloat about. Thank you Mr. Sinofsky.
Ordinarily, I get a little upset when an upcoming week has a vacation day. I look at it as just a lost trading opportunity. But this coming week, it feels as if we just need a day to reflect on the fact that the market has been excessively irrational in its fear of the Fiscal Cliff. Perhaps some tryptophan-induced optimism is what's called for to get us back on track and save this year's gains as we approach 2012.
Of course, the almost "Kumbaya-like" press joint statements by congressional leaders after their Friday meeting with President Obama may have been just the short-term respite the market needed going into a traditionally slow holiday week.
As always, the week's selections are presented in Traditional, Momentum, Double Dip Dividend and Premiums Enabled by Earnings (see details).
The difference in approach to managing positions for the covered call seller may be evident this week. At a time when a market seems over-bought, it often makes sense to sell in-the-money calls in anticipation of downward price movements.
At the moment, the market seems anything but over-bought. At some point, the investor has to decide whether they believe the market will make a turn and recover from its losses. In such an event, the key is to forgo some premium income in exchange for greater opportunity for capital gains on underlying shares. That means starting to venture toward out-of-the-money calls, or even splitting positions and selling calls at different strike levels.
Let's start with United Healthcare and Capital One. I hope you didn't think that their earlier mention was purely gratuitous. Certainly, United Healthcare has been beaten up lately as post-election Affordable Healthcare Act fears are now full blown. From my perspective (and granted, I have an advanced degree in Public Health), the major insurance companies will thrive under ObamaCare. There has never been a legislative move or policy path that the insurance companies have been unable to successfully navigate. Universal healthcare coverage will only mean more customers, including many in the low risk category. High volume and low margin works nicely for Amazon (NASDAQ:AMZN), why not UNH?
One of my long time favorites, Visa (NYSE:V) has never retreated to the level at which it was last assigned from me, and that was a year ago. I've decided that I need to move on, despite the fact that Visa and Capital One are entirely different entities, especially in terms of market and consumer risk. While having support at both $41 and $49 gives me some level of comfort, my only hesitancy about buying shares at the moment, even after a two week 10% drop, is that it offers only monthly call options and no dividend for another two months.
Anadarko (NYSE:APC) has been in and out of my hands quite a bit over the past few months. I'd like to get it back, even if only for a week or two. It has traded in about a $5 range recently and moves up and down with ease, while seemingly having a homing device at around $70. That is the ideal behavior for a stock on which calls are sold.
After about a 15% drop in the past month, General Electric (NYSE:GE) is at a good price point at which to purchase shares and sell weekly call options. I'm not quite certain what it had done to deserve the hit that it did, but along with some other accidental high yielding stocks, companies like General Electric are the first tier of companies to lead the market out of its morass.
As with Visa, I've been waiting for shares of Goldman Sachs (NYSE:GS) to return to the last price at which I owned shares. For about four years, it was a part of my portfolio almost every single week, but not so for the past three months or so. It's recent 9% drop may be as close as I'll be able to get if the Kumbaya feeling is for real.
The final Traditional stock for the week is Wynn Resorts (NASDAQ:WYNN). No doubt that its CEO, Steve Wynn, is the antithesis of a Goldman Sachs CEO or partner, but the man knows how to get attention and does so much less expensively than his counterpart, Sheldon Adelson, who is the CEO of Las Vegas Sands (NYSE:LVS), one of my current holdings. Although it's not terribly likely that Wynn will be going the REIT route, as Penn National Gaming (NASDAQ:PENN) announced today, it just happens to give a very nice income flow on in the money options. No guarantees, but it beats the one-armed bandits.
The week's Momentum selections are a familiar and tedious bunch. Last week was yet another week that I didn't pick up shares of AIG (NYSE:AIG), but then again, I didn't buy much. Based on the shares of Microsoft, Williams Co (NYSE:WMB) and Murray Oil (NYSE:MUR) that I did buy, AIG would have been a smart choice.
Chesapeake Energy (NYSE:CHK) is also a perennial holding, although its recent rapid descent makes it embarrassing to admit so. The personal intrigue and drama in the boardroom had been inconsequential to me and was a period of really nice gains, especially via option sales. The last two weeks, however, perhaps serve as nothing more than an opportunity to get more shares.
Finally, Walter Energy (NYSE:WLT) is another favorite, but it requires some intestinal fortitude. I don't know if the surgical procedure to get some is considered an emergency procedure, if you decide do so while visiting the UK. It has really taken a dive in the past two weeks and after its recent 25% dive, has reached 52 week lows during Friday (November 16, 2012) trading.
I always seem to pair shares of Walter Energy with another wild flyer, Cliffs Natural Resources (NYSE:CLF) which happens to go ex-dividend this coming week. Despite analysts proclaiming that the dividend was safe, Cliffs was slow to declare the upcoming dividend date and only did so a couple of days ago, as opposed to its more normal 30-day advance. For that reason, it was easy to resist. But now? Not so much.
As with Walter Energy, though, you do need to be prepared for some price spasms.
Finally, this week's earnings-related play is the beleaguered Best Buy (NYSE:BBY), which reports earnings prior to Tuesday morning's opening bell. Although many have regretted asking the rhetorical question, "how much lower can it go," the betting is that not another 10%. As with Capital One, my biggest reservation is that Best Buy trades only monthly calls, and earnings are being announced at the very beginning of the cycle. That potentially leaves lots more opportunity for other bad news, such as sluggish holiday sales, to drive the share price even lower.
After re-reading the previous paragraph, I would probably require a significant malfunction of my UK-placed cardiac stent and significantly reduced oxygen flow to follow through with the Best Buy gambit. Fortunately, earnings season is almost over for now.
Traditional Stocks: Anadarko, Capital One, Goldman Sachs, United Healthcare, Wynn
Momentum Stocks: AIG, Chesapeake Energy, Walter Energy
Double Dip Dividend: Cliffs Natural Resources (ex-div 11/20)
Premiums Enabled by Earnings: Best Buy (11/20 AM)
Remember, these are just guidelines for the coming week. Adjust accordingly with market movements, and you'll have the makings of a healthy income stream for the week with reduction of risk.
Disclosure: I am long CHK, MCP, UNH, WMB, CSCO, MSFT, LVS. I wrote this article myself, and it expresses my own opinions. I am not receiving compensation for it (other than from Seeking Alpha). I have no business relationship with any company whose stock is mentioned in this article.
Additional disclosure: I may initiate positions in AIG, BBY, WYNN, CLF, WLT, GS, and APC.