The miserable market this week is evident in the tables below as the defensive team now has the ball for every major index and market sector. Several Bullish Percent Indicators moved below the 50% line for the first time in many months. Another week like this one, and several parts of the market will move close to the 30% line, or the buy zone.
Index BPI: In the following table, we note that the NYSE 100 took a 10% point drop and the Nasdaq 100 was not far behind with an 8% point decline. The shift from offense to defense began in early October. Check the right side of the table where X's moved to O's.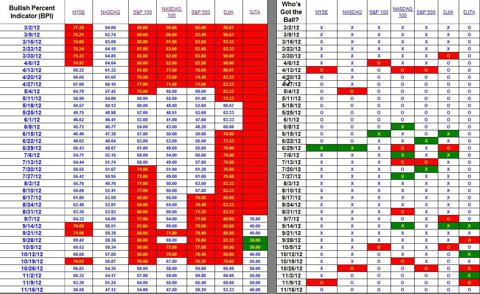 Sector BPI: As one would expect, the sectors are tracking the broad index by declining as well. The last holdout, Staples, turned the ball over to the defense as O's are now showing up in the right-hand column of this sector. Three sectors, Staples, Financial, and Utilities remain in the overbought zone or above the 70% line. Another week like this past one will take care of that situation.
Until some the BPIs reverse direction, this appears to be a good time to sit on cash or locate income generating securities.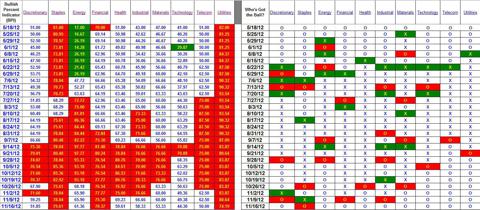 Disclosure: I have no positions in any stocks mentioned, and no plans to initiate any positions within the next 72 hours. I wrote this article myself, and it expresses my own opinions. I am not receiving compensation for it (other than from Seeking Alpha). I have no business relationship with any company whose stock is mentioned in this article.