Given the ongoing sovereign debt crisis in Europe, most investors think European stocks should be completely avoided. However, European stocks have had so far good returns in 2012. The pan-European Dow Jones Eurostoxx 50 Index is up 5% year-to-date (ytd), and even more impressive is the performance of the German Dax Index (NYSEARCA:EWG), which has risen almost 18% ytd.
This performance was encouraged both by technical and fundamental factors. The central bank policies, namely the ECB's LTROs and the OMT bond purchase program, despite much probably not having a significant real economic effect, were positive catalysts for European equities. Also, a good part of European companies' sales are exposed to global growth, namely to emerging economies that have stronger economic growth than Europe. This is especially true for German companies, given that Germany is the world's second largest exporter behind China.
However, the deleveraging process ongoing in Europe and the weak macroeconomic outlook remains a headwind, and could lead to weaker returns over the following months. Furthermore, the uncertainty caused by the Eurozone debt crisis will surely mean volatility and periods of market weakness. Given this background, is there any value for investors in European stocks? I think so, especially on high-yielding stocks.
Indeed, the yield on European stocks is on average around 4.65%, which is more than double the S&P 500 (NYSEARCA:SPY) yield of 2.3%. But more value can be found on specific stocks that yield even more than the market average, and can offer more downside protection than a broad-based market ETF.
To search such stocks, I have run a screening tool with the following criteria: (1) market capitalization above $10 billion; (2) dividend yield above 5%; (3) compounded annual dividend growth rate over the past five years higher than 0%. This criterion was defined to result in large companies that pay high yields and have stable businesses, enabling them to pay at least the same dividend as before the global financial crisis of 2007-08.
Among other results, I chose to do further research on the following 8 companies. I avoided companies within cyclical industries, like automakers or chemicals, from peripheral countries such as Portugal or Spain, and banks due to the unknown outcome of Europe's debt crisis. I also avoided companies that recently cut the dividend, like Telefonica (NYSE:TEF) or have released lower guidance for the next year, such as Portugal Telecom (NYSE:PT) or France Telecom (FTE).
| | | | |
| --- | --- | --- | --- |
| Company | Market Cap ($Million) | Div. Yield (%) | P/E Ratio |
| Total (NYSE:TOT) | 111,354 | 6.15 | 6.8 |
| AstraZeneca (NYSE:AZN) | 55,087 | 6.33 | 6.0 |
| GDF Suez (GDFZY.PK) | 49,392 | 9.30 | 9.0 |
| Zurich Insurance (OTCQX:ZFSVF) | 34,400 | 8.10 | 9.0 |
| Munich Re (OTCPK:MURGY) | 28,481 | 5.00 | 31.7 |
| Seadrill (NYSE:SDRL) | 17,500 | 8.63 | 12.2 |
| Snam (OTCPK:SNMRY) | 14,103 | 7.31 | 14.3 |
| Deutsche Boerse (OTCPK:DBOEY) | 10,107 | 5.58 | 9.0 |
Source: Bloomberg
Total is one of the world's largest integrated international oil and gas company, and a world-class chemicals manufacturer. Total engages in all aspects of the petroleum industry, including upstream operations (oil and gas exploration, development and production, LNG) and downstream operations (refining, marketing and the trading and shipping of crude oil and petroleum products).
Total's dividend frequency is quarterly. It paid a stable dividend over the past four years at 2.28€ per share, being one of the few companies within the sector capable of maintaining the shareholder remuneration unchanged in 2008-09. Since 2007, the average payout ratio was only 47%.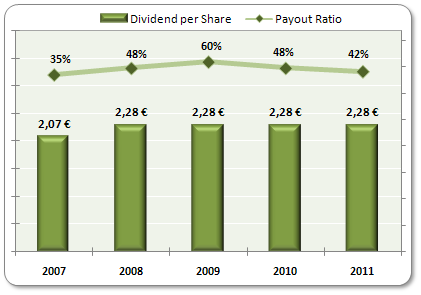 Source: Bloomberg and Company Data
AstraZeneca is a global, innovation-driven, integrated biopharmaceutical company. It discovers, develops, manufactures and markets prescription medicines for six important areas of healthcare, which include some of the world's most serious illnesses: cancer, cardiovascular, gastrointestinal, infection, neuroscience, and respiratory and inflammation.
AstraZeneca's dividend payment frequency is semi-annual. Over the past five years, the compounded growth rate was 10.6%, with dividend increases every year. The payout ratio during this period was always below 50%, which is the company's target, and with more quality over the years due to declining payout ratios. At first glance, AstraZeneca's dividend appears to be of top quality.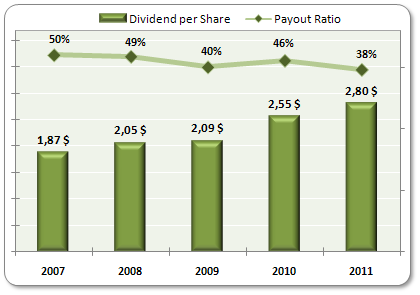 Source: Bloomberg and Company Data
GDF Suez: The company develops its three businesses (electricity, natural gas, and energy and environmental services) in order to provide essential services to its customers every day. Its subsidiaries design solutions for individuals, communities and businesses to respond to their energy, water and waste management needs, while at the same time fighting climate change and maximizing the use of resources.
GDF's dividend payment frequency is semi-annual. Over the past five years, the compounded growth rate was 4.45%. However, over the past three years, the dividend has barely risen, but the payout ratio has increased due to lower earnings. This means lower dividend quality and is a reason to be cautious, as a dividend cut could be approaching.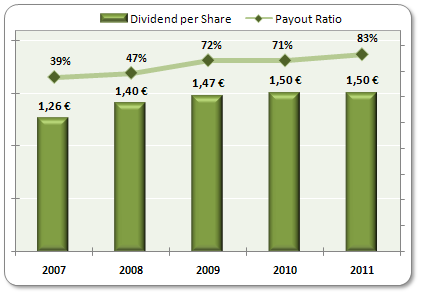 Source: Bloomberg and Company Data
Zurich Insurance Group is one of the world's leading insurance groups, and one of the few to operate on a global basis. It operates through three core business segments - General Insurance, Global Life, and Farmers.
Zurich's dividend payment frequency is annual. Over the past five years, the compounded growth rate was 10.75%, despite the dividend cut in 2008. The payout ratio has also increased over the years but remains at acceptable levels.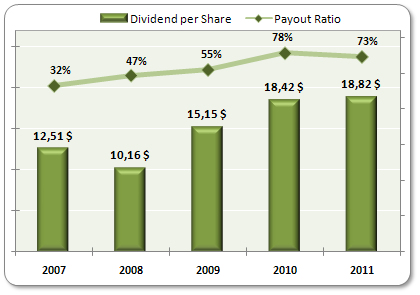 Source: Bloomberg and Company Data
Munich Re is an insurance group with an integrated business model, which has three main core businesses: reinsurance, primary insurance and healthcare. The group takes on risks worldwide of every type and complexity. Warren Buffett is one of the company's largest shareholders with over 11% of its capital.
Munich Re's dividend payment frequency is annual. Over the past five years, the compound growth rate was 3.25% without any dividend cut. However, the payout ratio has skyrocketed last year due to a steep fall in earnings. For 2012, the company expects to considerably increase earnings, so the payout ratio should return to sustainable levels.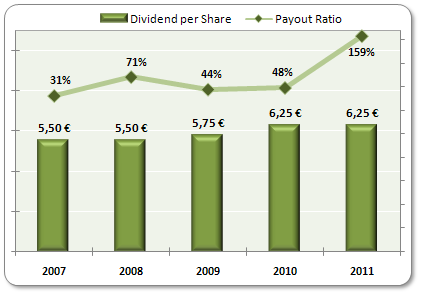 Source: Bloomberg and Company Data
Seadrill provides offshore deepwater drilling. The company operates a fleet for operations in shallow to ultra-deepwater areas in harsh and benign environments. Seadrill is listed on the New York Stock Exchange and the Oslo Stock Exchange, but is incorporated in Bermuda.
Seadrill's dividend payment frequency is quarterly. In 2008 and 2009, the dividend was scrapped for four straight quarters, but since its restoration, it was increased every quarter. Taking into account the last four quarterly payments, Seadrill's shares currently yield around 8.6%. Over the past five years, the compound growth rate was 87%. Additionally, I didn't consider for this dividend analysis the three extraordinary cash dividends paid during this period, which would increase even further Seadrill's dividend growth rate.
In 2008, the earnings were negative so the payout ratio isn't meaningful. The payout ratio has increased significantly last year, which can mean that the dividend growth of the recent years may be slowing.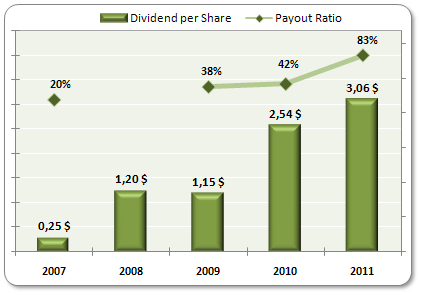 Source: Bloomberg and Company Data
Snam is Europe's leading operator in the construction and management of gas infrastructures and one of the major players in terms of invested capital for regulatory purposes (regulated asset base, or RAB). Snam is active in transport, regasification, storage and distribution of natural gas through four operating companies: Snam Rete Gas (transmission and dispatching), Gnl Italia (regasification), Stogit (storage) and Italgas (distribution). Eni (NYSE:E) is one of Snam's largest shareholders.
Snam's dividend payment frequency is semi-annual. In the ten years since the IPO, Snam Rete Gas has always distributed dividends to its shareholders. Over the past five years, the compound growth rate was 9%, increasing the dividend every year. However, the payout ratio has increased last year to over 100%, which could put in jeopardy the dividend growth going forward.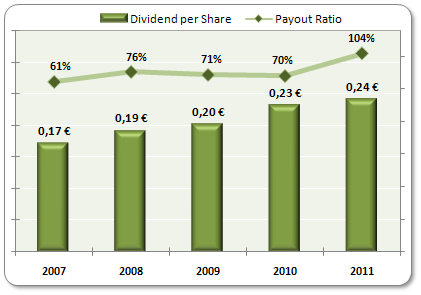 Source: Bloomberg and Company Data
Deutsche Boerse is one of the largest exchange organizations worldwide. It has an integrated business model; its product and service portfolio have a broader basis than other exchange organizations. It covers the entire process chain, from the monitored execution of trading orders, clearing, netting and transaction settlement through to post-trade custody of securities as well as the necessary electronic infrastructure and the provision of market information.
Deutsche Boerse's dividend frequency is annual. It has maintained stable the dividend payment over the past five years, with only one increase last year to €2.30 per share. The payout ratio has also been irregular, but last year's decrease to 50% is a good sign going forward.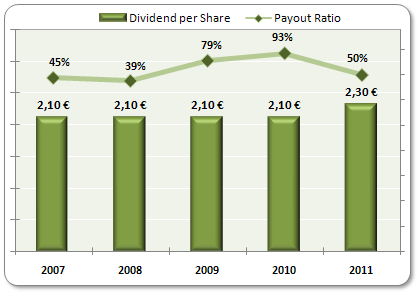 Source: Bloomberg and Company Data
Disclosure: I have no positions in any stocks mentioned, and no plans to initiate any positions within the next 72 hours. I wrote this article myself, and it expresses my own opinions. I am not receiving compensation for it (other than from Seeking Alpha). I have no business relationship with any company whose stock is mentioned in this article.