As worldwide turmoil spurs investor fears, countries with more stable currencies have begun to gain momentum. While recent volatility has battered many ETFs, the iShares Switzerland Index Fund (NYSEARCA:EWL) has steadily risen in our International Momentum Table from the No. 12 spot on July 22 to the No. 3 position on October 14.
Despite the recent pullback in the global economy, EWL has enjoyed a bull market since early 2003. Prior to 2003,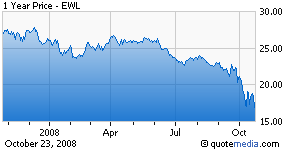 EWL was bullied by a bear market that forced the fund to a low of $9.11 from its high in July of 1998. EWL reached its highest mark of $27.76 in October 2007.
EWL tracks the MSCI Switzerland Index, which aims to mirror the performance of the Swiss equity market. While this definition is broad, EWL tracks just 41 components—standouts in the Swiss equity market with high capitalizations. The index attempts to capture 85% of the publicly available market capitalization. The index provider also takes into account limitations on foreign investments when constructing the underlying portfolio.
The companies at the core of EWL are some of the most resilient global equities. The top sector weighting for EWL is health care—an area traditionally considered to be defensive. EWL's second- and third-largest holdings are financials and consumer staples, at 22% and 20% respectively. While global financial markets have been hit hard recently, consumer staples has gained the favor of more conservative investors.
EWL's top holding is Nestlé (OTCPK:NSRGY), with a 20.01% weighting in the fund's portfolio. Nestlé is the largest global food company and the maker of Purina pet food, Lean Cuisine meals, and Kit Kat chocolate bars, among other items. In early October Nestlé suffered a setback when it had to pull certain Kit Kat bars from stores in South Korea due to traces of melamine in a single batch of the candy. Since this correction, Nestlé has announced the investment of CHF $240 million into the expansion of a coffee factory in the Russian region of Krasnodar. In August, the company announced that it would hasten a $21 billion share buyback initially announced in August 2007.
The second- and third-largest holdings in the portfolio, Roche Holdings (OTCQX:RHHBY) and Novartis (NYSE:NVS), fall under the heavily weighted health care sector. Roche's products include Xenical, Valium, Zenapax, Valcyte, Bactrim, and Boniva. Roche currently yields more than 3%, with a P/E ratio of 14.6. Novartis produces a wide range of pharmaceutical products, including products for oncology, respiratory disease, and metabolic disorders. Novartis also currently yields more than 3% and has a P/E ratio of 16.
Shares of Richemont—Europe's second-largest luxury goods provider and EWL's tenth largest component—gained 37% on October 21 after spinning off its stake in British American Tobacco. This move more closely aligns Richemont with other luxury brands, such as Hermès and Bulgari, and analysts believe that the stock will continue to gain ground as investors with prior ethical concerns pile into shares of the tobacco-free company.
EWL's methodology has helped the fund remain stable, even on days when its currency slips. On October 16, Switzerland's currency decreased against the dollar, but EWL found the upside. In afternoon trading, EWL climbed 3.4% after suffering losses in the previous session. Some of EWL's stability—in comparison to its EAFE peers—can be credited to low exposure in basic materials and energy.
While Switzerland's growth rate has remained steady in recent years, preliminary OECD data suggests that current GDP advances may pull back within the near term. Switzerland's GDP gained 3.2% in 2006 and 3.1% in 2007. Early projections suggest that the rate may slow to 2.0% in 2008 and 1.4% in 2009.
Switzerland, however, has not been isolated from a global slackening in consumer demand. On October 21, the Federal Customs Administration noted that the nation's exports fell 4.4% year-over-year in September, the first decrease since January 2005. The pullback may be milder for EWL's luxury goods components like Richemont and Swatch, which have not experienced a similar slump. In a separate report released October 21, the Federation of the Swiss Watch Industry noted that exports had experienced a strong increase in September—data that may boost EWL's holdings.
EWL's relative strength among its peers might bode well for investors even as the market recovers. "ETF[s] showing relative strength by holding up better than the others in a broad market downturn are generally the first ones to bounce and lead the market higher when the overall market bounces," said Deron Wagner, founder of Morpheus Trading Group. "It is not usually a case where they eventually catch up to the downside."