Vringo (NYSE: VRNG) shares are trading at $3.59 at last check. In the last one month, during their court battle with Google (NASDAQ: GOOG), the stock saw its lowest point at $2.45. However, since then, the company has won a decisive victory against Google, as well as damages and future royalties. So, the stock should go up, but it hasn't. In this article, I will not try to find out why the stock hasn't done as well as it should - what I will try to calculate is how much the stock is worth after the verdict.
According to their latest earnings call transcript, as of November 14, Vringo had $60 million in cash in the bank. They also had zero debt, so that cash is safe and sound. In the four months since their merger with I/P engine, they had revenues of roughly $226,000; we will shelve this amount as small change and focus on other confirmed income.
In the verdict, the jury awarded them roughly $30.5 million in past damages. This "past" is a period of approximately one year, starting from the date of filing of the lawsuit in September last year. As far as I know, Vringo has actually filed for some more money for the month of October; we will not go into that now.
Also note that per the earnings call, Vringo's outside lawyers were paid in cash from a budget. The discussion does not mention any percentage cuts from the damages. What Alex Berger, Vringo's Chief Operating Officer said was that they have "largely paid in the cash that was in the budget for the trial." So, this seems to rule out any large legal fees of a contingency basis.
The jury also awarded them a 3.5% royalty for the next 4 years. Now, lets assume that Google does not do any better with revenues than they did in the last year (if you look at Google's revenue chart below, that is a tough one to assume). So, anyway, let us assume the worst case scenario; so we can roughly equate the past one year's damages with the annual royalty. So, we have $30.5 million a year or roughly $122 million in the next 4 years.

Source: ycharts.com
This is guaranteed money. Nothing can stop Vringo from getting this money at a minimum. So we have a total of $212.5 million guaranteed income for Vringo (although part of that is not immediately available).
This is almost exactly Vringo's market cap as of now.
The actual figure is $206 million for its current market cap. So, if you are buying the stock today, at $3.54, your investment is safe. Vringo has/will have the money to back it up. If the company just ups and dies tomorrow, you will get your investment back. So, this is a very, very good price to get into Vringo for the long haul - even if you have absolutely no faith in the company's future.
Now let us talk about a little speculation, with both our feet firmly on the ground reality. Let us see what other assets Vringo has.
Asset Number 1: The Nokia Mobile Patents
This is a set of 500 patents that Vringo acquired from Nokia (NYSE: NOK) for $22 million. It has already filed a lawsuit against ZTE's UK subsidiary for allegedly infringing some of these patents. Note that of the 124 families of patents in this group, 31 are standards essential; which means that if mobile companies are to meet the minimum requirements for some of the various mobile standards, like 2G, 3G, LTE for example, they will need to adopt the technology described in these patents. Lot of licensing potential right there.
A report on Vringo was developed by J.P. Moreno. Now, in a press release on Yahoo on this report, it was said that
The author was paid for preparation of the report by Iroquois Master Fund Ltd. ("Iroquois") and Hudson Bay Master Fund Ltd. ("Hudson Bay"), each of whom is a privately pooled investment vehicle that holds positions in Vringo, Inc. The conclusions in the report are those of the author and neither Iroquois nor Hudson Bay had any material input into the contents of this report.
Iroquois Master Fund Ltd. ("Iroquois") and Hudson Bay Master Fund Ltd. ("Hudson Bay") are both Cayman island registered entities. According to Edgar, here are their position details on Vringo.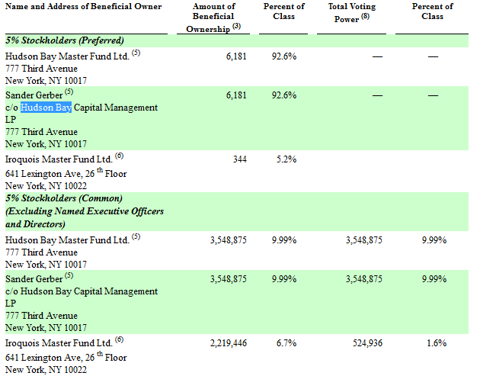 So, this is the genealogy of this report. I gave a lot of background on this report because many analysts, including myself, have been using this report to base our estimates on. However, whether this is an independent report or it is paid for by Vringo shareholders, and if paid for, how far that has influenced the report, is a judgment call investors need to make. The data I gave above will help investors make that call; coupled, of course, with an analytic reading of the arguments in the report.
According to this report, the Nokia patents are conservatively worth $172 million over the next 4 years.
Asset Number 2: Vringo Before I/P Engine
The old Vringo had one major product - the Facetone technology - and well before it transformed itself into a patent litigation entity (an NPE), it was trading on NYSE almost by virtue of this technology alone. Its all time range was a high of $3.10 on October 1, 2010 and a low of just 90 cents on January 20, 2012. So, this was the range investors were willing to pay for its old technology. At this point of time, according to its latest earnings call, Facetone is still a working business, with strategic partnerships with Orange, Hungama, Tata DoCoMo and other mobile partners. Let us assume, therefore, a low and very conservative estimate of just 90 cents per share for this technology that investors are willing to pay. Vringo had a much lower market cap in those days; however, we will take just the share price as an indicator of the worth of this technology.
Asset Number 3: Vringo Future Litigation and Licenses
I discussed this in another article. For the purpose of this article, however, I will be much more conservative and just consider one fact - that Google holds roughly 50% of the total online ad sales market share. Let us ignore, for the time being, the laches ruling and whether it applies to other future defendants and its effect on settlement negotiations. Let us simply assume that what happened with Google also happens with the rest, and from the same date (this is tricky). So, that means, another $122 million, the same amount that Google, the 50% market shareholder, pays under conservative estimates.
So, speculation, grounded more or less in reality, brings me another $294 million, plus 90 cents a share. So, that brings us to a per share price at total current outstanding shares of another $6 per share. Roughly.
So, in a very conservative estimate, Vringo will be worth double what it is now in the next four years.
Why This Estimate Is Totally An Underestimation
Vringo's cash at hand is constant; however, that is the only thing that is doubtlessly correct in the above estimate. There are many, many more things that will probably change the price of the stock, if not the value of the company.
Apparent miscalculation of Google's damage amount by the jury.
Related effect on calculation of minimum future royalty.
As the first graph above showed, Google's earnings are progressively increasing y-o-y, so there's hardly any reason to conservatively fix that as constant over the next 4 years.
Similarly, the effect of this correction on our estimate of the overall market volume.
The vastly conservative estimate of $172 million for the NOK patents.
Lastly, Vringo has been filing away new patents and trying to acquire other patents; this estimate does not consider the effect of those new patents on the stock price.
In the next few weeks, once Judge Jackson finally clarifies the damage amount and the royalty structure, we will have a better idea of the first four points above. Once the ZTE case goes to trial in London early next year, we will have a fairer idea about the worth of the NOK patents. Plug those values in, and we will know, by around March or so, what VRNG is really worth, excluding business developments in the pipeline.
Disclosure: I have no positions in any stocks mentioned, and no plans to initiate any positions within the next 72 hours. I wrote this article myself, and it expresses my own opinions. I am not receiving compensation for it (other than from Seeking Alpha). I have no business relationship with any company whose stock is mentioned in this article.