SouFun Holdings (NYSE:SFUN) operates a real estate internet portal in China and was founded in 1999. The company provides advertisements for real estate developers, real estate agencies and home furnishing/improvement vendors. Users of the website also include property owners, property managers, and lenders. It has a market cap of $1.39 billion and operates in over 100 cities in China.
I took notice when SouFun increased its earnings estimates for 2012 from the $390 million - $410 million range to the $400 million - $420 million range. About three months ago the company's EPS estimate for the year was $1.71. This has recently increased to an estimated $1.90, representing an 11% increase in expected earnings per share. This means that the company is confident that it will achieve the higher estimates, which acts as a near-term catalyst for the stock.
SouFun's 11.1% dividend yield is another factor that peaked my interest in the company. The company pays a $2 per share dividend divided by a stock price of $17.64. SouFun had its IPO in December 2010, so it doesn't have much of a dividend history to review. In 2011, there was one payment date where SouFun paid a $1 per share dividend. Thus far in 2012, there have been two payment dates of $1 per share each.
The stock is held by 41 institutions and 69 mutual funds. The largest holder of the stock is General Atlantic LLC, which owns 19.5% of shares outstanding. Fidelity Management & Research Company is the second largest holder with an ownership of 8.8% of shares outstanding.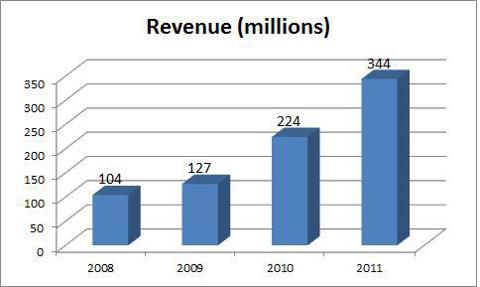 Click to enlarge
The company has been growing revenue at an average of over 50% per year since 2008. Diluted earnings per share have increased at an average of over 66% since 2008.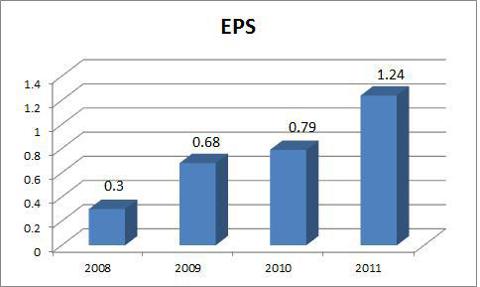 Click to enlarge
SouFun looks undervalued with a trailing PE ratio of 11.21, a forward PE of 8.13, and a PEG of 0.40. However its price to book ratio is a bit high at 11.88. Ideally, I like to see a price to book ratio under 3 or at least below 5 when starting a position in a stock. On the other hand, if the other metrics look good, I may still consider it a worthy buy.
For the past twelve months, SouFun had operating cash flow of $155 million and free cash flow of $95 million. Total cash for Q3 was $145.35 million, while total debt was $351.32 million. The current ratio of 0.48 shows that the company has more current liabilities than current assets. This means that the company may have to find other sources of cash to pay off its short-term debts. Therefore, it is possible that the current high dividend yield may not be sustainable.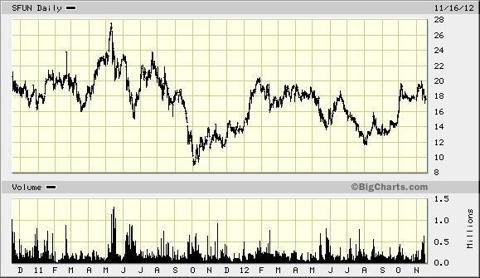 Click to enlarge
The company is expected to grow earnings annually at a healthy 23.69% pace for the next five years. With its good valuation, high dividend yield and strong earnings growth, SouFun looks like a promising investment. However, since it is a China stock and not regulated by the SEC and since it has high debt, I would consider the company speculative.
Disclosure: I have no positions in any stocks mentioned, and no plans to initiate any positions within the next 72 hours. I wrote this article myself, and it expresses my own opinions. I am not receiving compensation for it (other than from Seeking Alpha). I have no business relationship with any company whose stock is mentioned in this article.