Last week was marked by the announcement of yet another sizeable M&A transaction in the Williston Basin. Continental Resources (NYSE:CLR) disclosed on November 7 that it has entered into an agreement to acquire producing and undeveloped properties in the Bakken for $650 million. The property includes leasehold of approximately 120,000 net acres, primarily in Divide and Williams counties, North Dakota, and production of approximately 6,500 Boe/d. This consolidating acquisition adds to Continental's strong position in the northern portion of the Bakken play and increases the company's interest in the properties it already operates.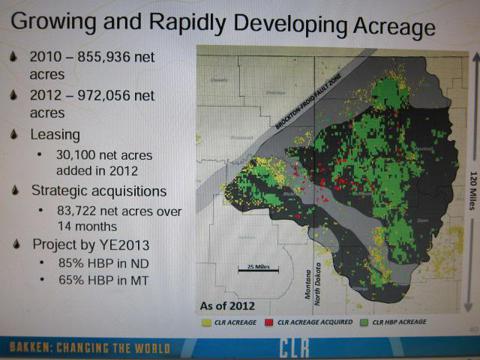 (Source: Continental Resources October 2012 Investor Day Presentation)
The seller of the assets is Samson Resources, one of the largest privately held exploration and production companies in the U.S. A year ago, Samson was acquired by a group of investors led by Kohlberg Kravis Roberts (NYSE:KKR) from the Schusterman family for $7.2 billion (other investors are Natural Gas Partners, Crestview Partners and Itochu Corporation). Founded in 1971, by the time of the acquisition by KKR, Samson had grown key positions in oil and liquids-rich plays such as the Bakken, Powder River Basin, Green River Basin, Granite Wash, Cana Woodford and Cotton Valley as well as in the Haynesville and Bossier gas shales and owned interests in over 10,000 wells of which it operated over 4,000 wells in the U.S.
Continental is a well-informed acquirer
As the most active driller and one of the pioneers in the northern part of the Bakken play, Continental certainly has the expertise to assess the geological potential of acreage in this area and is acquiring a large, "blocked-up," operated position at what appears to be a very attractive price. According to Continental, the acquisition includes 2 different contiguous areas. CLR has a majority control of one area and a little bit over 50% control of the other, making Continental a logical acquirer (according to management, the company has been in private negotiations with Samson regarding a potential transaction "for quite some time"). The properties being purchased are approximately 70% held by production and will be approximately 70% operated.
In Divide County and the northern part of Williams County - which are in the northern section of the Bakken Petroleum System - the depositions are shallower than in the central part of the play. As a result, initial production rates and EURs are often less prolific than those in the deeper, high-pressure areas in the central section of the basin. However, well costs are typically lower and production is characterized by shallower declines, making the economics attractive. While the western part of Divide County and the northern part of Williams County are often viewed as "assessment frontier" areas (shown in the picture above as the light-gray band to the east of Brockton-Froid Fault Zone), the economic viability of the play has been well established in the eastern two-thirds of Divide County in both the Three Forks and Middle Bakken intervals.
Several operators have been active in Divide County and northern Williams County, including Continental, Samson, Baytex Energy (NYSE:BTE), SM Energy (NYSE:SM), American Eagle Energy (NYSEMKT:AMZG), Kodiak Oil & Gas (NYSE:KOG) and others. Improving economics and relatively low leasing costs explain the increasing level of drilling activity and operators' interest in this area. As a reference point, Baytex Energy, who owns approximately 70,000 net operated acres in the central part of Divide County, estimates typical EUR at 420 MBoe/well, 30-day IP rate at 420 Boe/d and well cost at less than $7 million for two-mile laterals with 20-stage fracture stimulations. At $90 WTI, Baytex estimates pre-tax rate of returns at 55%-60%. Deep Three Forks potential may offer additional upside. Continental and SM Energy have plans to test lower Three Forks benches in Divide County in the near future.
Valuation appears attractive
While Continental has provided very little specific information with regard to the properties being acquired, the purchase appears attractive both from operating and valuation perspectives. Based on the fact that 70% of the acreage is already held by production, it is logical to assume that a significant portion of the acquired leasehold has been delineated, and Continental, who is the operator of the majority of the properties, has a high degree of visibility with regard to the properties' future resource potential. The transaction is a fairly low-risk move by Continental as a significant part of the price paid is covered by the existing production. Based on my estimate, the M&A value of developed producing reserves acquired in the transaction could be in the $300-$450 million range (my calculation is based on certain operating assumptions, flat $90/barrel WTI and 15% discount rate, and reflects shallower production decline profile and a broad mix of vintages in the production portfolio). Assuming that only 15% of the acreage is developed, the implied price paid per undeveloped acre comes out at approximately $2,000-$3,500. This compares favorably to retail leasing in Divide County where offered bonuses are often in the $500-$2,000 per acre range, based on conversations with brokers and my analysis of smaller announced transactions.
The implied valuation is a small fraction of the $40,000+ per undeveloped acre paid by QEP Resources (NYSE:QEP) in its recent $1.4 billion asset purchase in the South Antelope area and $15,000+ per "core" undeveloped acre paid by Exxon Mobil (NYSE:XOM) in its acquisition of Denbury Resources' (NYSE:DNR) Bakken assets. The comparison of CLR's transaction with QEP's and Exxon Mobil's acquisitions highlights the dramatic variability of acreage values across the Bakken play as a function of expected EURs and other factors. In contrast with the mostly non-operated interests being sold by Samson, the South Antelope block acquired by QEP had a high operatorship, was almost entirely held by production and was well delineated in both the Middle Bakken and Three Forks intervals. Most importantly, the block acquired by QEP was characterized by proven exceptionally high EURs in both the Middle Bakken and Three Forks zones and, consequently, offered potential for a down spaced development as well as likely upside from the deeper Three Forks benches. The same is true, although to a somewhat lesser degree, about the Exxon Mobil's acquisition. The comparison illustrates why a simplistic "per-acre multiple" approach to valuing Bakken-focused stocks can often be misleading.
Excellent operating fit
During the third quarter conference call, Continental's management team highlighted the strong strategic fit of the acquired properties with the company's existing operations:
…The key point is how strategic it is: it's essentially right in the areas where we are operating… We operate most of this. It allows us to increase our interest in each of the operated units we are in. And it's right in the heart of where we're working, so it's a real good fit for us. It won't change a lot our operating plans. It won't change our development plans. It's just a question of having more interest in the wells that we already had planned, so it's a real good fit.

…The other point is it's really value for effort. So if we're going to drill these wells anyway on these things that we operate, if we're increasing our position in those wells, we're getting more value for the effort that we're putting into operating. And I think that, plus the ability for Continental to leverage our efficiency gains over a bigger program, will continue to drive value for shareholders over the next couple of years. So it really is quite a strategic fit because of that increased efficiency of our operations.
Reflecting on management's comments, it is hard to disagree with the merits of a bolt-on consolidating acquisition. For it to be value-creating; however, Continental must see compelling all-in returns on its drilling program in the area (a minimum of 25%-30% would be required, in my view). Based on all evidence, such returns should be achievable given the gradual improvement in well performance results that has been reported by various operators in this area.
Acquired production should help fund 2013 capex
Management also emphasized strong cash flow from the existing production that should help finance the incremental development capital next year associated with the acquired properties:
About 70% of this is HBP. So we're not under the gun to be out there developing a lot of new acreage... The capex is largely cash flow neutral due to the strong production component that's associated with the acquisition. So it's a very minimal net cash …outflow in year '13. And then beyond that, it should be positive. So we are looking at all-in roughly a couple hundred million of capex and EBITDAX in '13. But we'll firm that up later once the transaction closes.

Our longer-term debt to capital and debt to EBITDAX metrics view haven't changed. We continue to be in the position that we want to maintain a very strong, stable balance sheet. With the Samson deal, you'll probably see a little bit of an uptick in the debt initially. However, due to the strong cash flow component on these properties and our ample liquidity beyond that, it will be moderate. And we would expect it to decline as we continue production and moving forward. So we are still in that 1.5x to 1.7x range. And we would expect to be in that ballpark and to continue improvement.
However, leverage impact cannot be ignored
Even though the Samson acquisition is to a great degree "self-funding" in 2013, it will add at least $525 million in new debt to Continental's balance sheet, even after the proceeds from the $125 million Illinois Basin divestiture which was announced concurrently. The transaction comes at the time when the company is accelerating its capital spending to meet acreage retention obligations in the Bakken and Anadarko Woodford and to fund several significant development pilot programs. As of September 30, 2012, Continental had $2.9 billion in long-term debt, up substantially from $1.3 billion a year ago. Debt may ramp up to almost $4.5 billion level by the end of 2013 as Continental is expected to continue to spend well in excess of its cash flow in the next twelve months.
Without doubt, current debt level is comfortably supported by Continental's extensive oil-rich asset base. However, as management is increasingly relying on debt financing to expand the company's undeveloped leasehold position, CLR's corporate credit is visibly morphing away from its traditionally conservative profile. Financial leverage may prove to be a positive factor from a return on equity perspective should oil prices stay at their recent high levels and should operating results improve as Continental transitions into the full development mode in the next few years. However, leverage may also become a source of shareholder concern should oil prices disappoint.
The absence of visible stock price impact should be expected
The acquisition was announced concurrently with the third quarter results and therefore it is difficult to evaluate the market's perception of the transaction on a stand-alone basis.
From a value perspective, the acquisition is a minor positive for the stock in the immediate term and has potential to be value creating in the long run:
The net price of acquired undeveloped acreage, as discussed above, is only $200-$350 million and will certainly not "break the bank" for Continental; it also explains the "low materiality" of the acquisition for the stock price.
Immediately, Continental is creating value by "converting" non-operated interests into operated interests, increasing their potential market price. Assuming, for illustrative purposes, that the value of acquired undeveloped acreage doubles as a result of the consolidation, the per-share accretion from this factor alone is approximately 2%-4%.
The potential oil resource underlying the 120,000 net acres being acquired is very significant and, assuming future improvement in extraction techniques going forward, has undeniable economic upside.
Continental has been a champion of deeper Three Forks potential in the Bakken, having committed significant resources to pilot-testing of the entire interval. CLR may see significant deep TFS upside in the acquired assets which is not reflected in the sale price.
The announced acquisition is in a "low risk/high long-term potential" category and, given the very low implied per acre valuation, is akin to grass-root leasing. Given the over-heated M&A market for oil-prone prospects, it is a kind of transaction that shareholders should generally welcome.
However, several factors limit the benefits of the transaction:
Prior to the acquisition, Continental was by no means short of development opportunities and the announcement does not change the company's profile.
As Continental finds itself opportunity-rich but capital-short, the debt-financed transaction has an obvious opportunity cost: the same capital could be deployed within the existing portfolio, possibly with an equal or higher return.
With the acreage located in what I would consider Tier II of the Bakken, the economics of this specific play are highly levered to the oil price.
Disclosure: I have no positions in any stocks mentioned, and no plans to initiate any positions within the next 72 hours. I wrote this article myself, and it expresses my own opinions. I am not receiving compensation for it (other than from Seeking Alpha). I have no business relationship with any company whose stock is mentioned in this article.