A Great 7% Cash Alternative Bond
Nexen Inc (NXY), a Canadian oil and gas entity on the verge of being acquired by China's CNOOC, has an investment grade rated 7.35% subordinate bond issue that is a solid cash alternative. Trading on the NYSE, these Nexen bonds can purchased under the ticker NXYPRB at near par.
Nexen is under 1.0x levered, has tons of cash on the balance sheet with virtually no maturities until 2017, and is a great place to park cash at a 7% yield with limited volatility. While this subordinated bond is redeemable at any time, arguably it's safer than US Treasuries given Nexen's strong balance sheet and prized assets (assets that CNOOC eagerly wants).
These 7.35's trade a hair over par, at $25.31 (par is $25), which implies a current yield of 7.3%. On a 1 year yield to worst basis, the yield is 7%, a nice 270 basis point spread to comparable Baa bonds (investment grade).
CNOOC Ltd, the state-owned oil company out of China, has offered to purchase Nexen Inc for $27.50 in an all cash deal. While this seemingly would have a major impact on the bonds, the reality is that it has little bearing on their performance, and in fact may prolong any takeout of the subordinated bonds here.
Description of the Notes:
These are subordinated, dollar denominated bonds issued by parent entity Nexen Inc out of Canada. They are investment grade rated, but typical of an expressly subordinated piece of paper, lack any protective covenants such as a 101 change of control put or limitations on leverage (ala a Debt/EBITDA test, limit on liens, etc.). The subordination feature puts these Nexen bonds behind all of their unsubordinated debt, but ahead of the Series 2 Preferreds issued earlier in 2012.
The maturity of the bonds is 2043, but that is hardly relevant as at this point, the bonds are redeemable at par plus accrued interest at any time. That means that at $25.31, Nexen could redeem holders at $25.00, although there is a 30 day minimum notice period. Given that Nexen awaits Canadian regulatory approval for a sale of the company, likely nothing gets refinanced until either the deal closes or falls apart, which likely is late this year or early next year. By January 1st, there will be 46c of accrued interest (these trade flat), so even a takeout by February 1st next year would mean no losses, although admittedly only a small gain.
While the company has the option to redeem this issue with shares of common stock, the methodology essentially means that the Indenture Trustee would be issued shares, who would then collect bids to sell the shares on the bondholders behalf, finally paying out the bondholders with cash from share sale proceeds. Net net, holders would still be paid out in cash. The prospectus is the Supplemental Materials document filed October 27, 2003 and can be found here.
Acquisition By CNOOC
CNOOC's bid to purchase Nexen in an all cash deal awaits regulatory approval in Canada. Shareholders of both firms have approved the acquisition, the courts of have approved the deal, but the Industry Ministry in Canada must christen the acquisition before it can close. To get Ministry approval, the deal must be a "net benefit" to Canada, a vague term open to substantial interpretation. Much public and liberal political opposition makes this one tough to call. And last month's thumbs down on a deal by Malaysian state owned energy giant to purchase Progress Energy makes this one seem less likely.
I am sure it also explains the huge spread in the stock to the sale price. NXY trades currently at$ 25.50, a $2 spread or 7.8% spread to a takeout. A three month time to closing implies a 31% annualized return. That is huge in risk-arb land. Although, if Canada disapproves the transaction, then NXY falls likely to $18, down 26%. To me, the risk reward seems weak, this is no slam dunk deal despite the fact that CNOOC has been bending over backwards to please the regulators. (As opposed to BHP who attempted to purchase Canadian's Potash in a hostile offer, which offer Canada blocked).
In any case, none of this really matters to the subordinated bonds and likely delays any refinancing of them. They traded at similar levels before the deal as after the deal. While the Nexen Preferred Series 2 shares will be taken out at $26 plus accrued per share, the 7.35% subordinated bonds here will be left intact. By the way, based on the Nexen Series 2 preferred shares trading at $25.77, the return in the Series 2 paper isn't terribly interesting either.
Capital Structure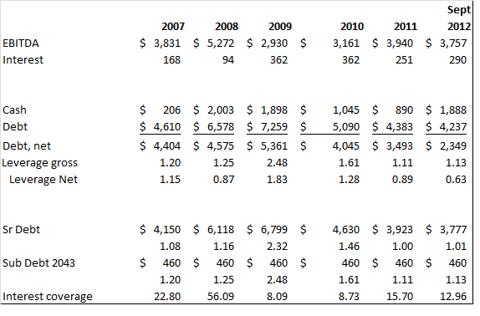 Click to enlarge
There is no secured debt in the capital structure at Nexen, only an undrawn revolver that is unsecured. The Sr Debt today is $3.77BB, which is only 1.0x EBITDA, and entirely comprised of unsecured bonds. Sr Leverage is in fact only 0.6x EBITDA net of cash.
Total gross debt through the sub's is 1.13x. Put simply, the company could repay all of their debt in a little over a year with cash from operations, not to mention the fact that there is enough cash on the books to repay the 2015, 2017, and 2019 bonds at Nexen, although cash jurisdictional issues may prevent this to some extent.
The 7.35% subordinated bonds are expressly junior to all senior debt (the $3.77B), but ahead of the preferred stock. After a merger with CNOOC, Nexen Inc (the issuer entity) will be a wholly owned subsidiary of CNOOC Canada Holding Ltd, itself a subsidiary of CNOOC Ltd the parent. The parent CNOOC in China itself is a net cash entity. That is, has net cash after subtracting out its debt. China as de facto owner isn't going to lever up Nexen either in my opinion. Their balance sheet is cash rich, not one in need of financing.
Risk
The risks to the subordinated bonds here are the following:
A Leveraged Buyout (LBO). This is what crushes bonds without change of control covenants. However, given the fact that CNOOC is likely to buy the company, this risk is severely mitigated. Also, there are senior bond covenants limiting total leverage to 3.5x Debt/EBITDA, which means that a private (leveraged) buyer couldn't lever this up to 5-6x as is typical in an LBO. Furthermore, $15BB LBO's are actually quite rare in the oil and gas space too. TXU's disaster of an investment by KKR perhaps also will cause PE firms to think twice before an LBO of a commodity driven business.
Refi Risk. That is, the bonds get refinanced and taken out at $25. As I pointed out above however, the downside is pretty much nil if you get refi-d, but the upside is nice 7% yield.
Liquidity meltdown. This is the 2008 scenario all over again. But, while I am somewhat bearish on the markets and the economy, I think a liquidity crisis is unlikely again given global central bank efforts to stem runs on the bank. Ironically, a pullback in the credit markets may be good for these bonds, making them less likely to be refinanced.
Inflation. Not seeing it today, but inflation lurks in the back of everyone's mind (or should), as a potential killer of any fixed income piece of paper. Shorting a cheap 5 year treasuries would capture the spread and eliminate much of this risk. 5 year treasuries yield a measly 0.62%, so you could net 6%+ with a pretty decent inflation hedge.
Energy industry risk. Even if oil and gas prices crater, and EBITDA falls by 50%, then you still own a bond that is approximately only 2.0x leveraged (ie Debt/EBITDA).
Upside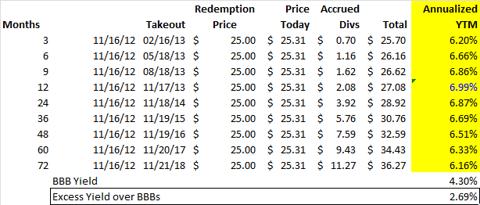 Click to enlarge
If I can sell this in 3 years at a similar price, then I can capture the 7.3% current yield. Nexen and China have far better balance sheets than our US government too.
Conclusion
We will find out what happens with Nexen on December 10th, or perhaps even earlier. If CNOOC does indeed get approval from Canada to proceed, then my hope would be that it takes them a year or two to integrate Nexen before considering capital structure alternatives. That is, taking this bond out. Some weakness in the credit markets may also delay a refinancing. If Canada kiboshes the transaction, then again, hopefully the coupon isn't too outsized to make Nexen management notice.
Disclosure: I am long NXY. I wrote this article myself, and it expresses my own opinions. I am not receiving compensation for it (other than from Seeking Alpha). I have no business relationship with any company whose stock is mentioned in this article.
Additional disclosure: I am long NXY 7.35 subordinated bonds, not NXY stock