There were twelve new preferred stocks issued during September, the diversity of which was striking [1].
New September issues were introduced from property REITs Public Storage (NYSE:PSA), PS Business Parks (NYSE:PSB), CBL Associates (NYSE:CBL) and Equity Lifestyle Properties (NYSE:ELS); oil and natural gas company Miller Energy Resources (NYSE:MILL); big banks PNC Financial (NYSE:PNC) and Bank of New York Mellon (NYSE:BK); mortgage REITs Annaly Capital (NYSE:NLY), AG Mortgage (NYSE:MITT), Apollo Residential (NYSE:AMTG) and Resource Capital (NYSE:RSO) and equity investment firm Gabelli Equity (NYSE:GAB).
Ten of these twelve new preferred stock issues were distributed to the marketplace by their underwriters using the wholesale Over-The-Counter (OTC) stock exchange under temporary trading symbols [2]. Once distributed to dealer/brokers, the shares then started trading on the retail New York Stock Exchange under new permanent symbols within a couple of weeks.
Individual investors, armed with a web browser and an online trading account, are allowed to buy newly issued preferred stock shares during wholesale OTC distribution just like the big dealer/brokers [3]. The SA article titled "Preferred Stock Buyers Beat High Prices By Paying Wholesale" explains how to do so at market prices that are often below the security's par value (usually $25 per share so that value is used throughout this article).
By making their purchases during the OTC wholesale distribution process, savvy preferred stock investors were able to purchase the newly issued September shares for an average market price of $24.85. At an average purchase price of $24.85, preferred stock investors who purchased the new shares during OTC trading are now earning an average annual dividend yield of 6.55%.
The yellow diamonds on this chart show the opening OTC market price for the ten preferred stocks that were distributed during September 2012 via the OTC stock exchange (two of the twelve new September issues, MILL-C and ELS-C, did not trade on the OTC but, rather, went straight to the NYSE).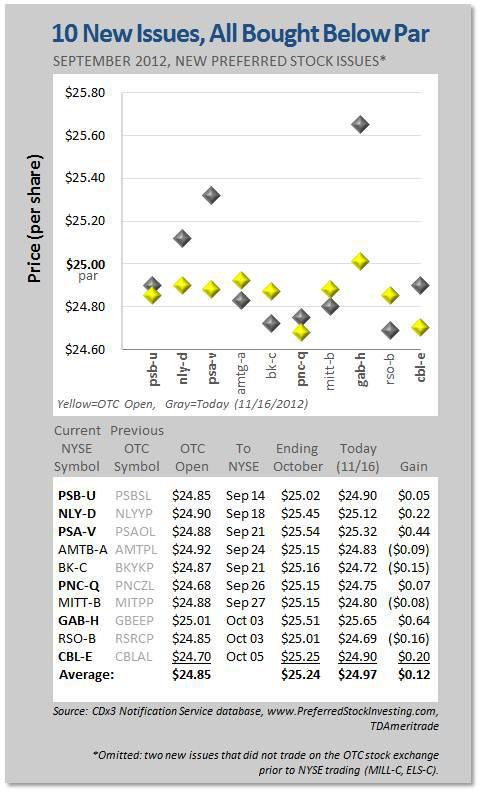 Note that each issue could be purchased for a price at or below its $25 par value at the open of OTC trading as shown by the yellow diamonds on this chart.
Seller's Market Means Buying Below Par on the OTC
This is typical price behavior for newly issued preferred stocks during "seller's market" conditions - periods when there is significant upward pressure on preferred stock market prices such that the resulting prices are generally well above the security's $25 par value.
During a seller's market for preferred stocks, preferred stock investors who wait to buy shares on the NYSE will often pay a retail premium as the increased visibility can lead to higher prices in a high demand market.
Once OTC distribution was completed, these new September preferred stocks transitioned to the NYSE under their new permanent trading symbols during late-September and early-October. By the end of October, these ten new preferred stocks were selling for an average market price of $25.24 per share, well above their wholesale OTC price levels. The data table below the chart shows the ending October market price for each issue.
November 2012 Price Drop Showcases Price Stability
Because preferred stocks have a known-in-advance dividend (representing less risk to investors), preferred stock market prices are generally less volatile than the same company's common stock prices. This mechanism was on full display during the first two weeks of November. During that period, common stock market prices dropped an overall 5%, as reflected by the S&P 500 Index while preferred stock market prices dropped about 1%, as reflected by the market price of the iShares S&P U.S. Preferred Stock Index ETF (NYSEARCA:PFF).
The gray diamonds on the above chart indicate the closing market price on Friday, November 16. Even with the dramatic early November bounce downward, the average market price of these ten new September preferred stocks closed at $24.97 last Friday. Those who purchased the new shares during OTC trading were still ahead by an average of $0.12 per share.
Why Buy Below Par?
Purchasing below a security's par value provides two benefits to you as a preferred stock investor: (1) you add a layer of principal protection to your investment since, in the event that the issuing company redeems (calls) the shares downstream, you will receive the par value in cash in exchange for your shares and (2) in that event, you will add a nice capital gain to your investment in addition to the dividend income you have been earning in the meantime.
Since we are currently in the strongest seller's market for preferred stocks in recent history, savvy preferred stock buyers who pick up shares while the new securities are still trading on the OTC stock exchange are often rewarded with discounted prices. September's new issues were no exception.
Footnotes
[1] Source for all preferred stock data in this article: CDx3 Notification Service database, Preferred Stock Investing, Fourth Edition (PreferredStockInvesting.com) and TDAmeritrade (TDAmeritrade.com). Disclaimer: The CDx3 Notification Service is my preferred stock email alert and research newsletter service including data for all preferred stocks and exchange-traded debt securities traded on U.S. stock exchanges.
[2] Sources for OTC trading symbols: the CDx3 Notification Service (my subscription research service) provides OTC trading symbols via email alerts for new preferred stock issues and exchange-traded debt securities; QuantumOnline's site (quantomonline.com, requests a fee on the honor system) does not provide email alerts or downloadable data but frequently lists the OTC symbol for new issues. For do-it-yourselfers, if you know the issuing company name (which you can get by watching the SEC's "Recent Filings" at sec.gov) you can monitor two sites for new preferred stock OTC symbols: (1) the OTC Bulletin Board at otcbb.com and (2) Pink Sheets at otcmarkets.com. Do this daily if you want to catch them when they first start trading.
[3] How well you are able to participate in OTC trading depends on the breadth of your broker's contracts with "market makers," of which there are about a dozen. See the SA article titled "New Preferred Stocks: How To Buy Shares for a Discount Below Par" for an explanation.
Disclosure: I have no positions in any stocks mentioned, and no plans to initiate any positions within the next 72 hours. I wrote this article myself, and it expresses my own opinions. I am not receiving compensation for it (other than from Seeking Alpha). I have no business relationship with any company whose stock is mentioned in this article.
Disclaimer: Preferred stocks identified within this article are for illustration purposes only and are not to be taken are recommendations.