REITs, Real Estate Investment Trusts, generally invest in tangible assets, property and buildings, and they have an excellent record of growth. I know after I bought several REITs around 1997-2000 to lock up double digit yields. Those investments have been very big winners because valuations soared when investors bid up stock prices and accepted sharply lower yields. Today some REITs are still offering high yields, along with excellent appreciation potential from high income and stock price growth.
Growth for REITs has been substantial in the last 10 years, when many popular growth stocks stumbled. The Dow Jones Equity REIT Index increased faster than popular stock averages until the start of 2007. Then the REIT index plunged from a high above 360 to a low below 100 in early 2009. This was a difficult recession for REITs even though they had prepared. Most REITs cut dividends. Since then the index rebounded during the stock market recovery and the index has been over 200 for more than 2 years.
Dow Jones Equity REIT Index 2002-2012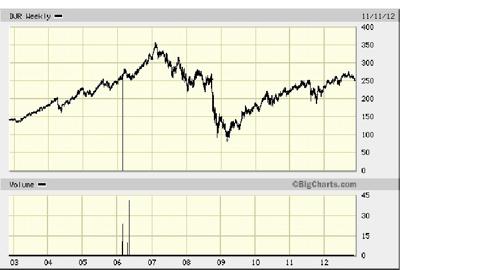 Despite growth in stock prices, REITs are still primarily thought of as yield securities. Several REITs offer yields above 5%, and many dividends have tax advantage. REITs owning properties commonly have only a portion of the dividend treated as ordinary income for tax purposes. The tax status for Sun Communities (NYSE:SUI) dividends over the last 5 years is shown below:
Sun Communities Tax Table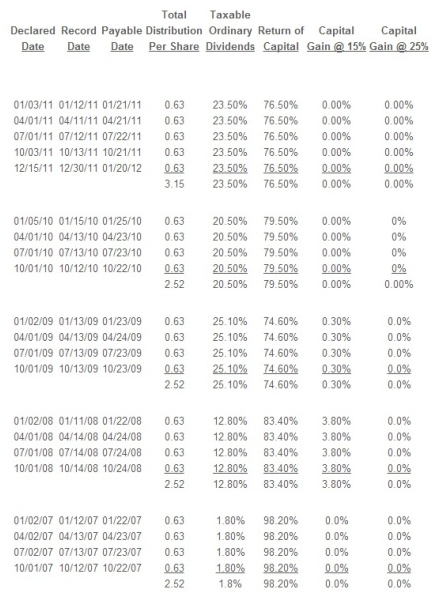 The quarterly dividend has been flat at 63¢ and most dividends have been largely tax free (including almost all of the dividend in 2007). A small portion was classified as capital gain, a category which has been limited for most REITs in the last few years.
My prior articles have generated many comments on the tax category, "Non-Taxable Return of Capital." Some investors have an accounting, literal view of this caption, saying that it reflects a liquidating type of dividend, focusing on the words "Return of Capital." I don't. REITs commonly buy or build new properties to generate growth. However selling properties (for a variety of reasons) is common. This category is just another category with no particular business significance. I focus on the words "Non-Taxable" and that category feels very good when I do my taxes. The ongoing business of REITs is to grow their portfolios of properties for more rental revenue used for increased dividends.
3 examples of REITs offering high yields are: Sun Communities, EPR Properties (formerly Entertainment Properties (NYSE:EPR) and Campus Crest Communities (NYSE:CCG).
SUI operates 165 manufactured housing and recreational vehicle communities in 18 States, largely in the Midwest and Southeast with over 57,000 developed sites. The stock yields 6.6% and has been largely tax free.
EPR Properties, formerly, Entertainment Properties invests in more than 180 locations with over 250 tenants -- Entertainment with 124 properties (mostly megaplex theaters), Recreation with 17 properties (mostly ski parks and ski complexes) and Education with 41 public charter schools. I bought this stock about 15 years ago for its 11% yield. The stock price tripled and shares are approaching triple from reinvested dividends. The dividend was cut 3 years ago, but subsequent increases brought the annual dividend to $3 (4¢ below the prior record). The yield is 6.9% and last year 27½% was free of taxes.
Campus Crest Communities owns and manages high-quality student housing properties located close to campuses. There are 33 properties containing approximately 6,300 apartment units and 17,000 beds. The quarterly dividend has been flat at 16¢ over the last 2 years. The stock yields 5.9% and 85% was free of taxes.
These stocks, along with many other REITs, combine high yields with tax advantage. All REITs issue statements in January that supply the tax status for dividends in the prior year. At a time of low yields, high after tax yields are additionally important. The Dow Jones Industrials Average has sunk over 1000 in the last month and the outlook is not encouraging with growing uncertainty about going over the fiscal cliff. But dividends keep coming and they feel good at tax time.
Disclosure: I am long EPR. I wrote this article myself, and it expresses my own opinions. I am not receiving compensation for it (other than from Seeking Alpha). I have no business relationship with any company whose stock is mentioned in this article.