"Pessimist: One who, when he has the choice of two evils, chooses both." ~Oscar Wilde
Berry Petroleum (BRY) has had a tough few months on the back of a disappointing earnings report and several analysts' downgrades. The stock has fallen some 30% over the past month and now provides a much lower entry point than earlier in the quarter. I have found that being contrarian on these sorts of long term growth plays can be a successful strategy over time. The key is to buy when pessimism is high. I especially like to take small stakes in these stocks when insiders start to buy the beaten down shares as they are starting to do with Berry Petroleum
Key recent catalysts for Berry:
A couple of insiders bought almost $600k of shares in early November. It was the first insider buys in 2012.
Crescent Point recently made a $784mm acquisition of Ute Energy, a company with significant acreage in shale regions in Utah. This provides a good benchmark and valuation support for other properties in the region including Berry which has approximately 165,000 acres there.
Although 75% of the company's production is oil & liquids, it should be helped on the margin by natural gas prices that have risen around 75% from their lows earlier in the year.
The stock is selling at long term technical support levels (See Chart).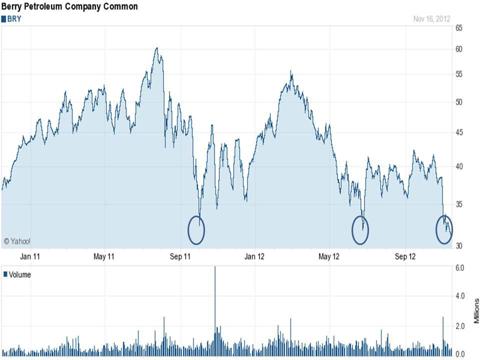 Click to enlarge
Berry Petroleum Company is an independent energy company that produces crude oil and natural gas in the United States. Its principal reserves and producing properties are located in California, Texas, Utah, and Colorado.
4 additional reasons BRY is a solid growth play at $31 a share:
The median price target held by the 13 analysts that cover the stock

is

$44 a share. Some 40% above the current stock price even given several recent downgrades of the shares.
The stock is selling near the bottom of its five year valuation range based on P/E, P/S, and P/B.
The company should book revenue growth in the low double digits for both FY2012 and FY2013. The stock also sports a very low five year projected PEG of under 1 (.54).
BRY sells for just 8.5x forward earnings, a significant discount to its five year average (14.1). It also pays a small dividend of 1%.
Disclosure: I have no positions in any stocks mentioned, but may initiate a long position in BRY over the next 72 hours. I wrote this article myself, and it expresses my own opinions. I am not receiving compensation for it (other than from Seeking Alpha). I have no business relationship with any company whose stock is mentioned in this article.