Home Depot (NYSE:HD) is the company empowering contractors, homeowners, and apartment dwellers into home improvement projects of various skill levels. The company reported positive results for Q3 2012 with an increase of 4.2% in comparable store sales. It also managed to exceed its earnings estimates by 5.7% with an actual EPS of $0.74 vs. an estimate of $0.70. In this article, I will analyze the short-term and long-term outlook for the company.
Short-Term Outlook
Home Depot is raising its guidance for the fourth quarter without including the impact of Hurricane Sandy or Post Tropical Cyclone Sandy as defined by the National Weather Service. The reason that the company is not including Sandy's impact is due to the unpredictable nature of when the improvement projects will actually take place. For example, if this winter season is snowy and cold, it is likely that many projects will be postponed until spring. The fact that the company is raising guidance without including Sandy is positive. Expected EPS for 2012 was increased by 23% to $3.03.
What is known is the impact that Hurricane Irene had on the company last year. Total sales attributed to Irene amounted to $360 million which was captured in the third and fourth quarters of last year. Total property damage from Irene was $16 billion. Sandy's total damage is estimated at $20 billion, so it is likely in my opinion that Home Depot will see a significant short-term sales boost that is similar to or better than last year's boost. Depending on the weather, the boost should be realized in the next 2 or 3 quarters.
Given the company's optimism, solid Q3 results, and positive earnings guidance, I would expect the stock to rise over the next few months.
Long-Term Outlook
Home Depot should continue to benefit from the improving housing market in the United States.
Private fixed residential investment as a percent of GDP has improved for the fourth consecutive quarter to 2.5%. - Home Depot Q3 2012 Earnings Transcript
Although the current state of housing is below the 60-year average, it is in the process of improving with a new uptrend. This bodes well for Home Depot as customers look to make improvements in their homes.
Even if the housing market stagnates, the company should continue to get business from homeowners who need various upgrades such as roofing, appliances, paint, lighting fixtures, plumbing, etc. These things don't last forever and need replacing over time. Likewise, homeowners will make improvements such as building decks and additions, finishing basements, etc. Everyone lives somewhere, so even apartment dwellers will perform improvements such as painting or adding new fixtures from time to time.
Home Depot is fairly valued with a forward PE ratio of 17.95, a PEG of 1.27, and a price to book ratio of 5.13. There aren't too many surprises with the company as plenty of visibility exists with regards to sales, so mispricing does not occur too often.
Here are a few comparisons to its competitor, Lowe's Companies, Inc. (NYSE:LOW):
| | | |
| --- | --- | --- |
|   | Home Depot | Lowe's |
| Market Cap | $92.37 billion | $36.48 billion |
| Dividend | 1.9% | 2% |
| Forward PE Ratio | 17.95 | 15.75 |
| PEG | 1.27 | 1.26 |
| Profit Margin | 5.91% | 3.58% |
| Operating Cash Flow | $6.34 billion | $3.85 billion |
| Expected 5-Yr. Annual Earnings Growth | 15.94% | 15.03% |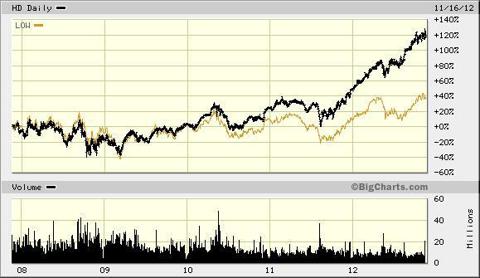 Home Depot's stock has been outperforming Lowe's for the past two years. One primary factor for this is that Home Depot is able to achieve a higher profit margin than Lowe's. HD's larger size allows it to have cost advantages over Lowe's. While both companies keep prices about the same, Home Depot's lower costs allow it to achieve the higher profit margin.
Home Depot has grown earnings per share at an average of 25% annually for the past two years, while Lowe's achieved 8.9%. Home Depot looks to be breaking away with the overall advantage.
Overall, Home Depot looks like a solid investment for the long-term. With the company's expected 5-year annual earnings growth rate of 15.94%, the current stock price of $62 should more than double in five years.
Disclosure: I have no positions in any stocks mentioned, and no plans to initiate any positions within the next 72 hours. I wrote this article myself, and it expresses my own opinions. I am not receiving compensation for it (other than from Seeking Alpha). I have no business relationship with any company whose stock is mentioned in this article.