Last week, shares of tech giant Cisco (NASDAQ:CSCO) rallied after reporting a good fiscal first quarter. The company beat on both the top and bottom line, and for the most part, guidance was decent. Cisco produced another quality result and shares were rewarded accordingly. As I mentioned recently, Cisco needed to prove itself because last quarter's results were overshadowed by the huge dividend raise. Let's examine the quarter and see if Cisco is still a buy after earnings.
First quarter results:
Cisco reported Q1 revenues of $11.876 billion, which beat the average analyst expectation for $11.77 billion. Earnings per share (non-GAAP) came in at $0.48, beating by two pennies.
The following table shows Cisco's Q1 margins over the past four years. The table breaks down gross margins for each segment, products and services, and then combines them for an overall gross margin total, as well as the two other primary margin categories. I can use these results to further examine these results over the prior year period. All numbers described in the rest of this section are GAAP results (unless specified), which is the presentation method used for Cisco's financials.

Cisco product sales rose by 3.85% over the prior year period, but the cost of those products rose by 5.19%, leading to the 51 basis point decline in product gross margins. Service revenues increased by 11.94% over the prior year period, and their costs only rose by 10.71%, leading to a 38 basis point increase in service gross margins. For the period, product sales represented 78.28% of total revenues, down from 79.53% in the 2011 period. As a result, service revenues increased from 20.47% to 21.72% of the total. Because product sales represent a majority of Cisco's business, the drop in product gross margins outweighed the rise in service gross margins. Overall, Cisco's GAAP gross margins declined by 26 basis points.
On the operating side, Cisco reported a 4.07% rise in R&D expenses, and a 1.45% rise in general expenses. The $64 million increase in those two expense categories was partially offset by a $36 million decline in sales expenses. Amortization expenses also rose by $23 million, but Cisco booked $143 million less in restructuring charges. Thus, overall operating expenses declined by $92 million over the prior year period, a decline of nearly 2%. As a result, operating margins increased by 269 basis points, to their highest Q1 level since 2009.
Cisco reported a small decline in interest income and a larger decline in other income items. The decline in other income was partially offset by Cisco's effective tax rate declining from 20.85% to 20.49%. Overall, Cisco reported a 17.73% rise in net income, which was a rise of 183 basis points in net margins. Cisco's GAAP earnings per share rose from $0.33 to $0.39. It helped that the diluted share count declined by 73 million shares to 5.334 billion (over last year's Q1 count).
Quarterly Guidance:
For fiscal Q2, Cisco guided to revenue growth in a range of 3.5% to 5.5%. The midpoint of 4.5% comes in a little above analyst expectations for 4.2%. In terms of earnings per share, Cisco guided to a range of $0.47 to $0.48, non-GAAP. Analysts were expecting $0.47, so that guidance can be seen as good as well. In the past five quarters, Cisco has beaten by a penny twice, two cents once, and four cents once. The company has done quite well in terms of beating on the bottom line. Like many other companies, top line revenues have seemed to been the one struggle. This time around, Cisco beat, and the guidance for revenues and earnings looked pretty good. The one negative here was that Cisco guided to gross margins (non-GAAP) of 61% to 62%. That was seen as a bit light, and down from fiscal Q1's non-GAAP gross margins of 62.7%.
In the next few sections of this article, I'll explain a few reasons as to why Cisco remains a good stock for long term investors.
A strong balance sheet:
The following table shows some key numbers for Cisco's balance sheet. The dates presented are at the end of the past two fiscal Q1's, as well as last quarter's Q4 values, to show how things have changed over the last three months. Dollar values in millions.

You might think that the decline in the first three items is troubling, but it's not. During the quarter, Cisco completed its acquisition of video software and content security solutions company NDS. As a result, Cisco's goodwill balance rose by $3.445 billion and the balance of purchased intangible assets rose by $1.49 billion.
Cisco reported operating cash flow of $2.465 billion, which was more than used up by the nearly $5 billion in cash used for acquisitions. On the positive side, the debt (liabilities to assets) ratio improved in the quarter. Unless Cisco makes any large acquisitions in fiscal Q2, I would expect Cisco's cash balance, working capital, and current ratio to improve when we get the next quarterly report.
The value proposition:
When you hear of a name being called a value stock, there are a few parts to that. They generally involve a company that is paying a dividend, a company that is buying back stock, a company whose valuation seems lower than it should be, or a combination of the three.
When it comes to Cisco, the company meets all three of those. Cisco raised its dividend after last quarter from 8 cents to 14 cents per quarter. Based on Friday's close, Cisco is yielding 3.11% per year, which compares to the 2.73% yield you'd get from a 30-Year US Treasury. Cisco also is buying back plenty of stock. During the quarter, the company purchased 15 million shares for an average price of $16.44. For those that have been critical of Cisco's buybacks, the company did very well. The average closing price during the quarter (adjusted for the one dividend payment) was $18.31, so Cisco bought back shares at a very good price. As of the end of the quarter, Cisco had bought back 3.8 billion shares at a cost of $76.4 billion. The company has $5.6 billion remaining on its current buyback plan.
Now, you must also look at Cisco compared to other names. In the past, I have compared Cisco to other top tier tech companies that are paying solid dividends and buying back stock. Those include Microsoft (NASDAQ:MSFT) and Intel (NASDAQ:INTC), which I will compare Cisco against again. I'm going to also include Juniper Networks (NYSE:JNPR), another network infrastructure company that Cisco competes against. So the following table compares these four names on a few metrics. For Cisco and Microsoft, I'm using the fiscal years that end during the middle of 2013. For Juniper and Intel, I am using calendar 2013, their fiscal years. The P/E will be based on the earnings expectation for the fiscal year.

Juniper's huge growth in earnings per share is only expected to occur after a fall this year (from $1.19 in 2011 to $0.79 this year, back up to $1.11 next year). In terms of revenues, Cisco is growing faster than Intel, about as fast as Juniper, and a bit behind Microsoft. Cisco doesn't have the highest dividend yield, but 3.11% is nothing to shy away from. Cisco also has fairly decent earnings growth expected, when you take out the Juniper anomaly. Cisco had the lowest P/E in my last few updates, but the recent fall in Microsoft shares, 7.3% in the past week, has pushed Microsoft's valuation down. Cisco's P/E has also risen a bit as the stock has jumped, and analysts have not started revising their estimates after the latest quarter. I would expect Cisco's valuation to come down as analysts should raise their earnings estimates slightly over the next few weeks.
Conclusion - Time to Buy?
Cisco shares popped after the latest quarterly result, and rightly so. The earnings report was very good, with beats on the top and bottom line. Guidance was fairly good, although margin guidance was a little light. Cisco is still buying back plenty of shares and a 3.11% dividend is rather juicy. The name trades at a reasonable valuation to other top tech names and competitors. Cisco shares did rally strongly after last quarter's results, and then faded afterwards. That could happen again. Also, any further stalemate on US fiscal cliff issues will push the market down, and Cisco will most likely decline as a result. Cisco is a good name to be in long term, but there still could be some short term pressure. Investors wanting to buy Cisco could definitely enter here, but I would recommend not starting a full position here. I would say you could start small and average down, or waiting for the next pullback to acquire a position.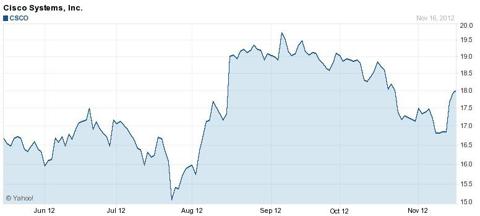 (Source: Yahoo! Finance)
Disclosure: I have no positions in any stocks mentioned, and no plans to initiate any positions within the next 72 hours. I wrote this article myself, and it expresses my own opinions. I am not receiving compensation for it (other than from Seeking Alpha). I have no business relationship with any company whose stock is mentioned in this article.
Additional disclosure: Investors are always reminded that before making any investment, you should do your own proper due diligence on any name directly or indirectly mentioned in this article. Investors should also consider seeking advice from a broker or financial adviser before making any investment decisions. Any material in this article should be considered general information, and not relied on as a formal investment recommendation.