Oracle (NASDAQ:ORCL) has delivered a volatile, yet strong performance of 15% this year. This increase in share price has represented an additional $20 billion in share value and has been complemented by a steady stream of modest dividend payments. In the past quarter, share price has declined around 9% in light of unexpected earnings and guidance. Through this article, I will present the case that the long-term fundamentals of Oracle are bullish and my belief that the recent pullback in share price represents a strong investment opportunity.
A History of Returns
The first metric I have utilized in studying Oracle is return on assets. Return on assets is a simple and effective metric which allows an analyst to understand how efficiently an organization uses its resources to generate profits. This key metric is calculated by taking the net income of the firm divided by the average total assets across an operating period. In the chart below, the return on assets is shown for the past five years.
click to enlarge images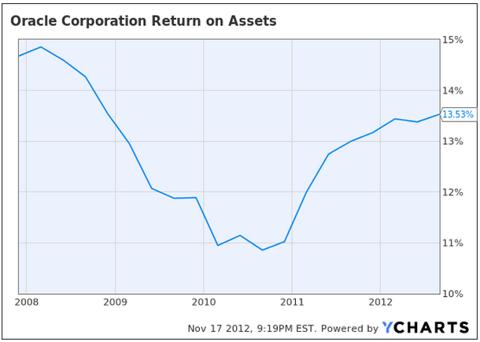 Beginning in 2008, Oracle experienced a steady decline in organizational efficiency, as measured by return on assets. During this period of time, Oracle's returns decreased from 15% to 11%. This period of decrease was matched with a likewise period of stock price decline in which the shares of Oracle fell over 30%. This lockstep relationship between returns and share price is excellent for understanding Oracle in that it provides us a framework to fundamentally examine all price action. As returns decrease, the market assigns a lower value to the organization since the firm is providing less return on its assets.
During 2010, Oracle experienced a "bottoming out" of return on assets. During this period of consistent return on assets, Oracle reversed its multi-year fundamental malaise and began a process of firm growth and expansion. This expansion lasted until return on assets decreased in the second quarter of 2012. This expansion in return on assets was coupled with a 20% increase in share price which buoyed the company to decade highs.
Over the past quarter, return on assets has increased, signaling a resumption of the multi-year uptrend in firm performance. This tangibly means that the organization is becoming progressively better at using its software, hardware, products, and services to bring profit into the firm. As it currently stands, for every dollar of assets, Oracle is able to generate $0.13 of net income. To place this figure into perspective, two years ago, Oracle was only able to generate $0.11 of net income for every dollar of assets. It may seem like a small difference, but this is nearly a 20% increase in performance. Despite these fundamental gains, share price has declined over the past quarter. Why is this?
In my opinion, the recent decline in share price represents the fact that Oracle is being influenced by overall bearish investor sentiment. It is my belief that investors have chosen to ignore the fact that Oracle is a fundamentally strong company and have instead focused on the business environment. In light of this decoupling of firm and share price performance, I believe that an investment opportunity is present. Since the market has decided to value the shares at discounted prices and returns have continued an uptrend which has propelled share price to decade highs, I believe that investors seeking to purchase Oracle will be buying into a strong fundamental uptrend.
Strategic Investing
Even though Oracle is a strong and is experiencing growing organization, I do not advocate immediate purchase of the stock. After all, if the current downtrend continues its momentum, early investors could face large losses. I believe that investors can more accurately time investments through trend analysis. By paying careful attention to the significance of past price levels, we can accurately time entries into investments. In the chart below, I have identified key levels of support and resistance. It can be seen that Oracle is currently stuck within a fairly large trading range. For the past 5 quarters, share price has bounced between $34 and $25. Since our fundamental thesis is that Oracle is a growing organization, I believe that we should not participate in the company until share price agrees with this synopsis. For this reason, I believe that a long order should only be entered if price is able to close above $34 per share on a weekly basis. If price is able to close above $34 per share and continue rising, then I believe that an appropriate stop should be around $33 per share to provide some breathing room for the trade to develop.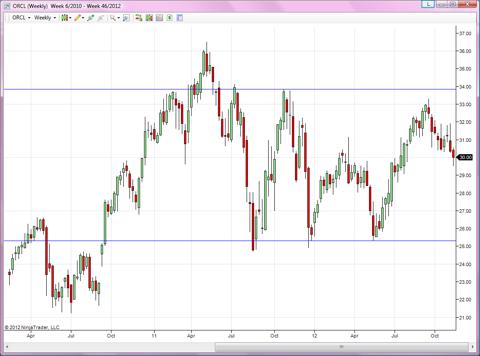 Disclosure: I have no positions in any stocks mentioned, and no plans to initiate any positions within the next 72 hours. I wrote this article myself, and it expresses my own opinions. I am not receiving compensation for it (other than from Seeking Alpha). I have no business relationship with any company whose stock is mentioned in this article.