Anacor Pharma (NASDAQ:ANAC) is focused on the clinical development of anti-fungal, antibiotic and anti-inflammatory product candidates including lead product candidate, Tavaborole (formerly AN2690) (topical anti-fungal product), which is currently being evaluated in two fully-enrolled pivotal Phase III clinical trials (ClinicalTrials.gov IDs NCT01270971 and NCT01302119) with results from the first trial expected in January and results from the second trial expected approximately six weeks later to support a planned New Drug Application (NDA) to the FDA in mid-2013 based on guidance from the most recent quarterly update in early November.
Tavaborole is a boron-based topical solution being developed to treat fungal infections of the nails and nail bed (onychomycosis) on a localized basis through a novel mode of action compared to current treatments such as PENLAC and LAMISIL to greatly minimize the risk of any systemic side effects while achieving similar or greater efficacy compared to marketed prescription-strength treatments for the condition.
Anacor is also developing AN2728 (topical anti-inflammatory agent) in mid-stage Phase II clinical trials with results from a safety and pharmacokinetic (NYSE:PK) (absorption, distribution, metabolism and excretion analysis) study in adolescents expected around year-end and results from a dose-ranging study expected during Q1 2013 to support the planned start of a Phase III clinical trial for the skin condition atopic dermatitis in mid-2013.
Finally, the Company is developing SCYX-7158 (AN5568) as a potential treatment for sleeping sickness (human African trypanosomiasis or HAT). The compound is being evaluated in a Phase I clinical trial in Europe in up to 120 subjects in collaboration with the organization Drugs for Neglected Diseases with safety and PK data from healthy volunteers in the study expected during Q1 2013.
In early November, Anacor reported Q3 2012 financial results, including the following highlights:
- Anacor expects to have cash and equivalents of at least $45 million at year-end 2012, which are sufficient to fund planned operations through a planned NDA filing for tavaborole in mid-2013.
- Anacor used $43.5 million in cash to fund operations during first nine months of 2012 and reported 35.6 million shares of common stock outstanding along with total debt of $27.4 million as of 9/30/12.
- In late October, Anacor completed a public offering for the sale of 4 million shares of common stock priced at $6/share that includes a 600,000 share over-allotment option to the deal underwriters for a 30-day period.
As illustrated on the two-year chart below, shares of Anacor have fallen drastically since the stock offering was completed one month ago and currently trade at near all-time lows in the mid-$4s, which has provided strong support since the stock began trading in late 2010.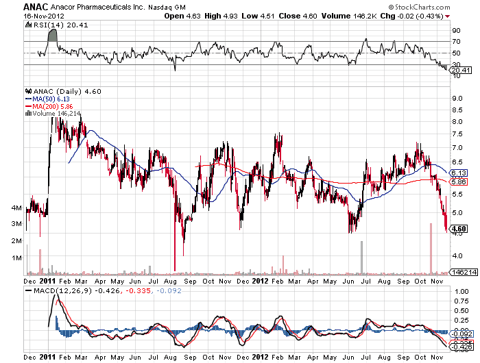 In December 2010, Anacor completed an initial public offering (NYSEARCA:IPO) that included the sale of 13.4 million shares of common stock priced at $5/share for net proceeds of about $71 million so shares are currently trading near at 10% discount to the IPO price and 20%+ discount to the public offering last month. While overall market conditions have turned bearish since the election was completed as attention is focused to the uncertainty over fiscal cliff negotiations; with an expected slow week of news and trading ahead of the Thanksgiving holiday this week the potential exists for a bounce back in oversold stocks such as Anacor if there is an upside bias to the market.
In addition, the recently completed public offering provides adequate liquidity to reach a planned NDA filing for Tavaborole in mid-2013 along with the planned start of Phase III clinical trials for AN2728 around the same time. While many small-cap biopharmaceutical stocks have sold off sharply over the past month and the potential exists for further downside risk (i.e. shares could continue falling to all-time lows below $4 due to tax loss selling); Anacor is trading at strong historical support levels in the mid-$4s with several potential upside catalysts over the next two months including Phase II results this quarter for AN2728 and initial Phase III results for Tavaborole in January.
Given the near-term timeline for Phase III results in January and the relatively low-risk nature of the Phase II results this quarter (i.e. the study is designed to assess safety and PK parameters); Anacor is poised to rebound back toward the moving averages and the recent stock offering price of $6/share. Finally, I estimate a high probability for success (i.e. 80%) in the Phase III clinical trials for Tavaborole vs. placebo based on the results of previously conducted Phase 2 clinical trials and an objective endpoint of eradicating nail fungal infections that is not subject to placebo effect or subjective bias.
Disclosure: I am long ANAC. I wrote this article myself, and it expresses my own opinions. I am not receiving compensation for it (other than from Seeking Alpha). I have no business relationship with any company whose stock is mentioned in this article.