Despite Friday's bounce, stocks still closed in the red for the week…the second losing week in a row, and the sixth loser in the last nine. The market has now given up a little more than 8.0% since the September peak (an 8% pullback is about the average size of a normal bull market correction), and while that would imply a reversal of fortune may be nigh, with the present situation, more downside may be in store before a good technical floor is found.
We'll look at that situation in a moment, right after we dissect last week's major economic data and discuss what's coming up this week for option trading.
Economic Calendar
It wasn't a terribly busy week, but we did see some pretty important information on the economic front. In order of appearance…
Retail sales: Economists weren't expecting much to begin with for October's retail sales, but they didn't even get what they were expecting. Overall retail sales fell 0.3%, versus expectations of a 0.2% dip. That's a drastic turnaround from September's 1.3% increase. Taking automobiles out of the picture, retail sales were flat, falling short of the expected 0.1% rise.
Producer inflation: Good news/bad news… producer inflation (the input costs for factories, fabricators, and plants) fell 0.2% last month, on a core as well as a non-core (ex energy and food). The pros were expecting a 0.1% increase on both fronts. It's good in the sense that those factories may pass along those lower costs to consumers, but it's bad in the sense that the market isn't able to support strong prices.
Consumer inflation: Consumers paid 0.1% more last month for a broad basket of goods than they did in September (as expected), though that was still shy of September's 0.6% increase in prices. On a core basis (ex food and energy), prices were higher by 0.2%. As it stands right now, the inflation rate stands at 2.16%. That's below the long-term norm, which is nice in the short run, but may indicate weakness in the long run.
The rest is on the grid below.
The coming week will be even lighter, at least partially because of the holiday break. We are going to be getting a fairly big dose of housing market data though. Here's what to watch for:
Monday: Existing home sales should rise from September's annualized rate of 4.75 million to 4.8 million, though the NAHB Housing Market Index is likely to roll in at 41 again.
Tuesday: No word yet on the building permits forecast, but economists are saying housing starts likely reached an annualized rate of 835,000 (down slightly from September's pace of 872,000). Both numbers have been trending upward for well over a year.
Wednesday: Look for the final reading on November's Michigan Sentiment Index. No forecast is available yet, but if it comes in at the previous estimate of 84.9, that will be the highest final/official reading since 2007.
Stock Market
This is a tricky situation. On the one hand, stocks are oversold and due for a bounce. On the other hand, the momentum is still bearish, and we have to assume that trend will remain in motion until we clearly see it isn't (NYSEARCA:DIA) (NASDAQ:QQQ) (NYSEARCA:IWM).
The bullish case is bolstered by Friday's bar from the S&P 500 (SPX) (NYSEARCA:SPY), which stopped the bleeding from Tuesday, Wednesday, and Thursday. As was noted above, the market's fallen 8.8% from the September high to Friday's low, which is right around the normal bull market correction. So, the reversal clue materialized right where it theoretically should have.
Bullish bonus: Friday's advance was on surprisingly strong volume.
The bearish case: There's still no assurance that the bullish day will actually lead to another one this week, however. In fact, the index could gain another 22 points (+1.6%) and still not snap the losing streak. That 22 point gain would just put the S&P 500 even with the key 200-day moving average line at 1382.17, but not above it. [Besides, just because the normal bull market dip is on the order of 8.0% doesn't mean this is an average correction for option trading.]
Any additional clues from the CBOE Volatility Index (VIX) (NYSEARCA:VXX)? No, not really. It was in a pretty strong uptrend (bearish for stocks) through Thursday, but Friday's sharp pullback for the VIX - a pullback much more dramatic than the gain for the market - throws that whole uptrend into question. Still, it's too soon to say the VIX is actually trending lower. It's still holding above the 50-day moving average line at 16.17.
Just for some perspective, the weekly chart below confirms that there's still plenty of room and reason for the S&P 500 to keep tumbling. The lower 26-week Bollinger band has yet to be tested as support; neither has the lower 52-week Bollinger band. Both were instrumental with August-2011 pullback, and the lower 26-week band was within reach with June-2012′s pullback. Point being, if the bulls are serious here, there's not much of a foundation they can use as a pushoff point. Then again, the VIX is clearly hitting a ceiling at its 52-week moving average at 18.60. Until and unless it can be hurdled, the bulls don't have an enormous amount to worry about (they just have a little to worry about).
Third Quarter Earnings
Though it's not officially over yet, for all intents and purposes, third quarter earnings season has ended - 96% of the S&P 500′s companies have reported Q3 results. And, they weren't great. As of the last look, the S&P 500 'earned' $24.35, which is short of the $24.93 the professionals were looking for before earnings season started. Worse, it's less than Q3-2011′s $25.29 - the first time the market has posted lower year-over-year results since 2008. Good news: these same pros at least think things are going to turn for the better starting this quarter.
Anyway, on a sector basis, things ended up getting real ugly for the energy sector (NYSEARCA:XLE). Sadly, however, the energy sector largely DID meet expectations. The big winner was the consumer discretionary sector (NYSEARCA:XLY); its stocks managed to increase income by an average of 10.2%. The rest is on the grid.
Q3 Earnings Results, by Sector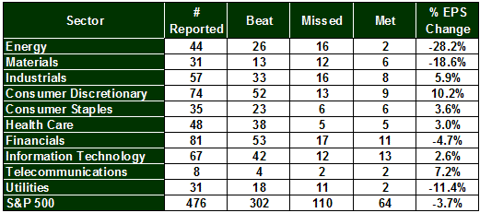 Disclosure: I have no positions in any stocks mentioned, and no plans to initiate any positions within the next 72 hours. I wrote this article myself, and it expresses my own opinions. I am not receiving compensation for it. I have no business relationship with any company whose stock is mentioned in this article.
Additional disclosure: BigTrends Rapid Options Income subscribers have an open SPY options position.