I get it, I get it. Windows Vista, which was a "radical departure" from the tried-and-true Windows formula at the time sucked. I've only ever own Microsoft (NASDAQ:MSFT) Windows based PCs, and even I hated Vista so much that I re-installed my copy of Windows XP and used it gleefully until Windows 7 showed up and really hit it out of the park.
After 3 years of absolutely adoring Windows 7, I have upgraded my desktop PC to Windows 8. And quite frankly, it's a little bit painful to go back to my Windows 7 based laptop after experiencing just how neat Windows 8 is. This is not another Vista. This is a snappier, slicker, and cleaner version of Windows 7 with a very well-done UI enhancement that allows for the next generation PCs to be very touch-friendly.
In fact, I would go so far as to say that this is the best thing to have happened to Windows - and indeed, the entire PC ecosystem - in a very, very long time. Windows 8 has enabled - and will continue to enable - a fundamental paradigm shift in computing, and this will not only help Microsoft in the long term, but it will be a rising tide that lifts all PC-levered boats.
There are four major reasons why the sell-off in shares of Microsoft is, in my view, bogus:
Touch will be a new growth driver for the "stale" PC ecosystem
New form factors enabled by more power efficient and integrated components will help build a clear contrast between "old" and "new," thus leading people to upgrade to sleeker, touch-enabled PCs
The executive shuffle is quite overblown and should not, in the long term, have any adverse effects on the firm
The media distortion of the recently launched "Surface" tablet masks the fundamental success of this product as the "rebirth" of Microsoft and the Windows brand
We discuss these factors in depth in making a case to go long on Microsoft.
Touch Is In, Folks
As my readers are aware, another one of my favorite technology companies is Intel (NASDAQ:INTC), the leading developer of microprocessors for PCs. At the recent UBS (NYSE:UBS) Global Technology Conference, the chip giant provided the following slide: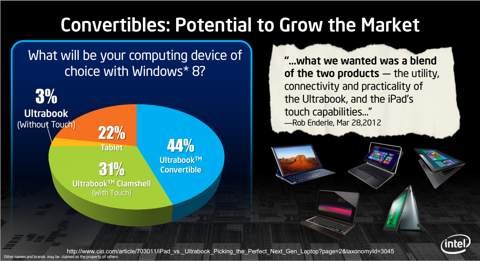 Click to enlarge
In a survey conducted by Intel, it seemed that customers really liked the idea of a notebook or a convertible notebook/tablet with touch capability. Only 3% of the respondents wanted a Windows 8 device without touch while a whopping 75% of respondents wanted some form of touch-enabled Ultrabook, and 97% wanted a touch-enabled device.
It seems clear that making Windows 8 touch-friendly - especially in light of this very clear user demand for touch - is the key ingredient necessary for Microsoft to stem the loss of market share to Google (NASDAQ:GOOG) Android as well as Apple (NASDAQ:AAPL) iOS devices.
In fact, with very sleek touch-enabled, thin-and-light Windows 8 devices, it seems much more likely that as users seek to consolidate their computing experiences to a single "workhorse," touch-enabled (potentially convertible) notebooks and dockable tablets just make a whole lot of sense. This seriously brings into question the value of a "pure" tablet in a world where converged devices will eventually rule the day. Windows 8 brings us much closer to that convergence than Android or iOS devices do.
To put it simply: Microsoft made an excellent strategic move with Windows 8 by bringing the best-of-both-worlds to the PC/tablet ecosystem.
Let's move on to some of the recent headline drama surrounding Microsoft which has, no doubt, been the reason that the stock has been clobbered.
Steve Sinofsky Leaves - Big Deal!
As fellow contributor George Kesarios points out, no individual in a $200B, 94,000 employee company is going to be all that important in the scheme of things. Sure, Steven Sinofsky leaving in the wake of the Windows 8 launch is unfortunate and paints a fairly negative light on Microsoft. However, digging deeper into the reports, it seems that this was simply a case of executives not getting along, rather than a key player being kicked out for a product failure.
The 3%+ drop in the stock price on this news represents a $17B loss in market capitalization. Is Mr. Sinofsky - or any executive - really worth that much? Is anybody seriously doubting that Microsoft can attract and retain top executive talent with the kind of fame and fortune that the company has made? Love or hate CEO Steve Ballmer, he seems to have been delivering where it counts year-after-year with increasing sales and net income and a decreasing share count: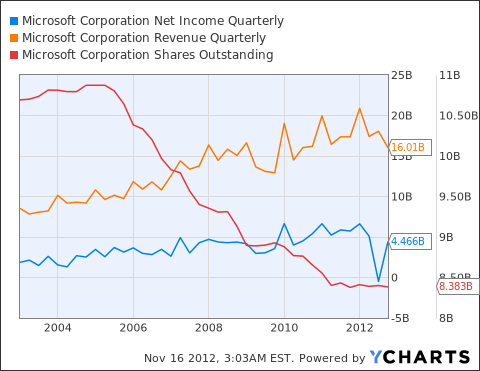 MSFT Net Income Quarterly data by YCharts
This is an absolutely bogus reason for a sell-off, but that is how the psychology of the market works in the short term.
Media Distortion About "Surface" Sales
The "Surface" is a Microsoft-designed tablet running the firm's "Windows RT" operating system (this is a less-feature-filled version of Windows 8 that is incompatible with existing Windows applications designed for ARM (NASDAQ:ARMH) processors). Media reviews seem to be quite positive on the device, praising it for its ability to function quite capably as both a media consumption and content-creation device.
A few excerpts from well-known hardware review sites on the "Surface" as a product:
Anandtech concluded,
As a device, Surface is incredibly well executed. It makes sense that Microsoft's OEM partners are feeling the pressure as there's very little that I would change about Surface from a design perspective. The chassis is well built and the integrated kickstand is seriously one of the most useful features to ever meet a tablet. The optional Touch and Type Covers complete the package. While a full sized notebook is going to deliver a better typing experience, when paired with its Touch/Type covers Surface results in a more productive platform than any other tablet.
Tom's Hardware Guide had this to say,
With the few things we dislike aside, we continue to be bullish about using Microsoft's Surface as a replacement for the Ultrabooks and MacBook Airs we carry around with us to trade shows and meetings, along with the tablets we use around the house when we get home. Flip the cover up and drag our fingers around the way we'd use a tablet? Sure. Drop the Type Cover down, snap out the kickstand, and bang out some email? Definitely. Hook up a second monitor for some extra workspace in the office? Yes, please! We certainly can't say the same for any iOS- or Android-based device.
Now, despite this very positive critical reception, and despite the fact that it is also now the single most popular Windows 8/RT device, it seems that a statement about the modest production numbers of the Microsoft tablet was misinterpreted as an indication of bad sales. As a result, sentiment towards Microsoft (and some of its suppliers, most notably Nvidia (NASDAQ:NVDA), which supplies its Tegra 3 system-on-chip to power the device) has turned excessively bearish.
In short, Microsoft is off to a great start in the tablet market. Its "Surface" is a quality product, and its Windows 8 OS is an excellent bridge between the traditional PC and the tablet world.
Conclusion - Snack A Bit Here, But Save Room For The Main Course
Microsoft is a long-term buy, but as sentiment towards the firm's tablets as well as the PC sector in general becomes increasingly sour, I believe that it is best to play any purchase of the shares modestly if you are not already an owner.
Buy in small lots (relative to your desired position) and add on big moves down. I see downside to the $24 level as being very achievable over the next several weeks as there seems to be a lack of an upside catalyst in this time frame. Until PC sales show some signs of recovery (and are confirmed by a good earnings report or two), sentiment towards PC-levered stocks - in particular, Microsoft - will continue to be very negative.
Further, as Microsoft has had a nice run over the last year, it is a prime candidate for Fiscal Cliff selling, as investors will want to lock in profits at lower tax levels.
Fundamentally, Microsoft is sound, but never underestimate the ability of the market to give you an insanely good deal later on as panic continues. Be careful.
Disclosure: I am long NVDA, INTC. I wrote this article myself, and it expresses my own opinions. I am not receiving compensation for it (other than from Seeking Alpha). I have no business relationship with any company whose stock is mentioned in this article.
Additional disclosure: I may sell some MSFT puts over the next week.