For the past several years, MasterCard (NYSE:MA) has delivered astonishing performance. Since 2006, the stock has increased over 600% in a move which has added over $40 billion to the value of the firm. In line with 6 years of strong performance, shares have increased an additional 30% this year. With such large increases in share price over the years, investors must be asking: what is the fair value of this company. Through this article, I will present my belief as to the future growth rate and fair value of MasterCard.
The Question of Growth
The underlying belief of nearly all investment disciplines is that a firm is expected to grow in the future. Investors do not park capital with an organization that is expected to decline or not exceed the average market rate of return in the long run. MasterCard is no different in that we should not consider investing in the organization if we do not believe that the firm will continue its upward growth. In order to extrapolate a fair growth rate, I have relied heavily on return on assets. Return on assets is a metric which informs the analyst as to how efficient an organization is at utilizing assets to generate profits. Return on assets is calculated by taking the net income of the firm divided by average total assets. In the chart below, I have shown the past 3 years of return on assets and total assets for MasterCard.
click to enlarge images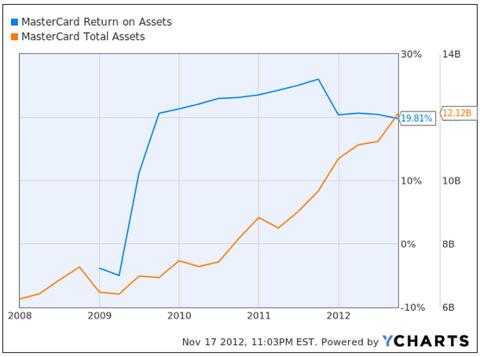 It can be seen that for the past 4 years, MasterCard has consistently increased its asset base. On average, MasterCard has increased its assets by around 50% every year. What is remarkable is that over the past 3 years, MasterCard has been able to continuously deliver around a 20% return on assets every year. This tangibly means that as MasterCard adds assets to its balance sheet, it retains the ability to continue generating proportional profits. Currently, MasterCard is able to bring in $20 in profit for every $100 of assets. These results are strong, but unfortunately this growth rate cannot be continued. If MasterCard were to continue this growth for the next 10 years, it would be one of the largest companies in the world. If these growth rates were to continue for 20 years, it would eclipse the entire United States economy. As MasterCard continues to reap these strong returns, competitors such as American Express (NYSE:AXP), Discovery Financial Services (NYSE:DFS), and Visa (NYSE:V) will be driven to deploy assets to capture this growth. This attrition of growth can be witnessed by the fact that return on assets has declined for the past year. I believe that we are in a process of attrition which will continue until MasterCard reaches a more stable growth rate.
I believe that the current firm growth rate is unstable and will revert to a much smaller figure. MasterCard is currently growing its assets at around 50% per year and while is free cash flows are volatile; they also are growing at around 50% per year. This simply is unstable. I believe that as competitors witness MasterCard's profitability they will attempt to encroach into its profitable territory. This competition will ultimately drive MasterCard to an average growth rate. In the chart below, I have calculated the firm-level growth rates of each of MasterCard's primary competitors.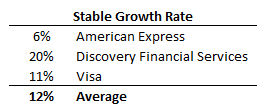 It can be seen that on average, MasterCard's peers grow at around 12% per year. It is my belief that this will ultimately be the fair growth rate of MasterCard and I view the recent downtick in return on assets as a signal that MasterCard is in the process of reversion to the mean.
The Fair Value of MasterCard
I believe that MasterCard is entering a stable growth stage. Competitors are eating away at its market share and returns have been increasing at a slowing rate. In order to fairly value MasterCard, I have created the model below.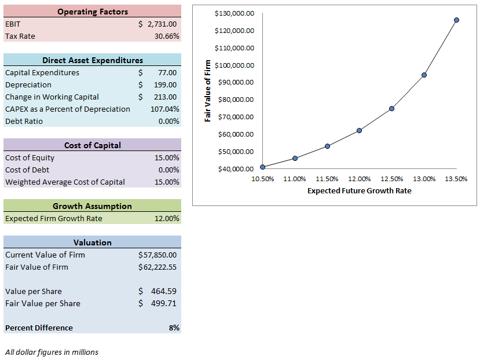 The model above shows the fair value of MasterCard in light of all relevant fundamental factors. The model essentially examines the earnings, capital structure, cost of capital, and growth assumptions to arrive at a fair value per share. In light of this valuation method, I believe that the fair value of MasterCard is $499.71 per share. This fair value represents an 8% increase above the current stock price. Let's walk through the assumptions.
Operating Factors
The current earnings before interest and taxes is around $2.7 billion and MasterCard is paying around 31% of earnings in taxes. Earnings before interest and taxes, when adjusted for operating factors, can tell the analyst how much cash flow is available to the firm in a given year. In the long run, the value of the firm will be equal to the growth in its free cash flow since this represents the lifeblood of the organization.
Direct Asset Expenditures
The figures in the direct asset expenditures section show the current asset structure of the organization and the willingness of the firm to invest the resources needed to maintain its edge. Currently, MasterCard is investing 7% more than it loses to depreciation back into its assets in a given business year. This tangibly means that MasterCard is demonstrating the willingness to maintain its competitive edge by reinvesting into items which are expected to provide future economic benefit.
Cost of Capital
The cost of capital section of the model shows how much it costs MasterCard to raise and maintain debt and equity financing. MasterCard currently possesses no debt and it currently pays a small dividend of 0.30%. It is important to note that MasterCard has doubled its dividend in the last year. Additionally, as companies enter a mature and stable stage of business, they tend to pay a higher dividend in order to attract investors and maximize shareholder wealth. For this reason, I believe that a fair cost of equity is more than 0.30%. To arrive at a fair cost of equity, I used the firm-specific risk of the security and examined its historic performance in relation to the risk-free rate. The stock has been in a strong growth phase in the immediate past and I do not believe that this growth phase will continue. I believe that the most appropriate cost of equity is around 15%. This figure represents the return on top of the risk-free Treasury rate that I believe investors expect to earn in order to invest in MasterCard rather than a market index or fixed income alternative. The long-run market return is around 11% and I believe that MasterCard will need to deliver 4% above this return in its stable growth stage to continue to attract investments.
Growth Assumptions
It is my belief that the firm will continue growing its assets and cash flows at around 12% per year. This is much lower than the current 50% per year, but as previously discussed, I believe that MasterCard will revert to the industry average. The current growth rates are unstable and as the industry continues its competitive drive to capture profits, I believe that MasterCard will deliver an average growth of 12% per year.
The Recommendation
I believe that MasterCard is worth around $500 per share. I root this estimate in my fundamental assumption that MasterCard's extreme growth cannot continue and we are entering a time period of stable growth. With my price target of MasterCard only 8% above current market prices, I believe that investors should cautiously prepare to sell the security. Price has increased over 30% this year and I believe we are nearing fair value.
Technically Speaking
Even though I believe that MasterCard is quickly approaching fair value, I do not advocate an immediate, or even a targeted sale of the security. Prices can remain irrational for long periods of time and profit-seeking investors would be wise to follow the long-term trends of the security. MasterCard has been in a strong uptrend for several years and I believe that there is potential for the trend to continue beyond $500 per share. For this reason, I suggest that investors consider following the trend until it has ended. This tangibly means that investors should not sell until price has broken below the ascending trend-line. It can be seen in the chart below that price has clearly defined the rising blue line as an area in which buyers will more than likely purchase shares. If price is able to close below this rising trend-line, then I believe the trend will have technically ended and investors should consider selling their shares. This means that for now, the current stop on long trades should be at $440 per share. For new investors seeking to enter MasterCard, my advice is to stay away from this security. The fair value of MasterCard, in my opinion, is only 8% above current market prices, leaving very little room for new profits.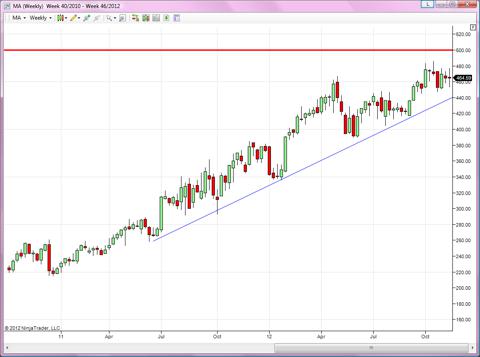 Disclosure: I have no positions in any stocks mentioned, and no plans to initiate any positions within the next 72 hours. I wrote this article myself, and it expresses my own opinions. I am not receiving compensation for it (other than from Seeking Alpha). I have no business relationship with any company whose stock is mentioned in this article.