AT&T (NYSE:T) reported 3Q2008 EPS of $0.67 vs. $0.71 consensus (earnings conference call transcript). Revenues met expectations and were up 4% at $31.4 billion. The $900 million subsidy paid for Apple (NASDAQ:AAPL) iPhones shaved 10 cents per share off its bottom line. Exclusive U.S. distribution rights for the iPhone came at a price but the tradeoff produced a 2mm or 40% increase in new wireless customers for the quarter. T's wireless accounts now almost total 75 million and is coming at the expense of Verizon (NYSE:VZ). Some of these subscriber gains were offset by 990,000 cancellations in landline accounts which switched to VOIP services offered by cable companies.
T's wireless revenue rose 15% to $12.6 billion while the landline business fell 2% to $17.6 billion. To offset the lost landline revenue, T intends to reduce its headcount by 4,000 employees. If forced to bet on consumers' future preference for telecom services, the 3G superfast wireless network and its freedom of mobility trumps landlines and VOIP any day. T realizes this and is strategically positioning itself to exclusively distribute smartphones from Apple's iPhone and RIMM's Blackberry Bold and distinguish itself as best of breed with consumer and business wireless customers. The average customer generates $58.99 in revenue while iPhone customers produce 1.6x (i.e. $94.38) this amount. The strategy is something of a long-term gamble contingent upon the makers of these smartphones maintaining their "better mouse trap" competitive edge. Yet, T has the right idea in focusing on higher margin and revenue generating customers.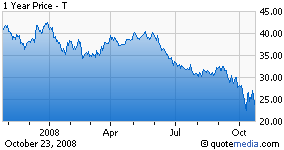 Financially, T is sound despite tough economic times. Its annual operating cash flow derived from just its core business activity comes out to $5.51 per share. This is sufficient to cover the $1.60 dividend and confirms that it is focused on its business. Compared to its industry, debt to equity ratio stands at 0.68 vs. the average of 1.37. CFO Lindner recognizes the tenuous economic conditions and wisely intends to use some of the company's cash flow to pay down debt.
AT&T is still geared to growth and reinventing itself. ROE (return on equity) is a respectable 12%. Compared to its peers, sales grew at 5.4% vs. the 5.2% industry average, while income grew at 25.7% vs. the 11.6% industry average. The decision to focus on higher margin telecom services appears to be working. Another ace up its sleeve is U-Verse, its TV and broadband data service, which added 232k subscribers for the quarter to reach 781k and ultimately on track for 1million year end.
However, what really makes T attractive is its low PEG ratio of 1.26 and its forward PE of 7.65. Assuming that T can meet FY2009 earnings estimates of $2.91 per share and trade for 12.5x earnings like its industry peers, the stock would be worth $36, good for a 40% upside potential. Meanwhile, the 6.7% dividend yield should keep investors happy while waiting for the company's strategy to bear fruits.
Not to mention, the stock is also a great candidate for a DRIP (dividend reinvestment program): a $25,000 investment in 1,000 shares with reinvestment of dividends over a 10-year period could theoretically grow to 1,848 shares and offer almost $3,000 in cash dividends annually for an 11.7% cash yield on original investment (excluding any potential appreciation and value of accumulated shares).
Telecom stocks usually lag the economy and this economy probably has at least another 2 or 3 quarters before any signs of revival. Tight credit and economic weakness is forcing businesses to reduce spending. Although existing market conditions are frightening, investors who rise above the myopic sentiment obsessed with the current quarter and financial crisis may find that delaying immediate gratification has its rewards. (For those skeptics and others who like to sleep well at night, consider hedging this position with some options.)
Disclosures: None