First, I want to thank all those from Seeking Alpha who have written with their kind condolence sentiments. For those that do not know, my wife, who was diagnosed with a rare form of cancer immediately after our 3 year old son was born, succumbed to the disease several weeks ago. This is the reason for my absence over the last several months. But, I am hoping to build up back to my prior writing schedule over the next few months.
Back in 2011, I had published numerous articles about the metals. However, among my first were calling for tops in the metals, followed by significant declines. At this time, the markets seem to be getting much closer to setting up the final parabolic run that I have expected ever since last year.
However, there still seem to be several up/down movements which we may see before any significant rally is yet to be seen. For silver futures, I am looking at a potential move up to the 34.40 region before it comes back down to the 29.70 region, at which time we will be looking for a potential bottom.
What is most interesting is that, despite the announcement of QE3, silver has actually gone lower, which is not what many were expecting. But, for those of you that remember, the manner in which I analyze metals does not take into account any form of news. Rather, I view metals movements based upon patterns in sentiment.
But, for those that feel they need a solid fundamental reason as to why silver has not taken off just yet, feel free to read Eric Parnell's recent article on gold, as he makes a very solid argument, and is quite knowledgeable.
From a seasonality perspective, I believe that the metals are nearing a bottoming period, so this also bodes well for a rally around the corner.
However, the most recent Commitment of Traders report shows a rise in immediate bearishness among the commercial traders, which does not bode well for a rally to begin just yet. We will still need some of that bearishness to be burned off by hitting lower levels before a sizeable rally can begin.
But, please note that I am expecting a "head-fake" within the next week, and we can very well see a small rally before a final drop. But, that would mean that the 31.70 level has to hold in order to see that "head-fake." If that level does not hold, then we may be directly targeting the 28.40 region.
Until silver is able to take out that 35 region on strong volume, I am still going to expect another drop in the metal before a larger rally can take hold. After the next drop, I will likely be viewing the metal as a strong intermediate term buying opportunity, as the next rally will likely take us potentially over $60.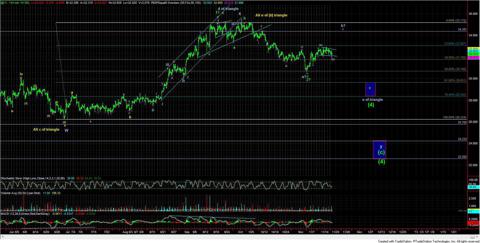 Disclosure: I am long SLV. I wrote this article myself, and it expresses my own opinions. I am not receiving compensation for it (other than from Seeking Alpha). I have no business relationship with any company whose stock is mentioned in this article.
Additional disclosure: I have long term SLV calls, with shorter term puts to take advantage of the expected price drop.