The past two weeks since the election on November 6th have been unpleasant for investors. Much of the recent focus on Wall Street has been on the fiscal cliff, which threatens to suck $500 billion out of the U.S. economy and potentially plunge the country back into recession. Despite the current worries about the future direction of the U.S. economy, most of the concerns will be resolved in the short-term. By January 1, 2013, we will all know the outcome of the debate surrounding the fiscal cliff. At this point, it is likely that businesses will have more certainty about the long-term direction of fiscal policy, and they will be able to get on with future growth.
Moments like these, when the stock market drops significantly on news of short-term problems, provide long-term investors with a window to buy excellent companies on sale. High-quality companies with histories of good management will eventually bounce back, rewarding investors who bought them when there was "blood in the streets". Focusing on companies with a reasonable dividend yield and expectations of future dividend growth adds an extra layer of safety to purchasing stock in uncertain times. The current dividend pays investors to wait until the uncertainty is resolved, and the expected dividend growth along with a low stock price sets the stage for high yields-on-cost in the future.
One sector that I believe is particularly undervalued right now is energy. The stock prices of many energy companies have been hurt badly in the past few weeks amid talk of the fiscal cliff and a potential recession in 2013. However, I believe that energy is in a secular bull market, as continued economic growth across the world and the concurrent rise in standards of living will increase future demand for energy. No matter what happens in the U.S. for the next few months, 1.3 billion Chinese and 1.2 billion Indians will require ever increasing amounts of fuel for their cars and electricity to light their homes. In fact, data from the U.S. Energy Information Administration (EIA) predicts that energy consumption will rise by 122% in China and 133% in India between 2008 and 2035. Energy consumption in the U.S. is predicted to rise by a more modest 14% in the same period.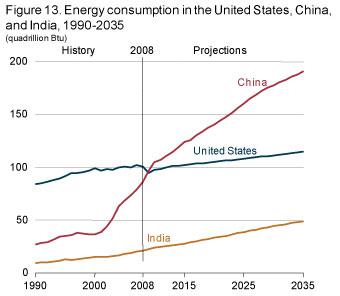 Given this backdrop, there are two energy companies that look particularly appealing after the recent correction in the stock market, Chevron Corp. (NYSE:CVX) and Kinder Morgan, Inc. (NYSE:KMI).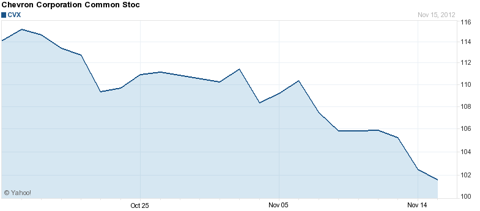 Chevron Corp. - This company is the second largest energy company in the U.S., with a market cap of nearly $200 billion. According to data from Morningstar, the company produces 2.67 million barrels of oil equivalent per day, of which 69% is oil. The company also has extensive refining and downstream operations. According to its website, the company has begun moving toward more natural gas exploration, and they have about 160 trillion cubic feet of unrisked natural gas resources. Future growth could come from their focus on LNG, with 4 large projects scheduled to come online in the next 4 years: Gorgon and Wheatstone in Australia and projects in Angola and Indonesia. These projects have the added benefit of being in safe, politically stable countries. In fact, Chevron has announced two further natural gas discoveries related to the Gorgon project in Australia in the past 2 months, making this project look particularly promising.
The stock price has gone down by 7.9% since November 6. After this decline, the stock now has a projected dividend yield of 3.54% and a forward P/E ratio of 7.9.The five year dividend growth rate is 9.2%.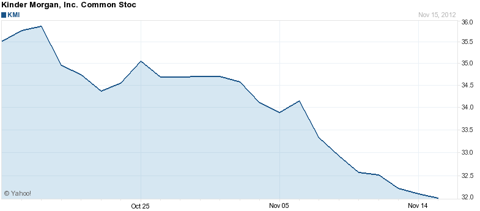 Kinder Morgan, Inc. - This company is the general partner of both Kinder Morgan Energy Partners LP (NYSE:KMP) and recently acquired El Paso Pipeline Partners LP (NYSE:EPB). Kinder Morgan, Inc. owns highly lucrative incentive distribution rights over its limited partners, setting the stage for high future dividend growth as the limited partners transport increasing amounts natural gas, oil, and related products through their extensive pipeline networks. Although the company is not a direct play on global energy prices, it does tend to track overall economic activity in the U.S. (through overall energy usage). The company is also an excellent play on increased activity in the oil sands region of Canada, as it owns the only pipeline connecting this region to the Canadian west coast according to its website. The company is also increasing future flexibility by selling non-core assets to aggressively pay down debt. For example, the company recently sold $3.3 billion of non-core assets in Wyoming to Tallgrass Energy Partners.
According to data from Morningstar, the stock price has gone down by 6.2% since November 6. After this decline, the stock now has a projected dividend yield of 4.50% and a forward P/E ratio of 17.0.The company just recently went public, but it has already increased its dividend four times in the past 12 months.
Disclosure: I am long KMI, CVX. I wrote this article myself, and it expresses my own opinions. I am not receiving compensation for it (other than from Seeking Alpha). I have no business relationship with any company whose stock is mentioned in this article.