Farmland values rose 13% over the last twelve months in the Midwest despite the worst drought in over 50 years, according to the Federal Reserve Bank of Chicago. In the third quarter of 2012, farmland values rose 5% in the District, compared to 1% in the previous quarter. Demand for farmland continues to remain strong as farmers are expected to set a record net income in 2012, due to high commodity prices and crop insurance payments.
"The drought does not seem to have derailed bankers' anticipation of further upward movement in farmland values," said David B. Oppedahl of the Federal Reserve Bank of Chicago. "Survey results indicated that the impetus for higher farmland values actually strengthened during the third quarter of 2012."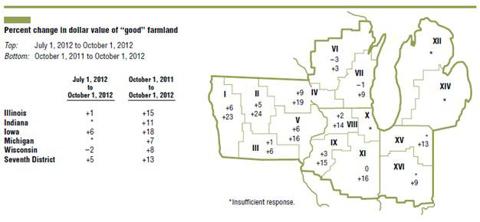 Click to enlarge
Iowa's farmland values continue to lead the Midwest, increasing 18% over the last twelve months, compared to 15% in Illinois, 11% in Indiana, and 8% in Wisconsin.
Agricultural fundamentals are expected to remain strong as 36% of bankers expect farmland values to rise over the next three months. Only 1% of respondents expect farmland values to decline. Bankers anticipate that farmers will be the primary buyers of farmland as well as greater demand from nonfarm investors over the next three to six months.
The drought is expected to more adversely affect earnings of livestock operators than those of crop farmers. Net farm income is expected to rise 4% in 2012 to a record $122.2 billion. 48% of bankers expect net cash earnings from crops to rise over the next three to six months and 24% anticipate a decline in earnings.
Credit conditions in the district continue to improve as the average loan-to-deposit level declined in the third quarter to 67.5 from 69.0 a year ago. Loan demand in the third quarter jumped to 81 from 69 last quarter. 49% of bankers indicated there were more funds for lending available than a year earlier. Average interest rates for real estate loans in the district hit new record lows at 4.86%.
The Federal Reserve Bank of Chicago's second quarter survey of Farmland Values and Agricultural Credit Conditions Report is a summary of the 7th District's value of farmland, farm loan portfolio performance, and on-farm income. The 7th District consists of the entire state of Iowa, and portions of Illinois, Indiana, Wisconsin, and Michigan.
Disclosure: I have no positions in any stocks mentioned, and no plans to initiate any positions within the next 72 hours. I wrote this article myself, and it expresses my own opinions. I am not receiving compensation for it. I have no business relationship with any company whose stock is mentioned in this article.