3D Systems (NYSE:DDD) has been the target of two bear raid attacks recently. For those of you who do not know, a "bear raid" is a trader or group of traders' attempt to force down the price of a stock, for gain or to cover a short position. Bear raids are done by spreading negative rumors about the target company, putting pressure on the share price. I took the time and emailed Investor Relations at 3D Systems about these shadowy claims made by Douglas D. House and Gray Wolf Research. The President of 3D Systems has come out with an official statement and is calling for a conference call to put an end to this bear raid.
"We are aware of certain recent articles and their materially inaccurate and misleading conclusions. We reaffirm the accuracy of our public filings and accounting methods in all respects, and are pursuing legal remedies to hold those responsible parties accountable for what appears to be malicious, irresponsible and self-serving articles. We look forward to discussing, fact-checking and clarifying these inaccuracies for the benefit of our shareholders, customers and partners, who we believe have been irrevocably harmed by these articles," said Abe Reichental, President and CEO of 3D Systems.
Now that we have company denial of these malicious allegations, let us remind ourselves using real numbers why 3D Systems has recently been ranked #1 in the IBD 50 (Investors Business Daily), #1 in the StockTwits50, upgraded by Piper Jaffray to "overweight" with a target price of $55, and most importantly why this company deserves a place in your portfolio or IRA.
Let us review some of the fundamentals.
Revenue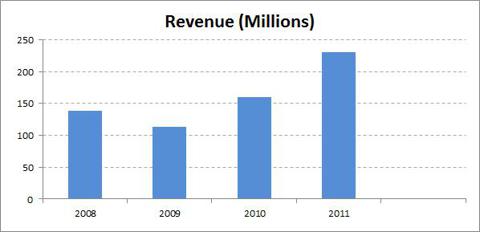 Click to enlarge
Here is a look at the revenue the past 4 years. We see a company that is emerging out of the most recent recession with money coming in the door, not out, but what about 2012? This has been a rough year for a lot of companies because of the European crisis, Presidential Election, and the looming Fiscal Cliff. Let us take a look and see how "DDD" has navigated through this year so far.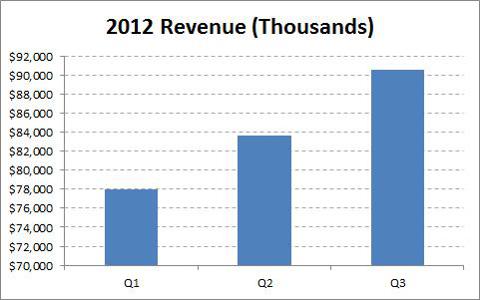 Click to enlarge
This year, total revenue reported to date is around $252 Million. That is 9% greater than all of 2011, and we still have the 4th quarter to consider. In 2011, Q4 represented 30.3% of its total revenue for the year. This shows solid organic and acquisition based growth. So, where is the revenue coming from? Is the company globally diversified? What does the net income look like? Are 3D Systems' profit margins improving? I will show you the numbers, and let you decide.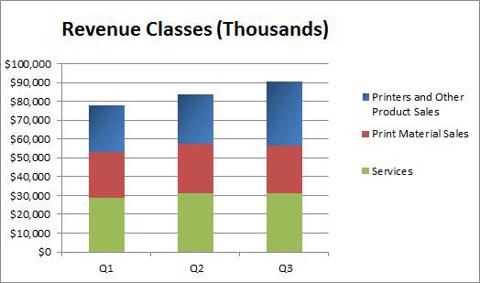 Click to enlarge
Here is a look at where all the revenue is coming from. DDD has three main streams: Selling Printers, Selling Materials (ink), and Services. The actual figures are below.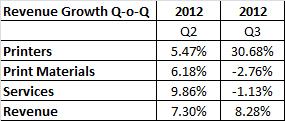 The Quarter by Quarter growth is shown in the table above; the 3rd quarter reveals an interesting divergence. The Q3 printer sales are significantly higher than the previous quarter. This is the most meaningful sales figure of all; the other two classes are dependent on printer sales. Without selling more 3D printers, 3D Systems cannot truly grow.
If there is one specific stream of revenue symbolic of the organic growth within a 3D printing company, it would be its ability to spread these printers across the world. How well is DDD doing that? See below.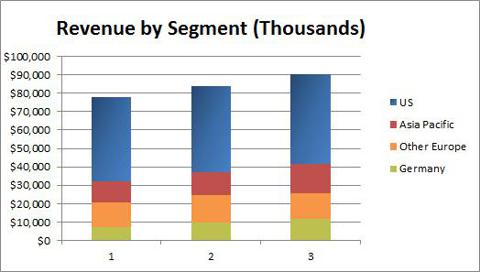 Click to enlarge

The chart above shows DDD's revenue from different parts of the world. The US market seems to be the largest contributor for 3D printing; however, the most interesting takeaway from this chart is the growth rate in Asia and Germany. These segments are joining the 3D printing revolution in a big way and I expect to see an even greater impact from them in the future.
Profit Margins and Net Income
Now that the revenue has been broken down and explained, time to see if 3D Systems management is managing their company correctly. Net Income and Profit Margins are the good gauges of management doing their job and rewarding shareholders' investments with increasing returns. See below:
Click to enlarge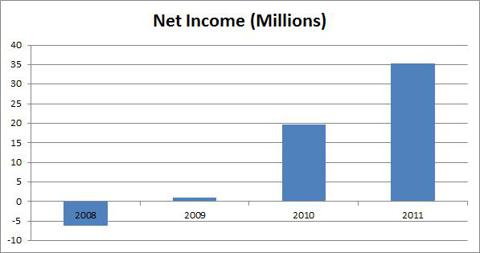 Click to enlarge
Here we have the recap of the last 4 years of Net Income. It seems evident that the company really turned itself around in 2010, not only increasing its margins by 1,289%, but also by increasing its Net Income by 1,800%. 3D printing is still just beginning to be recognized by the public and will surely have many years to come of strong growth. So, what about 2012? (See below)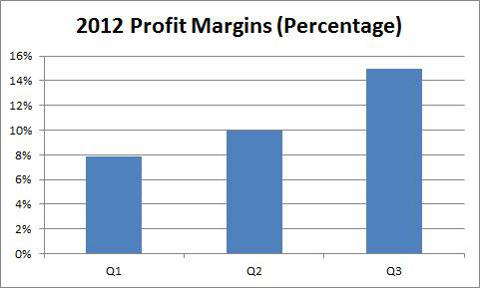 Click to enlarge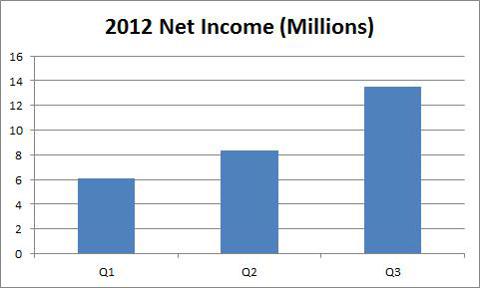 Click to enlarge
Here we are in 2012: Net Income is still on the rise, maybe not at the levels of 2010, but it is definitely growing at a strong pace. I for one am very pleased with Net Income growth of 36% and 62% in Q2 and Q3 respectively.
Acquisitions
A business like 3D printing is exciting, but it is important to make sure that the company is competitive in terms of hardware as well as software. The model DDD has taken on is that of Cisco's (NASDAQ:CSCO). As of March 2011, Cisco has acquired 148 companies. Cisco's road to world dominance was not paved by massive R&D budgets, but by acquiring the greatest minds in the industry and having them work together. Instead of focusing a large sum of capital to organic R&D, DDD has chosen to invest in entrepreneurs and successful companies of the 3D printing industry all over the world.
In Q1 of 2012, DDD completed the acquisitions of 2 companies: Z Corporation and Vidar Systems.
Z Corporation is a provider of personal and professional 3D printers, 3D scanners, with proprietary print materials and printer services. This is an excellent and synergistic acquisition, which will not only serve as R&D but contains patents and proprietary materials.
Vidar is a provider of medical film scanners that digitize film for radiology, oncology, mammography and dental applications. Since 3D Systems is a believer in the endless potential of 3D printing in everyone's lives, a great market that can use 3D printing is the healthcare industry. By entering into this field now, 3D Systems is paving the way for the future.
In Q2 of 2012, DDD completed the acquisition of 3 companies in the 3D printing field: Fresh Fiber BV, My Robot Nation, and Paramount Industries.
Fresh Fiber is a collection of designers who focus on making 3D printing designs for sale, a great addition to 3D Systems to bolster its online marketplace for selling 3D objects that people care to use.
Robot Nation is a software company by Kodama Studios that designed a proprietary software platform that allows everyone to quickly and easily personalize a 3D object. This is an important step in helping the world use 3D printing in a fun creative way.
Paramount Industries is among the world's most experienced product design and engineers for rapid prototyping. The company founded in 1966, specialized in model making for consumer and industrial products. This is an example of the service based revenue that DDD earns. Designers are going to be the leaders of this 3D revelation, 3D Systems recognizes this and has been on it for years.
In Q3 of 2012, DDD completed the acquisition of 3 companies to further its growth internationally and increase its software and patent base. Viztu Technologies, The Innovative Modelmakers B.V., and INUS Technology, Inc. have been added to the 3D Systems.
Vitzu Technologies is the developer of Hypr3D, an online platform that allows anyone to turn their pictures and videos into printable 3D creations. This company has been integrated into services revenue. This company is as cool as it sounds, and gives people a nice idea of how amazing this new technology really is.
The Innovative Modemakers B.V. (TIM) is a full service provider of on-demand custom parts, located in the Netherlands. This acquisition gives DDD more European exposure in a sector where 3D printing can clearly be put to use, custom part manufacturing.
INUS Technology, Inc. is a developer of scan-to-CAD and inspection software tools, better known as Rapidform. Based out of Seoul, South Korea, this firm's software will surely help designers all over the world in the 3D printing industry.
Conclusion
In today's world, where information is published so quickly and reactions in the market are so volatile, we must really take into consideration the credibility of authors, and perhaps before pushing that sell button, stop and do some studying first. If you do, you will come to the same realization as I did. 3D Systems is a market leader in a disruptive and ultimately very important technological advancement for mankind. Even though the overall market is in bad shape, I am sure this company will rise up to achieve its real potential. I am a strong believer in fundamentals guided by technical analysis, and in the end a company that is making money is better than one that is not, and should be valued and priced as such.
Disclosure: I am long DDD. I wrote this article myself, and it expresses my own opinions. I am not receiving compensation for it (other than from Seeking Alpha). I have no business relationship with any company whose stock is mentioned in this article.
Additional disclosure: I am an investor in 3D Systems; I have had a position in the company since September 2012. All of the data in this article was taken directly from 3D Systems SEC Filings, the presentation of the data was done by me.